The Best Minimalist Running Shoes: Merrell Barefoot Glove
by Sarah
With all the minimalist running shoes out there it can be difficult to find the right shoes. Merell Barefoot Gloves combine fashion and comfort for the perfect minimalist shoe.
Why Minimalist Running Shoes?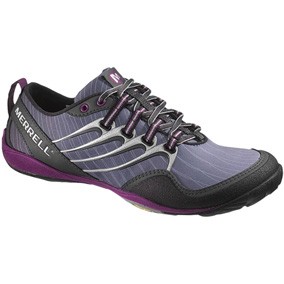 Did you know that the normal sneakers you wear everyday are horrible for your feet? They constrict your foot so that it no longer uses its muscles to move--and that's not the worst of it. The shoe also has a high heel-to-toe drop, meaning that the distance from the floor to your heel is significantly more than the distance between the floor and your fore-foot.
As far as running goes, this essentially forces you to land on your heel with your leg straightened in front of you. A shockwave travels through your bones and your muscles, and as your foot slams down your shin muscle can pull away slightly from the bone. You can attempt to fix your gait yourself in regular running shoes, but it will be much easier if you have a flexible minimal shoe without the extra cushion in the heel. 
Minimalist Running Shoe Requirements
You may be wondering, after reading the introduction, what is a minimalist running shoe anyway? These types of shoes have at least the following qualities:
They are flexible enough to bend in half easily. This will help your feet muscles engage properly.
There is minimal or no heel-to-toe drop. This allows you to land properly on your midfoot or forefoot, which is a more gentle landing for your body.
They are lightweight--usually less than 15 oz.
The most obvious and prevalent minimalist running shoes are the Vibram FiveFingers. You know the ones--the funny-looking toe shoes that make the bearer a laughing stock for those who do not understand minimalist running.
Since this type of running is becoming more and more popular, the sports shoe companies are finally getting the hint and producing their own brands. You can finally run minimally and look normal, if this is something you care about.
The Best Minimalist Running Shoes
The best minimalist running shoes, hands down, are Merrell Barefoot Gloves. These shoes have zero heel-to-toe drop. They are lightweight at 4.7 oz each and can bend in half easily. Not only this, but they are an attractive alternative to Vibram FiveFingers.
Click on the Merrell shoes below for more information.
A Word of Caution on Minimalist Running
If you're interesting in minimalist running, whatever you do don't jump into it too fast. You have spent years acclimating your legs and feet to working (or not working) with padded shoes. Now you have to build up the muscles that were dormant. Run only a fraction of miles that you are used to running, adding only, for example, .5 miles each week to your minimalist road. Run 1 mile the first week, 1.5 the second and so on until you reach your full capacity. Actively think about changing your stride at the same time so that you are landing on your feet. For more information, check out The Running Recipe.
More Minimalist Running Shoes
Updated: 03/13/2012, Sarah
---
Disclosure: This page generates income for authors based on affiliate relationships with our partners, including Amazon, Google and others.