The Grinch Gift Exchange Game at Christmas
by Angel
The Grinch Gift Exchange game is a great way to exchange gifts with family, at the office, or among friends. Try playing this year and create a lot of fun for the holidays.
The Holidays are upon us and it is time for a lot of Christmas Traditions that have been practiced year after year in your family. 
Why not try something new this year and play The Grinch Gift Exchange Game either with your extended relatives, at the office, or among friends.  This is a very fun game to play and creates a lot of laughter and excitement as the game gets going.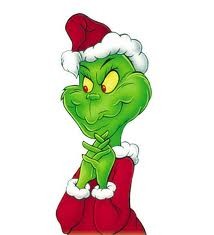 The Grinch Will Take Your Gifts!
The Rules of the Game
The rules can be a little confusing but once the game gets going it is very easy.
The first thing is for the group to decide on an amount that each person will spend on a
gift.  Usual amounts are $20 - $50 per gift.  As each person purchases a gift they are to remind themselves that they are not necessarily purchasing the gift for anyone in particular.  Just get a cool gift that you think will be liked by many.  The cooler the
gift the better.

The gifts should be wrapped.  Make sure you wrap your gift with the most elaborate
decorations that you can.  It will make it more appealing.

The hostess of the party or get together will create a number basket for each guest to
choose a number.  The number designates the order in which each person will select a gift.

The game begins.  Guest #1 will choose a gift from under the tree and unwrap it.  Other
guests are either thinking that they really want that gift or they are thinking that they are really glad they did not choose that gift. 

Guest #2 can either get a gift from under the tree OR he/she can take Guest #1's gift.
Yes.. they can take it.  IF guest #1 loses the gift to guest#2 then guest #1 can get another gift from under the tree and unwrap it. 

Guest #3 now has his/her turn.  They can choose from under the tree or from guest #1
or guest #2.  If one of the guests loses their gift to guest #3 then they get to pick another gift from under the tree. 

This continues until everyone has a gift.  A gift can only be taken 4 times.  So if a
certain gift has been taken 4 times it becomes off limits and the person who has it gets to keep it. 

To end the game, guest #1 gets the chance to take any other guest's gift if he/she wants
to.  They would actually be making another guest trade with them if they wanted another gift more than the one they had.  So drawing #1 from the number basket can be a good thing for that guest.
Try It For Guaranteed Fun
I have played this game a few times with extended family and it really ends up being a fun
time.  I would suggest giving it a try this year and add some laughter to your holiday gatherings. I have seen people rolling around on the floor play fighting for gifts and laughing so loud it was contagious.  Everyone laughs and enjoys the game.  I will be playing again this year as we visit family.  This year we have a gift limit of $50 per gift.  With this limit I will be able to get a really interesting gift that I hope everyone wants.   Happy Holidays and don't let the Grinch take your gift!
Ideas For Your Grinch Gift Exchange
Updated: 02/05/2012, Angel
---
Disclosure: This page generates income for authors based on affiliate relationships with our partners, including Amazon, Google and others.