The I Am T-Pain Microphone is Musical Fun
by KellydeBorda
The I Am T-Pain Microphone is a great idea for a holiday gift for kids and teens. Kids can sing and rap along with their favorite songs, T-Pain style!
What is the I Am T-Pain Microphone?
And what is T-Pain, anyway??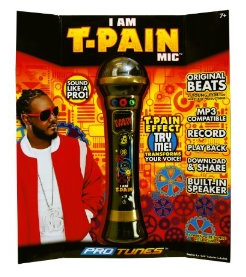 You may or may not have heard of rap artist T-Pain, but I'm sure you've heard the "T-Pain effect" in many songs over the last few years. The T-Pain effect is that robotic techno sound that you hear applied to singers and rappers voices, and T-Pain is one of the artists who really took it to a new level. 
In the studio, it's done with a tool called AutoTune. AutoTune was originally used to make adjustments to singers voices when they didn't quite hit the right notes, but now it's used for a wide variety of vocal effects. 
A couple of years ago, T-Pain came out with an "I Am T-Pain" iPhone app that allowed people to alter their own voices to sound like T-Pain. This year, he has introduced the "I Am T-Pain" microphone, a fun new electronic toy for kids that lets them sing and rap just like T-Pain! 
The I Am T-Pain Microphone
It's available in 3 colors!
The I Am T-Pain Microphone is Fun for Kids and Teens
Sing, Rap or Do Karaoke - T-Pain Style!
-While you might think it's not much different than any other "toy" microphone out there, the I Am T-Pain Microphone actually offers quite a bit of bang for the buck. It's got a few features that help increase the "fun factor" and keep the novelty of the toy from wearing out too fast. 
It comes pre-loaded with three background beats that kids can use to create their own songs or raps. 
If that's not enough, you can download MORE beats from your computer with the included USB connection.
Play your own MP3 music through the mic and record yourself singing along - the mic can record up to about 3-1/2 minutes of your singing!
With the USB, upload your creations to your computer to edit and share with your friends!
The microphone has a built in speaker, but it's been recommended to use it with external speakers or headphone - and it does have an external headphone jack just for that purpose. It also features a volume control. The microphone is battery powered, and comes with 3 AAA batteries included. 
Moms and Dads - this is a GREAT holiday gift for your kids. Recommended for ages 7 and up, The I Am T-Pain microphone will help kids get their creative juices flowing as they freestyle over the included beats and record their own songs. 
But you know, it's not just fun for kids - the T-Pain Microphone is also a lot of fun at grown-up parties too! Next time things are a little dull, liven it up with some phat beats and a T-Pain vibe. 
Get Speakers for you I Am T-Pain Microphone
Or pick up a Mic/speaker combo pack and you're ready to go!
Check Out The T-Pain Effect!
---
Disclosure: This page generates income for authors based on affiliate relationships with our partners, including Amazon, Google and others.