Airline Approved Pet Carriers
by KellydeBorda
If you plan on flying with your dog, you'll need the appropriate approved pet carrier. Find out if your dog should fly in cabin or in cargo.
Traveling With Your Pet? You Need an Airline Approved Pet Carrier!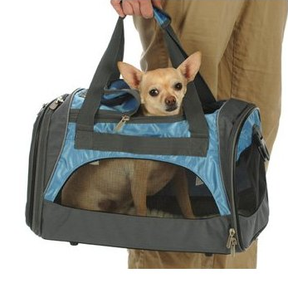 If you're like me, you hate to leave home without taking your baby along. In my case, my "baby" is a 6-pound toy poodle named Bisou. 
Yes, that's right - I'm one of those nuts that takes her dog everywhere she goes. Well, the truth is, I've got three dogs, but the other two are two big to carry around everywhere. But Bisou is truly my baby - if she can't go, I don't go! 
Of course, traveling around town with Bisou in a backpack is a very different thing from flying across country  or internationally. If you're traveling for the holidays or heading to the beach on summer vacation and want to take your dog, you'll need to do some preparing ahead of time - and part of that will involve finding an airline approved pet carrier. Fortunately, there are plenty of options that are airline approved and comfy for your pet. 
Tips on Airline Approved Pet Carriers for In Cabin Use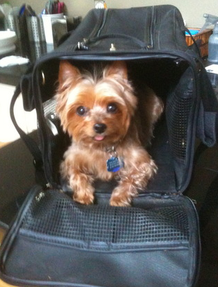 If you have a small dog or cat, you'll be able to bring them with you in the cabin for your flight, in an airline approved pet carrier. There are two options, soft sided carriers and hard carriers. My recommendation is to stick with a soft sided carrier because they are easier to maneuver around in the cabin and fit under the seat. If you are going with a hard plastic carrier, you'll want to check with the airline to confirm the dimension of the underseat area. 
If you're traveling with your dog, you'll want to make your reservations as early as possible. Let the airline know that you will be traveling with a pet as a carry-on; the airlines often limit the number of pets they allow in the cabin, so the earlier you reserve your spot the better.
The carrier that you choose must be large enough that your pet can stand up and turn around. If your dog is too large for the carrier, you will not be allowed to bring him on board. You'll also want to ensure that your carrier has a waterproof bottom and is well ventilated. 
Airline Approved Pet Carriers for Use in Cabin
Sherpa Original Deluxe Pet Carrier, Medium, Black

Travel in comfort and style with Sherpa Original Deluxe Carrier. Perfect for traveling by plane or car, for a trip or just to the vet. Patented spring wire frame allows the rear...

Only $30.49
Sherpa Element Pet Carrier, Medium

A classically designed collection, the Sherpa Element Pet Carrier easily transports your pet safely and comfortably. Perfect for traveling by plane or car, for a trip or just to...

$37.94 $37.93
Caldwell's Top Loading Cat Carrier and Small Dog Carrier For Airline Approved Travel, The Pet Car...

Home away from home Traveling with your pet on vacation adds to the fun and removes worry about how your pet is doing in your absence. Caldwell's Pet Carrier is the perfect way ...

$34.95 $24.99
Sherpa Element Duffle Pet Carrier, Large

A classically designed collection, the Sherpa Element Duffle Pet Carriers easily transports your pet safely and comfortably. Perfect for traveling by plane or car, for a trip or...

$45.00 $33.22
Large Airline Approved Pet Carriers
Find the right one for your big dog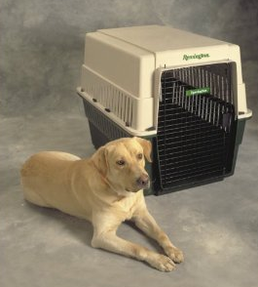 The rules are a little different when you fly with a larger dog. You'll be required to use a large crate that is IPATA compliant. Airlines have their own rules, so you'll want to check with the airline you're using for their specific regulations. Be careful when buying a carrier - some say that they are airline approved, but they may not be approved by your airline. In my experience as a veterinary technician, Vari-Kennels are highly recommended by breeders. I knew several breeders who would only use Vari-Kennels. I used one myself when I flew my Sheltie from the United States down here to live with me in Peru. 
Dogs under about seventy pounds will travel as checked luggage (check with your airline for the weight limit - it may have changed). They will fly in a pressurized area of the airplane. The carrier that you use will still need to be tall enough to let them stand up straight and must give them room to turn around. The carrier should also be well ventilated; in fact, internation flights are required to be ventilated on all four sides. You should put stickers on the sides and top of the crate that say "Live Animal", and there should be dishes for food and water attached tot eh door. 
Dogs that weigh more than 70 pounds will be shipped as cargo, although they still will be transported in the pressurized area of the plane. You will need to call the airlines cargo department to arrange for shipping the dog. All the carrier requirements are the same as above. If you find that the giant size crate is not large enough for your dog, you can check into alternative large pet crates. 

Take time before your flight to get your dog accustomed to spending time in the crate. Put a comfortable blanket, some toys and treats in there and leave the door open so Rover can go in and out. Have him sleep in the crate at night. The more used to the crate that your dog is ahead of time, the more comfortable he'll feel during the flight. It's all about reducing stress during travel. If he's using the crate to sleep in, he'll be much calmer while flying. 
Petmate Sky Kennel for Pets from 25 to 30-Pound, Light Gray

The Petmate Sky Kennel is the ideal kennel for your pet's comfort and security. This heavy-duty kennel offers high- strength plastic construction and secure door latches for saf...

$66.86 $60.56
Plastic Kennels – Rolling Plastic Airline Approved Wire Door Travel Dog Crate, X-Large

This is a plastic kennel designed for a lifetime of use. Our plastic crate will be your "go to" everyday home crate and travel kennel. We also had airline travel in mind when de...

Only $150.00
Petmate Pet Porter 2 Kennel, For Pets 50-70 Pounds, Dark Gray

The ideal pet carrier that is perfect for traveling. Large, dark gray, Pet Porter 2. This kennel is airline travel approved. Lightweight pet kennel made with heavy-duty plastic,...

$147.95 $74.99
Ultra Vari Kennel 28" 25-30LB

The durable plastic shell comes with heavy-duty, easy to assemble hardware. Each kennel features an easy-open squeeze latch, metal side vents to promote healthy air flow and an ...

Only $59.99
Pet Kennel Direct 24" Airline Approved Plastic Dog / Cat Pet Kennel Carrier or Air Travel with Ch...

Dimensions: Size M: 24"L x 14"W x 13" H Weight: Size M: 7 lbs Color: Grey & Tan Material: Plastic & Steel Recommendation: Adult Cat, Beagle, Bichon Frise, Chihuahua, Dachshund, ...

Only $19.99
---
Disclosure: This page generates income for authors based on affiliate relationships with our partners, including Amazon, Google and others.