Throw a Christmas Party
Have you ever wanted to throw your very own Christmas party? You should! It's a great way to connect with friends and loved ones.
Hosting Your Own Christmas Party
 Christmas is always a time filled with fun, food, and festivities.  Who doesn't love to get time off work/school to have some quality fun with family and friends?  One of the things why I love the holiday season is because it gives me an excuse to host a party each year.  Hosting a Christmas party, or any party, usually requires some planning and dedication, but it is always worth it in the end.  For those of you who wish to start the tradition of throwing your own party, here are some tips and pointers to help you get started!
Work With a Budget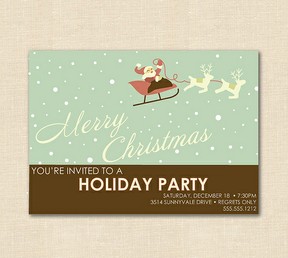 First and foremost, before you decide on anything else, determine how big or small your budget is.  Keep in mind that throwing a party means spending both time and money.  If your budget is small, have no fear, you can still host a Christmas party that won't break your bank.  For those who are on a tighter budget, consider forgoing certain things such as sending out Christmas party invitations.  You can instead send each guest a personal message through email or use the classic method of asking over the phone.  Another option for people on budgets is to throw a potluck Christmas party.  Potlucks are great for people on a budget or not.  People love to show off their best skills and ability in the kitchen and a potluck is a great event for them to debut their food creation.  Having a potluck also takes much pressure off the host/hostess
The 4 W's
The 4 w's are as follows: who, what, when, and where.  Who do you plan on inviting, what is the theme of your party (if there is one), when do you plan on hosting said party, and where will this party be located.  Once you have these four main components figured out, you are ready and set to start executing your plans!  If you have a tighter budget, consider hosting around 10-20 in the comfort of your own home.  If you have a bigger budget, look into possible venues in nearby recreation centers, hotels, and rental venues.  Last but not least, pick a date that's good for most.  Keep in mind that it's hard to accommodate everyone so there's no need to stress over picking a day where everyone is able to attend. 
What to Eat
For the past Christmas parties that I've hosted, I choose to make my own Christmas meal.  Usually I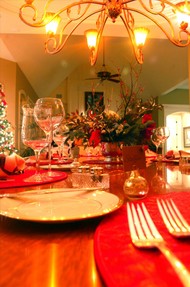 start preparing starting at around 8 in the morning.  If you are planning on having a home cooked meal, I would recommend you to do some research on great recipes a couple days before to give you enough time to hit the groceries before the rush.  Keep in mind that cooking your own turkey or ham may take up to 6 or 7 hours, so you want to make sure you have enough time to cook it.  There is also the option of buying premade food from places such as Honey Baked ham, Publix, Costco, and so forth.  Consider catering if you have a bigger budget and are planning to host it in a bigger venue. 
What to Do
Another crucial part of a holiday party is giving your guests many options after everyone has eaten.  I find that giving your guests around 3-4 options is optimal.  In the past, many of my guests just preferred socializing and talking with a few after dinner wines or cocktails.  Depending on your guests, it might be fun to have a pre-planned Christmas gift such as secret Santa or white elephant gift exchange.  If you have an entertainment system, you can set up an area for a movie, home karaoke, or Wii. 
Christmas Party Themes
Stuck on Christmas party ideas? Read this squidoo lens for some great ideas for your own Christmas party this holiday season :)
Will you throw your own Christmas party this year?
---
Disclosure: This page generates income for authors based on affiliate relationships with our partners, including Amazon, Google and others.