Tipping Hairdressers - What Is The Proper Tipping Etiquette?
by marciag
Have you ever wondered about the usual rate of tipping hairdressers? You don't want to give too much, but you don't want to embarrass yourself either...
Tipping Hairdressers - Do You HAVE To Do It?
I've traveled over the years to quite a few countries and one of the things most women always face pretty much everywhere is the issue of tipping hairdressers.
In some countries the tipping is quite generous, while in others, let's just say, I wouldn't count on tips to help me pay my bills!
I've also met people in each of these countries who were wondering whether tipping hairdressers is actually necessary.
Strictly speaking, no, it is not necessary. But it is definitely one of the best ways to ensure that you get the most out of the experience of hair cutting and styling. Let me explain.
Unless you visit a hair salon only once, in which case it doesn't really matter, you do want to have a great relationship with your hair stylist or hairdresser. Afterall your hair is in their hands - literally!
Money is not always seen as only a means of paying the bills. It is also a way to show our appreciation of a work well done. Everybody likes to know that they did a good job. And good tips are a sure-fire way to let your hairdresser know that you fully trust them and you're happy with what they've done with your hair. And that you'll most probably come back again and ask for the same hairdresser next time too.
Also it is a matter of guilt. Doesn't just eat away at you knowing that you left and didn't leave a tip? Tipping a cab driver, tipping the waiter in a restaural, the bellboy in a hotel, this is something that it is simply done in our society.
Finally, by tipping a hairdresser you get good karma points :-)
(Image public domain from wikimedia.org)
How Much Do You Tip A Hairdresser?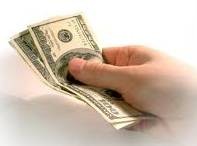 Having established that tipping a hairdresser is a matter of good manners, avoiding guilt and appreciating the respective service, let's see now how much should we tip the hairdresser.
Let's ignore the people who don't tip and see what's customary around the world. During my travels all over the world I found that a rule of thumb for tipping a hairdresser is anything between 10-20%.
Some countries are more generous tippers than others, and of course there is a big difference among people themselves as well.
Personally I find that the more work is done on my hair and the more it will cost me, the more tips I will leave. A simple haircut might lead to 10-12% (e.g. for a $40 haircut I usually leave $5 extra). 
On the other hand when my hairdresser has spent several hours on color, highlights and styling, I do tip her better because I know that she deserves it.
Also because I have my regular hairdresser that I'm going to every time, I've got to know her quite well over the years and I give her an extra tip for Christmas (around $50) and I know that she is absolutely thrilled with her extra money that she can use to buy Christmas gifts to her two sons.
When Is Best To Tip A Hairdresser?
If you know that you will be tipping a hairdresser, the next question is - when should you do it?
It really depends where you cut your hair. This one way of doing it:
If you have several people working on your hair (hair washing, styling and drying), then you can leave the tip at the front desk, asking the receptionist to split the tip among the people, with the most money going to the main hairstylist.
Alternatively if you are working with one hairdresser like I do, you can tip her directly at the end of the job. I usually pay for the hair styling at the front desk, and then I go find the hairdresser (she is usually hovering nearby anyway) and give her the extra tip.
Some Additional Tipping Guides
Tips On Tipping Etiquette And Getting The Most Of Your Haidressing Experience
Here are some additional tips on working with a hairdresser that I've come across over the years of visiting various hair salons. If you have more tips, write your comments below.
If you go to the same hairdresser, never tip him or her less than what you gave last time. Doing otherwise might give the hairstylist the impression that you were less than happy with their service (of course, unless you really were less than happy, in which case you might want to change your hairdresser in the first place)
If you found a good hairdresser, hold onto them for your life. While there are many hairdressers out there, I found that it takes a specific person to really bring out the best in my hair and make it look better than a wig or a bunch of straws on my head. And make sure you tip them well too!
Try to avoid going to a hairsalon where you get several people working on your hair. You'll find that not only you will end up tipping more (more people to spread the money around) but also in most cases you might not end up with the desired result. Stick with one hairdresser if you can.
If you are unhappy with the results of your hair style job, let your hairdresser know right away. Don't feel ashamed or awkward because that might cause a rupture in the relationsip over time. Hairdressers will want to know what went wrong (afterall their reputation is on the line) and they will want to fix it asap - for free.
If you must switch hairstists or hairdressers, don't do it within the same salon. This will cause feelings of anger, resetment and envy between the old and new hairdresser which gives you bad karma and creates a disruptive environment at the hair salon.
(Image is public domain from totallyfreeimages.com)
---
Disclosure: This page generates income for authors based on affiliate relationships with our partners, including Amazon, Google and others.