Vintage Road Signs
by ohcaroline
Traveling in the 50's.
Remember those road trips when you were young?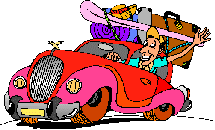 The road signs of the past were classic.  Were you old enough to remember when roadside tin signs were the signs of the day?  I like those old symbols of an era before interstate highway travel became the normal mode of transportation.  Don't get me wrong.  I like the interstate highway travel much better.  I still like to think about the games we kids would play when we traveled as youngsters.  I don't really remember making any short vacation trips then.  Our usual was the Illinois to Florida trip that my Dad felt had to be taken in a marathon fashion.  We would pile in the car when he got home from work on Friday and once the engine was running, there was no stopping till we reached our destination, except for gas and food.  Why do fathers think they have to make the trip an endurance contest?  Anyway, this is how our trips played out.  Maybe you can relate to my story.
Our first game we played was to see who could find the most "King Edward Cigar signs" along the way.  We didn't have air conditioning back then, so mostly we just hung our heads out the window looking for those little red and black signs posted along the road.  This game achieved two functions:  one was to keep us awake since we had been riding all night; and the second one was because there was nothing else to do.  DVDs would have been a nice alternative...but I'm talking about the 50's here.  Yep! The fifties.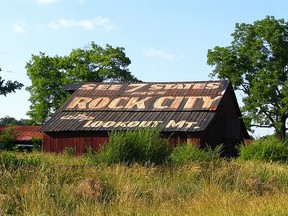 Our second game was to see who could find the most "See Rock City" signs.  These are still around now.  You would find them on barns, on billboards, and lots of those little birds houses posted in pastures and farms and along the road way.  The birdhouses are still around.  This form of advertising was genius.  Where would Rock
City be today had they not put their name so abundantly on every highway that wound its way to their doorstep? If you weren't aware of it, Rock City has created 200 limited edition pink and black birdhouses they call "See Rock City Survivor Birdhouses" to raise money and awareness for breast cancer. Survivor Birdhouse
Photo by TnGatorgal Photobucket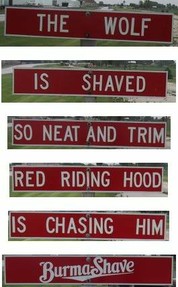 My favorite of roadtrip games was finding the "Burma Shave" signs.  They are real collector's items now.  It went this way:  a short story was stretched out between 6 signs and the final sign always said "Burma Shave", of course.  They were funny little ditties that kept your attention glued for the next installment of the story all the way to the end.  The signs were mostly small red and white signs with all capital letters for better visibility.  The first set  of signs were erected on the famous Route 66; but because of popularity branched out to almost all of the 48 states at that time.  They became so famous they put them up in the Smithsonian Institute.  There are books published that quote most of the sayings.
Photo by butterbeamkitty Photobucket
Did you ever play these kinds of games traveling?
Tin signs remain popular today, but not along roadsigns.  They have become decorative signs for almost any genre.  You can find team logos, city logos, beer logos, sports teams, and products of all descriptions.  I like tin signs...they are a taste of days gone by and are a product of an era of great growth in America after the Great Depression. 
---
Disclosure: This page generates income for authors based on affiliate relationships with our partners, including Amazon, Google and others.