Vintage Style Wedding Invitations
by BizzyBee
Vintage Style Wedding Invitations add a real touch of class and elegance to your special day. We have some beautiful customizable vintage Wedding Invitations, all available online.
Vintage Wedding Invitations
Gorgeous Vintage Style Designs For Your Special Day!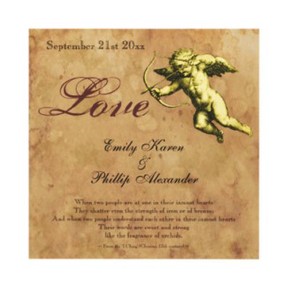 Vintage Weddings are definitely becoming more and more popular with brides and are actually actually one of the most popular trends nowadays. What was once old is now new again, so Vintage Weddings are in vogue. A Vintage Wedding is all about romance and nostalgic beauty and is among the most well-loved wedding theme of all times.
A Vintage Wedding adds something unique to the big occasion and are a great excuse to get more creative with the special day. Vintage Wedding are soft, sweet and romantic and we there are endless possibilities in Vintage design you can become inspired by. The details and old world glamour and charm of Vintage Weddings are simply beautiful and timeless and the atmosphere created can be simply magnetic.From the smallest of touches to a perfectly planned garden fete, planning a Vintage Wedding is a lot of fun for everyone involved.
Another great thing about having a Vintage Wedding is that you will most likely be searching for antiques, hand me downs, borrowed items and maybe even vintage clothing, so you will be having a more eco-friendly Wedding too! It is a fabulous opportunity for brides to include sentimental family heirlooms in their special day, mix and match vintage items and really let their true personality shine through.
Planning a vintage wedding is not nearly as hard as you may have thought it to be. In fact it can be a great deal of fun to explore the romantic eras of the past to find one that really speaks to you.
The Victorian Wedding is a popular choice and is a wonderful theme for a romantic day. Victorian themes should include elaborate floral displays and lots of lace, pearls, gloves and brooches with soft and romantic colors
The Roaring Twenties were a break from the strict Victorian times, so if you are thinking of a 1920s Wedding, think big beautiful art deco designs.
A Vintage Wedding is always unique and special event for everyone who attends, and by choosing the right wedding invitations you can set the tone for your big day.
Wedding invitations these days are becoming more unique and more creative than ever before. The wedding invitations that you send out are the first indication to your guests as to what they can expect from your special event.
However, you don't necessarily need to have a Vintage Wedding in order to fall in love with the timeless beauty and style of Vintage Wedding Invitations.
We have put together a wonderful selection of the very best Customizable Vintage Style Wedding Invitations available online from the talented artists at Zazzle.
Many of these stunning Vintage Style Wedding Invitations also have other matching Wedding Stationery, such as Save The Date Cards, R.S.V.P. Cards, Thank You Notes, Table Numbers and Bridal Shower Invites.
You can easily add your own text and Wedding details to any of these fabulous designs for a truly gorgeous invite to your very Special Day!
What Do You Think About These Vintage Style Wedding Invitations?
Wedding Jewelry On Amazon
Check Out My Other 'Wizzleys'!
---
Disclosure: This page generates income for authors based on affiliate relationships with our partners, including Amazon, Google and others.