Waterproof MP3 player
by pajs64
Considerations before buying waterproof MP3 player. Basic things to keep in mind while searching for a perfect underwater music device.
Listen to music everywhere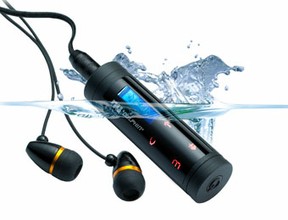 Twenty years ago, the well-equipped jogger or skater wouldn't have gone out without his trusty personal cassette player clipped to his belt.  As technology has relentlessly marched on, the MP3 player has become far more integrated into our lives than the previous cassette or disc-fed models ever did. The players have become smaller in size, while getting larger in capacity and in the number of features.  Athletes in nearly every sport are bringing their music along to the gym or to the track.  The one arena left out of the musical revolution, until now, has been water sports.  Water and electronics don't mix, as anyone who has ever dropped a mobile phone into the pool can attest.  But manufacturers have recently begun producing waterproof MP3 music players that not only resist water intrusion, but have been designed with this specific use in mind.
Things to consider before buying
While there are many players in the underwater music market now, there are some basic things to keep in mind while shopping. 
First, will it be convenient for you to use?  Typically, swimmers prefer a design that clips directly to the strap of swim goggles, to minimize trailing cords and cut down on drag and entanglement.  You must also ensure that the weight and size of the player are appropriate for your sport, and this means some tradeoffs have to be accepted.  A smaller player will weigh less, but the operational controls will be smaller by necessity.  This means that users with larger hands may have some frustration during operation. 
Finally, what type of earphones are on the device?  Will you use an over the ear clip-style with the bud, or an ear canal type bud with ergonomic interchangeable sleeves?  Everyone's ears are shaped differently, so the best bet for this type of audio is to ensure that several sizes of ear bud covers are provided for the best possible fit.  Some designs will require the ear bud to be worn rather deep in the ear canal, which can be uncomfortable after long periods of use.  However, you must have an ear bud that fits snugly, to prevent loss of sound underwater. 
Ease of use
A second consideration is ease of use.  This recalls the earlier statement about small buttons and big fingers.  You'll be using this device underwater, where visibility may not be so great, and if it is clipped to your goggles, you're operating blind.  Can you operate the MP3 player without looking at it?  A good design will be ergonomically laid out, in a logical fashion that will make learning the functions easy. 
Menus with multiple options, on the other hand, may not be the best interface for this application.Check the file formats that are supported by this player.  Nearly all support MP3, but you may have files in MP4 or WMA or iTunes formats in your digital collection.  What software is used to move files from your PC or Mac to the underwater music player?  Look for drag-and-drop interfaces here to speed up the loading time and maximize your underwater time.
Price of MP3 player
The third consideration has to be price.  Everyone has a budget, and the number of new entrants into this market means that you should be able to find a device that checks all of your boxes. Remember to allow budget for accessories, like alternate ear pieces, armbands for outside the water, and so on.
Final toughts
The underwater niche for music players is still relatively new.  Some devices haven't lived up to expectations, so do your own research before laying down your cash.  Buying from a reputable maker will give you confidence for any warranty issues.  Ask opinions from others, check out the devices in person, and then add a new dimension to your next dive. 
---
Disclosure: This page generates income for authors based on affiliate relationships with our partners, including Amazon, Google and others.