Asus Eee Pad Transformer Review
by pajs64
Is it a netbook, or is it a tablet PC? Maybe it's both! The ASUS Eee Pad Transformer fits the needs and description of both niches equally well. Let's look at the details.
Tablet at a Glance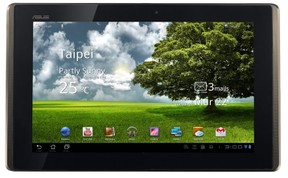 While the ASUS Eee Pad Transformer may not be as stylishly finished externally as some of the competition, it's what's inside that counts. Under the 10.1 inch, 1280 x 800 screen hides 16GB of internal flash memory.  Processing power comes from the Intel Core Duo processor, running at 1 GHz, and coupled with the NVIDIA GeForce graphics package and SRS sound technology.  Sound quality is excellent, so movies and video games run very well.  The front of the device sports a 1.2 MP camera for video conferencing and chat; the rear camera is a 5MP unit that provides good quality photos. Adobe Flash is fully supported.  If you'd like to expand the storage capability, you'll find a micro SD card slot. If this is still not enough, you can connect tablet to external storage disk trough 2 USB 2.0 ports. A mini HDMI and a headphone jack round out the connectivity features.
But what sets this device apart in tablet comparison, and the option that provides its name, is the optional docking station. Slightly smaller than a standard keyboard, this equipment adds customized Android function keys to enhance your experience. 
How does it work?
Yes, you will pay extra for the docking station, but it's worth it. As you can imagine, a physical keyboard is faster than the virtual one and provides extra features. When used without the docking station, the Transformer weighs in at 1.5 pounds and measures only 0.5 inches in thickness.
You also have the option to use a remote desktop feature to connect your tablet to your home or office PC.  If both are connected to your home or office wireless network, you can access files on your tablet that are stored on your PC. Great feature!
Survey says
The unique Asus Eee Pad Transformer docking station is generating a lot of buzz around this device.  Besides speeding up your typing and adding functionality to the device, it also extends battery life to 16 hours.  This is very important, and hard to beat in the tablet market.  Be warned that if you do need to plug into main power at your home or office, the supplied power cable can be a little shorter than most.  Charging is faster than most competitors, and battery life without the docking station is an admirable 8 to 9 hours, even with heavy usage. 
On the software advantage front, ASUS has included a fantastic file manager system that allows file transfer via the micro SD card.  Creating new folders is very fast, and this functionality is one of the most helpful features on the machine. The notification feature is handy as well, notifying you of new incoming communications without interrupting other applications.
Overall picture
Many manufacturers of tablet pcs are betting big money on the success of the Android operating system. If Honeycomb OS is a solid and reliable platform, they will win. If not, they will lose.  ASUS is in the same boat as Acer and Samsung in this regard.  We note that recent upgrades to Android Honeycomb have done a lot to improve the stability and performance of the OS overall.  Asus Eee Pad Transformer tablet PC has some edge here, in that the initial prices are slightly lower and the docking station is a great selling point.  When you factor in the options for connectivity, the ASUS will be a major contender in this market.
---
Disclosure: This page generates income for authors based on affiliate relationships with our partners, including Amazon, Google and others.