Toshiba Thrive 10.1 Review
by pajs64
Toshiba Thrive 10.1 tablet PC review. Features, technical specifications, included software and what customers say about this tablet computer.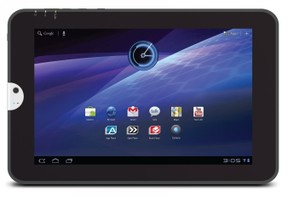 Toshiba has been a major player in the computing world for many years. Their laptop computers offer excellent feature sets at a reasonable price. Toshiba has now entered the tablet computer arena with the release of the new Thrive tablet. The device joins an array of other new market entrants running the Android OS from Google. The Thrive is shipping now from online retailers like Amazon.com, and could be a real alternative to the market-leading iPad.
Technically Equipped
Tech specs
Hardware may be boring to some, but this is the heart and soul of any computer. The Thrive comes out of the box with great equipment. The main processor is the Nvidia Tegra2, and GeForce graphics are provided. Customers will choose from 8, 16, or 32 GB of internal memory, and 1 GB of RAM is standard. Visual enjoyment is supplied by the 10.1 inch HD screen, with 1280 x 800 (720p) resolution.
Connectivity with other devices is supported trough wireless-N Wi-Fi networking (802.11b/g/n) and Bluetooth 3.0. For easy connectivity to peripherals, you'll find both full-size and mini USB slots, as well as an SD card slot. As with many of its competitors, the Thrive carries forward-facing and backward-facing cameras, and the well designed case has a non-slip, textured coating on the reverse to help you keep your grip.
Included Software
The Android operating system is relatively new, but wildly popular. The more technically-minded consumers enjoy the open source code, and the budget-minded are huge fans of the Android Market, where many applications are completely free. The Thrive enjoys full access to all of these apps, as the tablet is running the Honeycomb 3.1 OS from Android. A trial version of QuickOffice is supplied, and a one-month license for a security package is included as well.
Living with the Thrive
If you want a smaller or lighter tablet, the Thrive may not be your best choice. It is slightly thicker and heavier than some of its competitors, but this is reasonable when you consider that it performs better than many as well. The battery life is a quite reasonable 6 to 10 hours from a full charge. With the excellent hardware packed into this case, the Thrive is fast and powerful. The additional ounces of weight are completely acceptable in this case.
Toshiba Thrive on Amazon
Ad
Final Answer?
If the Thrive can ride the popularity of the Android OS, then this may be a real market contender against the iPad. While some previously released Android tablets seemed to suffer from an immature operating system, the Thrive excels. The key is likely to be in how well the Android OS can shake off the image of being an evolution of a cell-phone platform, and convince a wider market that this is a real PC operating system. With the hardware package that Toshiba has assembled, it seems like a good bet.
---
Disclosure: This page generates income for authors based on affiliate relationships with our partners, including Amazon, Google and others.