What Are The Options for Mobile TV?
by mulberry
We may have busy lives but we want the ability to enjoy TV entertainment wherever we are. While carting along your big screen TV isn't an option, there are other alternatives.
Not Always at Home? Find Out About Mobile TV
Maybe you have a favorite show or two, or perhaps you have a channel you like to watch for the sports or movies. The problem is, you would like to be able to watch them while you commute, when you're in between classes, on a lunch break, or while away on a camping trip. That's when mobile TV would be really nice. All of those times when you're not at home sitting on the sofa or lying in bed.
Well, there are a number of options for getting mobile TV. Some of them provide the choice of watching live programming, delayed programming, or perhaps they merely allow you to record shows and movies and take them along.

You can learn more about the options and the services that are currently available here.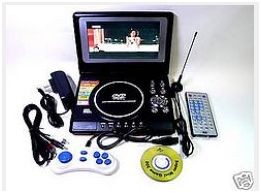 Photo by Aleutia
The Options for Mobile TV
If you would enjoy watching certain TV shows, movies, sports or news while you're out and about, then getting some type of mobile TV can allow you this freedom. There are several options you can consider.

1. A portable digital TV.
Picking up digital signals and broadcasting live TV is the aim of these devices. They have a built in antenna and digital tuner with a color LCD screen that is typically 3"-9"" in size. A portable digital TV is small enough to tote around but large enough to enjoy the viewing experience. You can also skip any monthly service fees and incur only the cost of the device.

2. Paid Services with a handheld device.
There are a variety of paid services available. There are of course apps that can be used on media players, smartphones, tablets, and so forth. Some of the apps are station specific, others offer broader viewing options.
Some of these services can also be used on internet connected TV sets so that you can enjoy a show during a commute home and continue watching on the big screen once you arrive.
Several telecommuncations and television providers offer mobile TV viewing as well. One example is the V-Cast television programming offered by Verizon Wireless. Satellite TV provider Dish Network also offers options. With a free app and the right Dish DVR, users can watch live TV on their iPhone, iPod Touch, iPad, Blackberry device, Android tablet or phone, or other compatible mobile device. Comcast Xfinity (cable) and DirecTV (satellite) also offer apps.
In any case, there is typically a small monthly charge for the service.
3. Free Mobile TV services.
Sure there's Hulu which you can get with an internet connection, but beyond that, the free choices are pretty limited. However picking up TV broadcast signals with your mobile phone and so forth may be coming soon, and at no charge.
Portable TV
There are of course portable TVs available which can pick up broadcast TV signals. They typically offer an external antenna and screens as small as 3" or as large as 8-9". Some may even include a DVD player. The larger ones are fine when traveling by car, camping, riding the train, or carrying in a back pack. The smaller ones are fine for taking just about anywhere.

There is no monthly fee to pay, only the cost of the TV itself and the batteries it uses. Another advantage of these portable TVs is that their screen is a bit larger and generally of better quality.
For those who would prefer to take along their satellite TV, DirecTV offers their Sat-Go but it's a 17" screen and more suitable for use when camping. It only works of course with the DirecTV service. The device itself costs just under $500.
Paid Services on Mobile Devices
There are a number of paid services which are availble primarily for smart phones, tablets, and other mobile devices.

For instance, PrimeTime2Go is a mobile TV service from QuickPlay Media and costs $9.99 per month also. It allows you to download and enjoy programming via WiFi connection. Another paid service for smartphones is BitBop from Fox Mobile. Currently it is available only on select BlackBerry devices.
MobiTV is one of the original mobile TV services and has apps that will work with most major cellular providers. The cost is $9.99 like most of it's competitors.

Hulu Plus is another paid option. It's also $9.99/month and gives you a huge number of TV shows, sports, and movies to choose from. You can get it on an iPad, iPhone, iPod Touch and a variety of Samsung, Sony, and Vizio televisions and Blu Ray players as well as PlayStation 3 and Xbox 360 gaming devices as well.
Some of these services are provided directly through cellular providers. Verizon Wireless has their V Cast Video on Demand for popular shows and sports broadcasts and Sprint has Sprint TV. Of course AT&T has Mobile TV.
Free Mobile TV
There are rumors and reports that say free mobile TV may be coming soon. Provided of course you have a mobile device to receive it.
This article briefly discusses Mobile DTV. However, mobile devices that support it may not be out until 2012.
Until then, a portable digital TV is still your best option for free mobile TV.
---
Disclosure: This page generates income for authors based on affiliate relationships with our partners, including Amazon, Google and others.