What do cats like? Prey preference: How to find your cat's favorite toys for fun, bonding & exercise
by ImagineMDD
Indoor Cats: Keeping them Stimulated, Happy and Youthful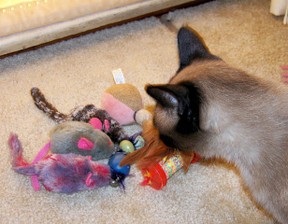 Do your cats like to play? Did they play as kittens but their play time has been trailing off since they've gotten older? Are they getting chubby and listless? Would you like to have a stronger bond with them and get them interested in exercise?
An indoor cat is said to live longer than a cat who lives indoor/outdoor or outdoor-only. A healthy cat at a healthy weight will also live longer. Cat exercise is so important to an indoor cat.
They're inspired by the urge to hunt and pounce. Seeing something slithering across the floor, flying through the air?
Maybe it's something they hear. A rattle. The flutter of feathers? Chirping? Crinkling?
It could very well be chemical, as in the infamous catnip, as they get older especially. Catnip doesn't seem to be as attractive to very young or very old cats as their senses of smell may not be as accute.
An older or more inactive cat, a scared or unsocialized cat may become more playful simply by watching other cats play. Patience and persistence is the key. With our feral cat, we've had to be very patient and understanding. All of our cats have come from different circumstances. They all have different preferences.
I had a cat who lived into his 20s. I believe that part of the reason (some of it was very good luck as not all of our cats have lived as long) that we played almost daily and it kept him a kitten at heart. It kept me from worrying too much about the little stuff and it kept him active. Even at the end when he was very geriatric, we found a way to create playtime.
Not all of these toys have to be store-bought. They can be home-made and some may not be what you think of as toys at all. From a cat's point of view, a shoe lace, a crumpled up piece of paper, an empty bag or box, a ping pong ball, these things may be the some of the greatest toys of all!
Be aware that some of the most fun looking things to a cat are also some of the most dangerous. Know what's attractive but dangerous for cats, such as dental floss.
[Image from Public Domain Pictures]
"Identifying your cat's prey preference can help your cat to live longer, stay in shape, keep your bond with him or her, keep them out of indoor mischief, keep them getting along well with one another and other pets, sociable in general."
-- The Indoor Cat Initiative, College of Veterinary Medicine, Ohio State University
Da Bird Super Pack: DaBird makes a sound like crazy bird while you play with it! Our cats love it!
Da Bird Feather Teaser (Rod: 35" Length; Line: 32" Length)

 

Handcrafted in the USA with top quality materials,

 

Da Bird Feather Teaser simulates the motion of a bird at your control.

 

A flick of the wrist and the brightly colored feathers dance and spin to invite your cat to play.

 

Interacting with your cats helps you to bond with them and have fun. The sound of this toy is amazing!

 

Encourages instinctual behaviors and exercise to keep your cat healthy and alert. Don't endanger the wildlife outside your window, but let your cats be cats!

 

35" Rod pulls a part for easy storage.

 

Replacement feathers available.

 

Assorted colors, allow us to choose for you.

---
Replacement feathers for Da Bird : It's the word :-)
Da Bird Feather Teaser Replacement Feathers (8" Length)
Beautiful, bright replacement feathers for Da Bird Feather Teaser.
Our cats grab the feathers and run away with the line and stick trailing after them!! Very funny. The feathers get worn out. It was smart to make replacement feathers.
Just unclip the worn out feathers from the Da Bird swivel line and clip on the new feathers.
Assorted colors, allow PetCo to choose for you.
---
We have a number of cats. They came into our family in different ways. Our oldest is a traditional apple-head Siamese. He is from a breeder and he was the runt of the litter.
Next was a contemporary wedge-head Siamese we found from an ad in the newspaper. She was a kitten but her exact age was uncertain.
Our Tonkinese was a rescue. She was a feral cat who'd had a litter of kittens in the parking lot at the office where my husband works. Her age is not known exactly, but the vet thought she was very young to be having kittens.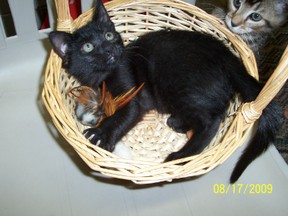 Next we found a black kitten at the Humane Society. They had a special price on their kittens as they were overrun with kittens and cats. We'd wanted another black cat since we lost our black cat a few years ago.
There was another unwed mother cat in the parking lot where my husband works. One of her kittens was born with what turns out to be a congenital bone defect in his front leg. Since he's missing a bone, the leg is malformed. We adopted this little guy partly because we feared he'd have few chances of being adopted by someone else.
Clearly our Tonkinese had a rough start in life as she was feral. There is also evidence that our wedge-head Siamese may have had some trauma in her young life before she came to live with us.
I give this history partly because cats' backgrounds may be taken into consideration when you're thinking about play and choosing toys. Their tastes may change and go back and forth as they grow.
** Happily, with a lot of dedication, personal expense and hard work, the majority of cats who are abandoned where my husband works are captured, spayed and neutered. They're also fed and given water. This is done  on off hours by a select few employees who are cat lovers. These days, pets are being abandoned more and more. Luckily vets are offering low-cost spay and neuter clinics. It's not possible to find forever homes for all of the cats who are abandoned.
[Personal photo, copyright the author. Do not use.]
Feather Toys, Bird Toys, Fur & Bell Toys, Crinkly Paper Toys
Our cats had definite prey preferences from the start. Learning how they wanted to play, what toys they liked best, helped them to feel safe and enjoy themselves. It helped them to get used to their new homes and to living with other cats.
With most of their prey preferences, you can find cheap ways of indulging their cravings, give them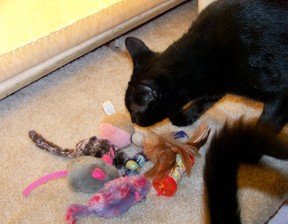 handmade presents and also you may buy them wonderful toys to show them how much you love them, too.
The traditional apple-head Siamese, the oldest cat was wild for feathers. A wand toy with feathers on a string that resembled a bird in flight would be his very favorite toy of all.
It gave him both of his favorite things in one, string and feathers, not to mention allowing him to engage in his natural predatory instincts and hunt for birds in a safe way.
He goes absolutely mad when I file my nails with an emory board so I'd love to find a toy like that but I don't let him play with the emory board. Only this cat has that interest. He also adores fur-covered toys, which I've heard are covered in rabbit fur. It's best if these toys are on a string.
The wedge-head Siamese was all about crinkly paper and bells. In most cases, feathers didn't interest her. She was our first cat who loved to play fetch and who loved to jump high.
She loves to chase really crinkly paper like bandaid paper best. There was a joke that she's scratch you just to get you to go for a bandage.
In a multiple-cat home, you can sometimes combine your cats' prey preferences into single toys. We would choose a wand toy with a bell and a feather. This allowed our girl to jump high for the bell and our boy chased the flying bird around the room.
We've been known to get things off the Clearance aisle at the pet store only to have them break soon. Cat toys aren't going to last forever in most instances, but we've had no-name cat toys break immediately and we now prefer to get toys that we know they've used and enjoyed before.
[Image from Public Domain Pictures]

Rattling Sound Toys or Fast Motion Laser Toys?
Our Tonkinese was and remains a dominant cat who prefers to play by herself. We're working with her to trust others and to relax. Her favorite toy is a mouse that rattles, preferably one with catnip inside. When we first brought her home, she either loved all toys -- as if she'd never had a toy in her life -- or other toys would scare her. She'd hiss and swat at things.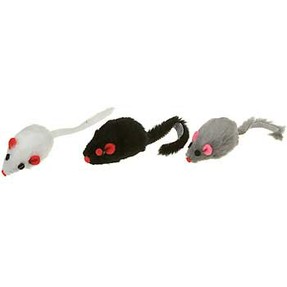 I've read that you might try a wand or fishing pole toy with a feral cat, but this sort of toy was a huge threat to her even when offered gently. There are many abandoned pets out there. Please do adopt one and don't give up if they're scared or don't love the first few toys they see.
She liked the rattling mouse (she likes the sound) or a small tennis ball.
Every cat is an individual. This cat, too loves to play fetch. She's like a kid addicted to Knock, Knock jokes. She'll play fetch for an hour!
The two youngest cats really like the laser toy. Interestingly, the others are either blase or completely disinterested.
Some of the cats like cardboard toilet paper rolls to bat around the hall.
Furry Mice Toys: PetCO Specials
They rattle and cats love them! Our cats adore these mice.
What do all the cats like?
What does everyone like? There aren't many things that every cat in the house likes, but there are a few things.
1) A shoelace, boot lace or string of some kind. We're very careful to properly dispose of things like rubber bands and dental floss, but we've been known to buy extravagant shoe laces when they're on sale at the shoe store. Not only do the cats love them, but they are great exercise and they're wonderful bonding for you and your cats.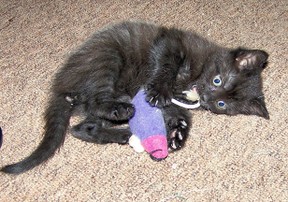 2) At a cat show, I saw judges enticing cats with pheasant feathers. Vendors were selling them at the show and I bought one. My cats loved it. Since then I've purchased some on eBay. The cats all love these.
We supervise their play, especially the youngest ones as I'm not sure how safe it is for them to be chewing on them unattended. They all love to jump up at the feathers!
We have a few family members who are into fly fishing, some who are into fashion design and many who are artists and crafters. Many of us have cats. These feathers, when bought in bulk definitely do not go to waste! The cats also like playing with peacock feathers.
3) Fur mice, especially those with tails. I'm always buying more of these and looking for sales. They play fetch with these and bat them back and forth. They get lost under things and get into closets. The Tonkinese likes to carry it in her mouth and howl as she's carrying it! The wedge-head Siamese likes to carry it by the tail.
4) Bubbles. I was careful to get bubbles that were for cats. They have some strange assortment of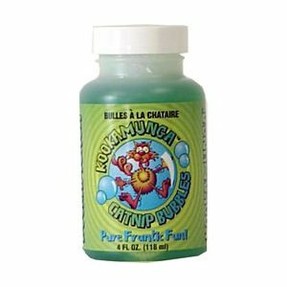 bubbles. Some say they last for days. Not sure what they're made of. Some soap bubbles (the kind kids play with, or the kind we use at events like weddings) can sting cats' eyes.
I finally found some catnip-scented bubbles that the cats really seem to like. We use them indoors of course, and outside when they're on a walk. The bubbles are available from a variety of sources.
Krazee Kitty Catnip Bubbles
** I'll have a companion article to this one about activities that the cats like, individually and together. These are things you can do with them, get them to do to entertain themselves and to keep them out of mischief.
[Image of cat from Public Domain Pictures]

Rattling Fur Mice - 12 pack : The best of more than one world!
Feather-Tail Mice are good, too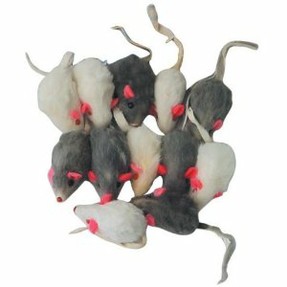 The cats love these Rattling Fur Mice - 12 pack Your feline friends won't be able to resist these authentic and natural colored furry rattling mice! Each mouse is covered with REAL fur and rattles!
"These natural fur mice will provide hours of fun and exercise and are a healthy outlet for your cat's natural hunting instinct."
When purchasing them in the store, I'm always shaking them to be sure and get the ones that rattle so I'm getting something that I know everyone will enjoy!
"Each has a cute little felt nose and eyes and measures approximately 3" long from leather tail tip to nose tip and these mice DO rattle."
Spay & Neuter : Cat Spaying : It's Tough Being Little : It's the right thing to do
Rescue Kitty
Peekaboo Siamese Kitten Shirt
by
ImagineMDD
(below)
View other
Seal T-Shirts
Pheasant Feathers on eBay
Indoor Cat Information : Get Your Cat on a T-Shirt
Siamese Cats: Traditional (Apple Head) vs. Modern (Wedge Head)
Green Kitty Litter Disposal Alternatives
Cats Should Stay Indoors
Cat Agility Competitions : Training Cats
Cat Laser Pointer : A laser cat toy lets your kitty follow a little light across the floor, the hunt/prey instinct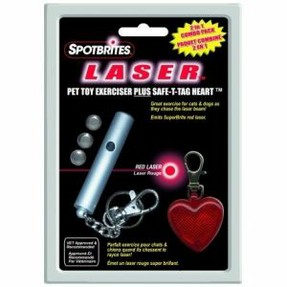 SpotBrites 2 in 1 Combo Pack Pet Toy Laser Exerciser Plus Safe-T-Tag Heart
by Ethical Products Inc.
2-in-1 combo pack features a red laser toy plus a Safe-T-Tag heart.
Laser beam is visible for up to 1 mile. and providesgreat exercise for both cats and dogs.
This item is vet approved and recommended.
Water-resistant Safe-T-Tag heart is both light sensitive and motion activated, so it will only operate at night while your pet is moving.
Includes (3) LR44 (for laser) and (1) CR927 (for heart) batteries. Laser measures 2-1/2" long, heart 1" long (excluding chain). Follow all directions.
---
Disclosure: This page generates income for authors based on affiliate relationships with our partners, including Amazon, Google and others.