Blue wigs tv and anime-inspired, popular for costumes, plays and dress up
by ImagineMDD
Blue wigs help you bring to life characters, hair like you see on pop superstars, anime superheroes, TV and cartoon icons.
Blue wigs for kids, blue Katy Perry wigs and much more!
Anime bob latex wig in Five color choices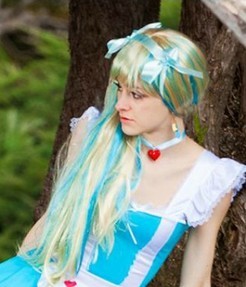 Some of our most celebrated, glamorous ladies have donned blue wigs, Cher, Lady Gaga, Katy Perry.
Don't forget Blueberry Muffin, a good friend of Strawberry Shortcake! More than one popular Anime character has blue hair.

Avatar is still a huge influence on costumes for both Halloween and masquerade parties, and along with the newly released Smurf movie, a lot of folks young and old are thinking blue!
Costume wigs are are being used by adults and kids all year long and they're cooler than ever! These days, you'll find wigs made of latex, vinyl, yarn and felt. Halloween costume wigs can be used for a lot more than Halloween!
Friends wear blue wigs to show school and team pride at sporting events. Have them on hand for a birthday party activity. They may be worn to show support at events and fundraisers for colon cancer and child abuse awareness. Blue is the color of their awareness ribbons.
They're for men, women and children. There are even wigs for your pets! Still on the look-out for blue wigs for pets. There's a Blue Man-inspired blue bald cap that comes with make-up as is a pair of blue-tipped false eyelashes.
Wigs and dress-up costumes for kids promote pretend play and socialization.
Maybe you're off to a taping of Let's Make a Deal! You'll be in the crowd at The Early Show or The Today Show and want the cameras to notice you and what your sign has to say?? You want to make an impression at karaoke? Have fun!
This page will only show a few but rest assured, the merchants offer many more for the costume or character to suit your imagination.
Katy Perry and other popular costumes for kids and adults are here.
Alice in Wonderland wigs
(above) is a high quality wig part of the Rebel Toons Collection. Part of the iconic Alice in Wonderland series. Your wig doesn't have to be all one color. Mixing in some color with your natural color, with chalk or feathers for instance, is hot now.
This headpiece features a short bob cut hairstyle with a face framing shape and thick poufy bangs.
The latex Anime Bob Wig fits on the head like a cap and a wig cap or hair net (available on this page) is recommended to keep those fly-away hairs under control.
Wig comes in the following colors: blue, black, pink, red or yellow. This Cosplay Latex Wig is perfect for your cosplay anime character costume. One size fits most teens and adults.
Wigs with costumes, purchase tips
Often wigs do not accompany costumes unless you buy the deluxe version. Sometimes you may choose to buy a costume or a wig separately. Be sure to read the description so you know what's included and what is not included.
Rarely are shoes and make-up included with a costume, for instance.
Rag doll costumes of all types are really hot right now, there are so many to choose from! There are goth rag dolls for tweens, teens and adults. You often see really great yarn hair wigs and hair made from other fibers with the rag doll costumes. Consider creating your own wigs and hair pieces particularly with these costumes.
Take the time before placing your order to read size charts carefully. Each merchant may vary. This way you know you'll get the right fit for yourself and your family.
Pet Costume : Cupcake Girl Dog Costume
She's stylish, trendy, hot and oh yes, she has blue hair!
Be the star of the dog walk when you dress your pet in this divine Cupcake Girl dog costume. Whether you're a huge Katy Perry fan or you just adore the sight of an adorable pup in a blue wig, sunglasses and a bikini top, you'll love this outfit.
For the doggie Howl-a-ween parade and contest? Many communities have parades and events featuring pet Halloween costumes. These often benefit local Humane Societies and other animal charities. They also give pet lovers the opportunity to meet and show off their dogs and cats (ferrets and other pets) in their best attire!
The pet fashion show? Your pooch will be on-trend and feeling fine and girly in this outfit. The local music awards? Is your pet a natural for YouTube howling to the songs of his or her favorite tunes?
Eyes will pop at the sight of your little cupcake in this pretty and cute costume. New!

The Cupcake Girl dog costume consists of a blue wig, cupcake pink bra and heart-shaped sunglasses
Anime Pigtail Latex Wig
Three Color Choices while they last, check to see when colors are restocked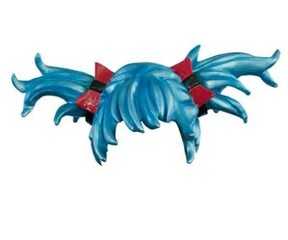 Anime Pigtail Latex Wig
is made of high quality latex for optimal comfort and features a hairstyle consisting of pigtails pulled up with bows, bangs and small layers around the face.
The latex Anime Pigtail Wig fits on the head like a cap.
A hair net is recommended to keep those fly-away hairs under control.
This superb quality latex anime wig is hand painted for realistic shading.
The latex anime wig is available in red pigtails with yellow bows, pink pigtails with blue bows or blue pigtails with red bows.  Check to see if blue is in stock, they're quick to go.
One size fits most teens and adults.
Blue Beehive Marge Simpson Wig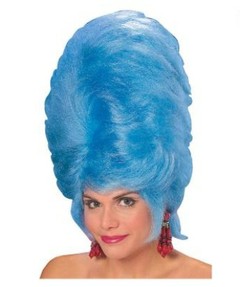 Blue Bouffant, Bee Hive Wig (Blue) Adult Accessory
A Marge Simpson Challenge on Project Runway All Stars?! Fantastic!
The beehive hair style was a staple of 60's fashion.Test your go-go dancing skills while wearing a costume topped off with this beauty.
Finish your Marge Simpson, hippie, disco diva or 1960's themed adult costume with this Blue Beehive Adult Wig.
Homer and Marge are iconic TV Parents. Dress up like them for Mothers' Day, Fathers' Day, Halloween, whenever you need a cool costume
Are you a fan of the British comedy Are you being served? Mrs. Slocombe would love a wig like this!
Attending a Come as your favorite kind of candy party? Here's a good start as Miss Cotton Candy of the Year!
This wig may also dress up a colorful Victorian costume. If you're attending a fancy dress ball and wearing that flowing dress or blue embellished gown with hoop skirt, this would top it off perfectly. Add feathers? Make a statement and win first prize.
Don't forget a wig cap (sold separately) to keep your own hair in place. One Size Fits Most Adults
Memories of Blue Hair
When you think of blue hair, who or what comes to mind? Chances are that you may first think of a cartoon character or a Muppet. Cookie Monster or Grover? Dr. Seuss has several blue haired characters, Thing One and Thing Two sport fine, frenzied heads of blue hair.
Marge Simpson is arguably one of the most famous blue-haired lady we can think of on the tv screen. I also think of Mrs. Slocombe on the British comedy, Are You Being Served?
Several anime and manga characters have blue hair. Does the hair color somehow match the character's personality? That isn't always the case, so I've read.
Memorable dolls from the 1960s and 70s had blue hair. The Liddle Kiddles' hair color often went with the rest of their outfit. The aptly named Bluebell came in a perfume bottle. There was also a blue-haired Flatsy doll named Susie. Strawberry Shortcake had a pal named Blueberry Muffin.

Pop icons from Cher to present day stars such as Katy Perry and Lady Gaga wear blue wigs to bring their music and the shows alive.
A few strands or a full head of blue hair, it's fun to do at least once!
Tim Burton Corpse Bride Wigs
Curly, bold, blue spiral curl adult wig. Blue Spiral Curl Adult Wig
  Long blue hair spiraled in small ringlets with a center part. You'll be swinging those blue tresses around all evening! She's the off-beat pal of Raggedy Anne. Head over to that Living Doll party in this wig.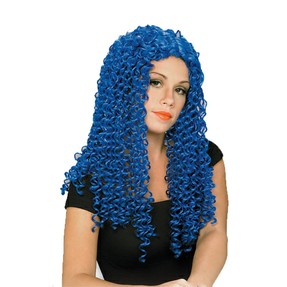 The Tim Burton's Corpse Bride Wigs
features long purple/blue and lighter colored yarn.
Use it for the finishing touch to your Corpse Bride Costume.
It will also add a gothic appeal to another costume.
One Size Fits Most Children and Adults.
Blueberry anime look wig and blue-tipped long false eyelashes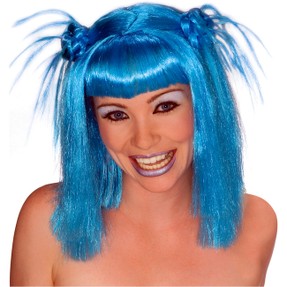 Blueberry Squeeze Wig
will brighten up the room with its vibrant and cheerful look!
The Blueberry Squeeze Wig features:
Electric blue synthetic hair in a shoulder-length straight cut
Small pigtail braids twisted into mini buns with small strands sprouting out around them for a wispy look
An open mesh cap that allows for better ventilation & is elasticized from the sides to the back for a more personalized fit.
This blue costume wig is a great way to enhance your party ensemble, cosplay character or blueberry girl costume. Are you going to a Liddle Kiddles theme or a Sparkle party?
A blue costume wig can be worn on a number of other occasions including holiday parties, parades, and masquerades.
Show your team or school spirit at sports games in real style. Headed to a tailgate party or lucky enough to have your team in the Super Bowl or World Series?! You'll be the hit of the party in this wig.
One size fits teens and adults.
Alice in Wonderland Adult Wig and the Alice Rebel Adult Costume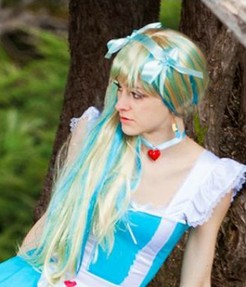 The Alice in Wonderland Adult Wig shown is temporarily sold out but other bicolor wigs for women and girls are available. This may change at any time particularly at this time of year. Alice in Wonderland wigs
Alice is the young girl who fell into a rabbit hole to a fantasy world full of riddles.
Pair with a Rebel Alice costume, Goth costume or one of your own making. Shop your closet. This doesn't have to be Alice in Wonderland and it doesn't have to be for Halloween. Let your imagination run wild.
Peacock inspired make up tutorial
Hunger Games Ceasar Flickerman Game Show Host
"So Peeta. Tell me. Is there a special girl back home?"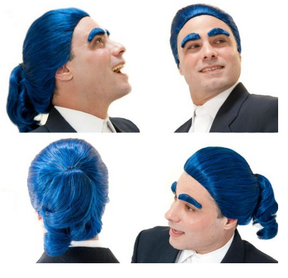 Blue Colonial Man Wig
(** set pictured is currently sold out; alternate blue wig available while it lasts and you can get the same/a similar look.)
Consider a blue (electric blue?) eyebrow pencil to highlight your brows
Have you seen the film Hunger Games? Some of us have only read the book so far.
Do you have Caesar's laugh? Some of his mannerisms and quotes?
This wig is Colonial style, which means it will work for other characters and projects besides Caesar. Construct your own character, create a new 'Founding Father?' Be like Hunger Games TV Show Host - Caesar
One size fits most.Made for Adults- Would probably fit many teens
A wig cap, too is always a good idea to keep as much of your hair undercover as possible.
Will you have Caesars Games?
Getting eyebrows? Don't forget the:
 Spirit Gum & Remover Combo
Wig Cap to wear underneath the wig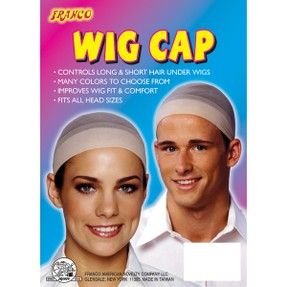 This Wig Cap is essential
to comfortable and successful wig wearing.
One Size Fits Most After you have the wig cap securely in place, put the wig on over the top of the wig cap.
Controls long and short hair under wigs Helps for an improved and comfortable fit. Keeps fly-away hairs from slipping out from underneath your wig
Perfect for both adults and children Like a hair net, but this is made for wearing under a wig The wig cap Is the foundation for a great look
Choose the color and size that's right for you, your hair and the wig or headpiece that you're wearing.
Blue Hairspray Temporary Hair Color
Blue Hairspray
Spray in and wash out. This temporary haircolor can take you to the club or to a football game.
It's great for a Smurf costume, blueberry costume, cosplay, Marge Simpson or any other Halloween costume.
Don't forget the matching blue Halloween makeup!
3.6 oz can
Non-toxic Spray on/Shampoo out
Bright, fluorescent blue color
Transform your look in seconds!
---
Disclosure: This page generates income for authors based on affiliate relationships with our partners, including Amazon, Google and others.