Corpse Bride Costumes, Gothic Bride costumes for Children and Adults
by ImagineMDD
With the popularity of the Tim Burton films Corpse Bride & Broadway hits like The Addams Family, goth weddings are on the rise & the zombie bride is a popular theme for costumes.
Corpse Bride Costume for Adults and Children
Are you planning a wedding for the end of this year? A great idea for a couples costume would be a goth-style bride and groom. Corpse bride-inspired weddings and bridal showers are on the rise. So much fun for Halloween.
Many couples who plan Halloween season weddings have theme weddings in the vein of Corpse Bride, Twilight film inspired or other goth styled. Frankenstei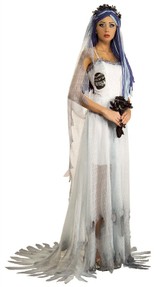 n and the Bride of Frankenstein are timeless. Are you looking for a Day of the Dead bride costume for a parade or festival?
For several of the skeleton bride costumes, ghost brides there are corresponding ghoulish grooms. If there isn't one specifically made to accompany the bride, put your man in a Frankenstein or Mummy costume and he'd be a fine groom just the same!
This Adult Corpse Bride Costume includes
Wedding dress
Veil
Purplish/blueish yarn-type wig (braids not included)
Bouquet
While these costumes are very trendy, interestingly enough, some of them are also modest. You'll see that the adult versions of some come traditional and a bit more sexy. If you're looking for a costume that doesn't leave you cold and feeling too exposed, but you still want to be on trend with the Halloween scene, this may be the way to go!
Above you see the Corpse Bride Costume
Wig is also sold separately. Become the Corpse Bride.
You may want to check out the Sexy Corpse Bride Adult Costume, too.
Add the Corpse Bride Veil Set or gothic bride boquet to complete this gothic bride costume
Did you see Tim Burton's Corpse Bride?? A man who puts a wedding ring on the finger of a woman's skeleton as a joke gets more than he bargained for when she comes back as a ghost and claims that she is now legally his bride in the stop motion animated feature film, based on a 19th Century Russian folktale.
Corpse Bride Costume : Child Size
Choose size
From day care dress up days, elementary school Halloween and Harvest Season Costume pageants, birthday and other party dress up to teen years costume masquerade parties, kids always seem to have the desire and the need for costumes. 

Another BFF or sibling idea is to have two brides, one as a traditional bride in white and/or lace. The other bride in a movie, monster, goth or black and white version.

Buy the whole costume or part of it. Improvise. Let your child create part of it. Let them work on make up, the wig, etc.

Many of these goth or zombie bride costumes for kids have some component that is light colored or something like a veil or drape could be added. Even a reflective sticker. Placing something on your trick or treat bag, too. This is important when trick or treating. It's so important to be seen by headlights for instance.

At the end of the season, you can swap with other kids for practically new costumes or pass them along to others in the family or friends.

Make the bouquets. Make the headpieces, the veils. Have fun with it.

 

Tim Burton's Corpse Bride Child Costume

Be Emily the Land of the Dead in this Goth Corpse Bride child's costume. Shoes & Wig not included.

 

From the popular Tim Burton animated movie.

Note the skeleton arm.

---
The Bride of Frankenstein : Maybe the first Monster Bride we can think of?
A costume and an inflatable wig!
Monster Bride Adult Women's Costume
Love hurts - looks like it killed this Monster Bride! Comes with the dress and arm ties. Wig is sold separately.
Will you organize a Monster and Monster Bride flash mob for the season?
Looking for that Mr. Franken-Right?? He'll love you in this outfit.
Lady Monster Adult Wig (pictured) Cruella De Vil has nothing on her!
Universal Studios Monsters Bride of Frankenstein Adult Costume
Become a part of the original love story of monster meets pretty monster this Halloween. This Bride of Frankenstein Adult Costume includes a black and white wig and a mummy wrap white dress. Pair with Frankenstein Costume (sold separately) for a great couples theme.



Bride of Frankenstein Makeup Tutorial
Bride of Frankenstein Inspired Goth Bride Necklaces
For your special date or every day, show your individuality, your quirkiness :)
Corpse Bride DVD : Tim Burton's Corpse Bride
With extra features
Tim Burton's Corpse Bride [Blu-ray]
Set in Victorian England, Tim Burton's Corpse Bride, is for the whole family. To quote composer Danny Elfman's merrily macabre lyrics, the story is a "tale of romance, passion, and a murder most foul."
Which version will you choose? Play it for a party or have it playing in the background as trick-or-treaters drop by? The soundtrack will add to the mood!
Victor Van Dort is off to his arranged marriage to the shy Victoria.
After making a fiasco of his wedding rehearsal and fleeing into the woods, he slips Victoria's wedding ring on what he thinks is a gnarled tree branch. It's actually the finger of the deceased Emily.
She is revived from her cursed deathly state. According to the Netherworld laws, she giddily expects Victor to make good on his vows.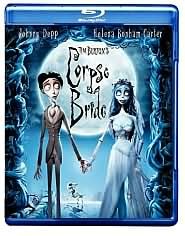 Features: Danny Elfman Interprets the two worlds; The animators: The breath of life; Tim Burton: dark vs. light; Voices from the underworld; Making puppets tick; The voices behind the voice; The Corpse Bride preproduction galleries; Music-only track; Theatrical trailer.
Trick or treating safety
Give out instead of or with candy: Attach to costumes and trick or treat bags for visibility
Safety Reflectors allow your kids to be seen more easily, Angel Safety Reflector : Pirate Safety Reflector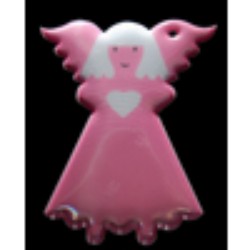 Place reflective items on the back of your child's bike for those days when the sun goes down early and you want them to be more visible to cars. They can also be seen by bicycle lights. Pedestrians are sometimes hit by people on bikes.
Place one on their trick or treat bag or backpack. Can be attached to diaper bags, book bags, coats, dog collars, strollers, etc.
They want them on their jackets or on their bag packs because they're so funky, cute and cool. Best of all, these little cuties save lives in dusk, dawn and dark!
All reflectors are made of a plastic material that will reflect the light from the headlight of an oncoming vehicle creating a bright glow!
Reflectors- They can save lives any day of the year.
Think about how often we cross the street just to get to a restaurant or the grocery store. Your child is carrying out the trash in the evening or walking the dog. Wearing reflectors isn't really something only to be done on Halloween.
Reflectors work on foggy and rainy days as much as in the winter.
Fatal pedestrian/motor vehicle collisions occur most often between 6 p.m. and midnight.
Angel Safety Reflector Currently out of stock
Skeleton Days of the Dead Wedding Necklaces
Corpse Bride wig fits kids and adults
Corpse Bride Wig
Features long purple/blue yarn hair with an awesome twisted/braid look.
Use for the addition to your Corpse Bride Costume or a gothic appeal to another costume.
Be that living doll who freezes and then comes to life with little or no provocation.
Fits both children and adults.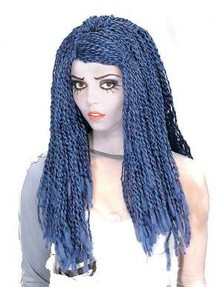 Makeup Kits
Tainted Fairy Makeup Kit

Make Up TipsHaunt the night as a messenger from the darkness with this Tainted Fairy makeup kit.

 

With its palette of purple, black and silver, this kit complements any fallen angel, vampiress or gothic princess bride.

---
Vampire Makeup Kit includes 1 creme foundation, 4 creme contour shades, eye lining pencil, make-up brush, stage blood, face powder, powder puff, 3 latex sponge wedges & full color instructions.
Dark Vampyre Makeup Kit
(pictured) Includes: Fluttering black eye lashes highlighted with silver glitter (reusable!)
Professional Eyelash Adhesive that dries quickly
3 Color Cream Makeup Tray (deep purple, pale purple, black)
Purple Goth Glitter Blood that dries to a "wet look" finish Individual Fangs with Dental Putty for custom fit
Black Lipstick Makeup Sponge to cover large areas
Brush for fine lines and accents
Gothic Bride Makeup Tutorial
---
Disclosure: This page generates income for authors based on affiliate relationships with our partners, including Amazon, Google and others.