Who is Michael Myers
Michael Myers, the antagonist of the Halloween slasher series is one of the most well-known villains in movie history. Learn about this time line here.
Who is Michael Myers?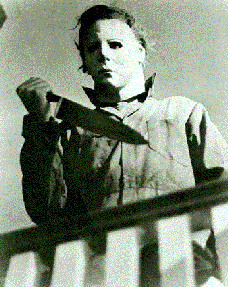 Michael Myers is by far one of the most feared villains ever in horror movie history. He is known as the antagonist in the Halloween film slasher series with the exception of Halloween III (Season of the Witch), which didn't actually feature any of the previous cast members. Although Myers typically described as being nothing but evil, some fans argue this statement, saying that he is actually a supernatural force.
Getting to Know Michael Myers
Myers is generally depicted as being an elusive, mythic boogeyman who can't be killed by traditional methods such as fire, bullets or stab wounds. So where did the inspiration for Myers come from? Well, Carpenter found his inspiration for Michael Myers when he was in Kentucky at a mental institution on a class trip. It is said that there happen to be a young 12-year old boy who had a real evil, schizophrenic stare that Carpenter found creepy and unsettling. This experience provoked the characterization of the villain we know as Michael Myers today.
What makes him even more frightening than characters in other horror movies is his rare ability to feel. In one scene where he removes a mask and sheds a tear, it humanizes him which makes him even more scary because he can demonstrate feelings of regret and love. No one likes a villain who can actually feel bad what he does because it's just too real!
Michael Myers has been described as being a sexual deviant because he follows and watches girls, offering characteristics of repressed sexuality however, others argue that this is just ridiculous. I personallly never got this impression of Myers myself. Michael was fixated on his sister Judith's murder and because of this, he had to repeat the action continuously because he was excited by it. As the script developed though, he had gone beyond being a simple man, he became mythical with some deeper force driving him. Another thing fans were intrigued by was that Michael Myers never spoke during the series until the 2007 remake when he spoke as a child in the very beginning. Makes you wonder why Carpenter all of a sudden made him talk after all those years right?
Lifespan of Michael Myers
1978 – We were introduced to this young boy decades ago back in 1978. Six-year-old Michael Myers kills his sister Judith with a kitchen knife. Then,15 years later, he escaped Smith's Grove Sanitarium to return to his hometown, stalking Laurie and her friends. His psychiatrist, Dr. Loomis ends up shooting him in the chest six times and he falls over a balcony but his body is never found.
1981 – Dr. Loomis and the police are looking for the body of Michael Myers in 1981 but while they are seeking him out, he is searching for Laurie in a hospital where she is being treated for injuries acquired in the film's predecessor. It is revealed that Michael is Laurie's older brother. Many fans already had their suspisions about this. To save Laurie, Dr. Loomis sacrifices himself to burn him and Myers together.
1988 – In the beginning, Halloween IV, it is discovered that Dr. Loomis and Michael Myers both survived the explosion. Michael has been in a coma for 10 years but wakes up when he learns that his sister has died but that her seven-year-old daughter named Jamie has been left behind. He returns to Haddonfield, causing a blackout and killing the police force but is eventually shot by the state police. Have we seen the last of him? Of course not!
1989 – Michael Myers escapes the mine shaft he was shot down in the previous movie and a hermit has been nursing him back to life. He kills the hermit (I really thought he'd show mercy on the hermit!), returns to Haddonfield once again to look for Jamie but is eventually captured by the police and taken to the station. In the end of the movie, some unknown figure murders the police force and sets Myers free. Yes, he's on the lose again!
1995 – Michael and Jamie have both disappeared. Jamie was kidnapped and impregnated by a cult let by Loomis' friend, Dr. Wynn (no one saw this twist coming, right?). It is suggested that he was the one who helped him escape from jail in Halloween V. Michael murders Jamie but fortunately, she had time to hide her newborn who a guy named Tommy Doyle (from Halloween II) discovers.
1998 – It is found that Laurie faked her death so she could escape and has been living in California with her son John (Carpenter couldn't let Laurie actually die yet, fans would be disappointed!). Michael Myers tracks them down to the private boarding school John attends but Laurie decapitates him.
2002 – Laurie finds out that she really decapitated a paramedic back in 1998 who Michael had switched clothes with (not a great thing to deal with). Myers tracks down Laurie at an institution and kills her. He returns to Haddonfield and kills a group of college students but to seek revenge, their friends trap Myers in a burning garage.
2007 – Rob Zombie's remake of Halloween was based on the original film but focuses on the childhood of Michael Myers, a side we really hadn't seen of him thus far. He is shown at 10 years old killing animals and suffering verbal abuse from his sister and Ronnie (his mother's boyfriend). After he escapes from being institutionalized for half his life he is excited to go see his real sister Laurie but she is terrified of him and shoots him.
2009 – Michael Myers is presumed dead once again but he has a vision of his mother who tells him to find Laurie so they can both come home to her so wakes up. In this remake of Halloween II, Laurie and Michael actually share a mental link and have the same visions of their mother. Laurie stabs her brother, killing him for the last time?
So, the question is, where is Michael Myers now? Is he stilll stalking people? Hiding out? When are we going to get more of this villain who never dies?
---
Disclosure: This page generates income for authors based on affiliate relationships with our partners, including Amazon, Google and others.