Giant Bean Bags – Why You Will Fall in Love with Them!
If you don't understand why giant bean bags have become so popular, clearly you've never spent some time in one! Learn more!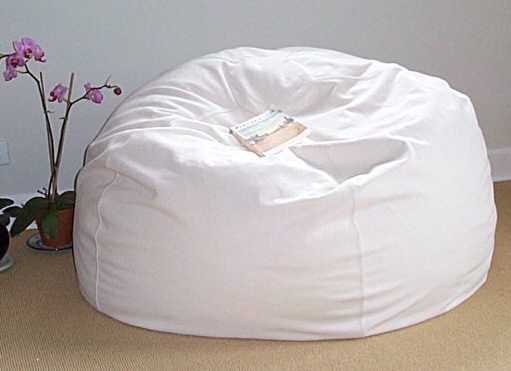 Bean Bag Chair
What's so Great About Giant Bean Bags?
Bean Bag Chairs Offer Many Outstanding Benefits
Sure, you may think that actually moving around your furniture to make room for giant bean bags sounds a bit absurd but once you flop, drop, dive or politely sit in one, it will all make sense! Interestingly, most bean bag chair purchases are done spontaneously after the consumer has sat in one and doesn't want to get up. They conform to every inch of your body, cradle your spine and promote relaxation, could you ask for anything more (aside from a personal full time masseuse)?
I can still remember the day I sat in my first bean bag chair (well, since adulthood that is).  I hadn't seen once since I was a kid and had no idea that they were still being manufactured and in such fashionable styles, they were no longer the hot pink vinyl I had in my room!  No, my first adult experience with giant bean bag chairs was with a LoveSac.  I took one look at it at a friend's house and it was love at first site.  Not only was it so chic in her contemporary living room, it was literally calling to me.  Needless to say, after sitting in it, it warranted an online shopping adventure!
The Stuffing Stuff Stuffed Inside
So, what's inside giant bean bags that makes them so unbelievably addicting? Well, that ultimately depends on how much you want to spend and the feel you prefer. Most bean bag chairs and sofas are full of polystyrene beads, they move easy, are lightweight and are amazingly comfortable. This type of stuffing will break down after extended use over a period of time but there's good news; most giant bean bags are refillable so buy a bag of beans, open the zipper and stuff your stuffing inside!
Looking for an environmentally-friendly option? There are plenty of choices that are stuffed with an array of recycled materials. It is common for some of these to be manufacturerd using leftover polystyrene that would otherwise be considered waste. They reshape, grind it and create beads. There, you just saved this stuffing from ending up in our landfills and that's always good news!
You may have heard a lot about shredded foam filler lately. This has become a very popular choice in giant bean bags. The foam gets shredded up super small so even after they are flattened out, they spring back to life. These may cost a bit more but you won't be buying bags of beans very often. You should know that this type of bean bag chair feels a bit different to sit in. While they are extremely cushioned, you don't feel the traditional flow of beans when you move that you may or may not miss.
Looking for the premium stuff when it comes to stuffing? Microfiber is it! It is 100 percent recycled urethane, shredded foam that is completely environmentally-friendly and hugs your body like a cloud (or I can imagine this is what a fluffy cloud would feel like)! Microfiber is incredibly durable and will rarely ever need refilling! You will find giant bean bags in whatever material and color that you need to match your decor. Buy one today and discover why they are being recommended by physicians and psychiatrists everywhere!
Recommended Sites
Decorating for Tranquility
Learn all of the tricks and great decor you need to add to your home when you're decorating for tranquility.
Cutting Board Care
A website dedicated to choosing the right cutting board and properly caring for it.
---
Disclosure: This page generates income for authors based on affiliate relationships with our partners, including Amazon, Google and others.