Who Is Wayne Tully
Wayne Tully an artist, blogger, teacher and entrepreneur busy building corner posts in these four main areas to build an online business with an entrepreneurial spirit.
Wayne Tully Is An Entrepreneur
Living As An Entrepreneur And What's Coming Up
Being an entrepreneur Wayne Tully worked out quite early on that building your own business was way better than building other peoples businesses without any cut of the revenue. Affiliate programs are the main driving force behind his profits but the very idea of building up separate income streams appealed to Wayne more than the make money garbage that anyone looking on the internet for the first time will always find.
Wayne has built up many online presences in many online places, some just quick sign posts, others more of a foot print that won't wash away. The early couple of years spent on the Internet were wasted trying to chase the make money online dream or illusion, the usual way of starting something and it didn't work the next day, so onto something new, that way of thinking will get you nowhere.
Waynes Fantasy Art Inspirational YouTube Channel
Wayne Tully Draw Fantasy Art
Wayne started getting his online priorities sorted out by the end of 2008 and in July 2009 he started his fantasy art channel with ideas of showing people how to draw stuff from their imagination with his Flip camera and it was a steep learning curve and actually getting used to talking and speaking in front of camera as the thought scares most people.
This YouTube channel has now spawned 2 more channels, one for Drawing Tattoo Art and another dedicated to Drawing Fantasy Art with in depth and longer videos.
See the original tube channel below for some of the best drawing videos and the more popular ones....
Wayne Tully YouTube Most Popular Drawing Videos
Draw Fantasy Art Videos
Draw Fantasy Art Is The Motto
Growing up, Wayne always loved to escape into his imagination and draw some fantasy art stuff, aswell as comic book stuff, there was once a time when that's all he ever did and drawing became a hobby for a good while as jobs came and went and depressed his good self. The last job he had was the final straw, a Laundry keeper at a local Hotel and was treated to a minimum wage job that was all kinds of mundane counting laundry, counting,counting and yes more counting, anything went missing, even when he wasn't working on that day he got the blame for missing laundry.
Working part time now for nearly 3 years since 2008, he has the idea of helping others to tap into their imaginations with Draw Fantasy Art - A blog that hopes to help artists realize their imaginations and ideas and draw with confidence always creating new original concepts, of course other plans are also in motion alongside this blog there will be other art websites that help people with other aspects of drawing art and they are subjects that Wayne knows very well indeed, like Selling his own tattoos, drawing comic books and selling other types of art.
Avenues For Selling Waynes Art
Zazzle And Other Sites
Zazzle was Waynes first success as he has an initial site he created over there and then had the idea to have other Zazzle galleries that remained secret, so that he could test the earning potential from them, now with consolidated stores he can categorize his art dersigns more effectively.
And the surprising fact of Zazzle is that the more targeted he built his Zazzle galleries to a specific holiday or yearly event, the more sales he made.
Zazzle is one of his top business priorities to design new products every week. Here are a selection of Wayne's Fantasy Based artwork below....
Flaming Skull Digital Print
Digital Skull Art T-shirt Print
Demon Art Bag
Cancer Demon Art
Zombie Santa Iphone Case
Merry Chistmas With Zombie Santa
Satan Devil Keychain
Red Satanic Devil Art
What's Next - Future Projects
Wayne Tully's Upcoming Stuff
While he could say it's all a secret, he knows one thing, that the future of his online work is definitely in Video with plans for a DVD tutorial course on drawing various things all planned and with ebooks and other digital media in the works.
A graphic novel also in the works too which will add extra credibility to his work online and offline.
Watch this space!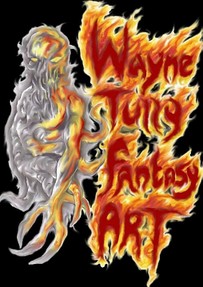 ---
Disclosure: This page generates income for authors based on affiliate relationships with our partners, including Amazon, Google and others.