15 fun, easy and practical gift ideas for pet and animal lovers
by Michaela
Need a great christmas or birthday gift idea? If your recipient owns a pet or loves animals, you're lucky: There's a great variety of wonderful gift ideas for animal lovers ...
Easy gift-giving for (and to) people who love pets and animals
Knowing that your recipient loves dolphins, enjoys horseback riding or shares his life with a beloved dog or cat can give you some great clues when it comes to gifting - even if you don't know the person very well.
You basically have two options:
a) you give something practical, useful or decorative that the pet owner (animal lover) might enjoy
b) you give something to the animal (pet) itself: Most pet lovers enjoy seeing their pet receiving a gift just as much (or even more!) as getting something nice for themselves.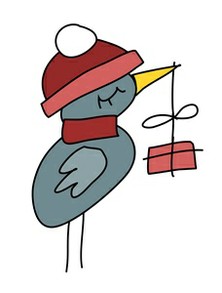 Here are 15+ gift ideas especially for pet owners and animal lovers ...
... you're guaranteed to find something for every pet owner on your list! :) 
1) Give a cook book
Help pet owners learn to cook their own pet food or at least prepare their own dog or cat treats.
This has many advantages:
Homemade pet food is safe – you know what's in it.
Homemade pet food is much healthier and especially animals with health problems or food allergies can benefit greatly. For our German shepherd lady with numerous joint problems from arthritis to hip dysplasia changing her diet has been the single most important factor in (dramatically) improving her condition!
It's even possible to prepare food that both pet owner *and* dog or cat can enjoy together.
2) Give some homemade treats
Easy, quick, cheap and with a nice personal touch: Bake some dog, cat or horse treats, put them into a nice cookie box and you have a wonderful gift that a pet owner can use and enjoy.
There are many (simple) recipes to choose from: You could make pretzels, brownies or biscuits for dogs, crackers for cats and even chewies or cupcakes for horses.
It's the perfect gift especially for occasions like christmas because you can decorate your baked goodies according to your needs. Make them taste good *and* look good, too. :)
And what about some (homemade) bird food ornaments for someone who loves to watch birds in his back yard? - You can easily make them yourself and they are not only practical but really decorative as well.
Bird & Blooms shows you how to make a birdseed treat or birdseed wreath - lovely decoration for christmas!
(Please consider: Pets might have food allergies and/or diet restrictions, too!)
3) Give a coupon for a photo session with a professional pet photographer
Yes, most people own a digital camera and are able to take pictures themselves but unless they are quite experienced in animal photography investing in a session with a pet photography pro might be well worth the money.
It could not only be a fun experience for everyone involved (both pets and people!) but also provide pet owners with high-quality pet pictures they couldn't that easily create themselves.
4) Give a coupon for a personalized/individual pet sticker
It might be a bumper sticker for the car or horse trailer, a sticker for the front door or garden fence. The important thing is that the pet owner can easily customize it with his own pictures and message.
A horse owner might enjoy a personalized horse stable sign /plaque.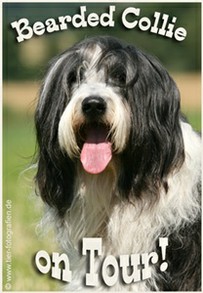 Individual pet sticker
© C. Steininger / www.tier-fotografie...
5) Give some pet music CDs
Music for your pet? - Yes, dogs, cats, bird and rabbits, too, are said to not only enjoy music but to benefit from it as well.
Mozart, Beethoven, Chopin or even the Beatles: Calming, relaxing music composed especially for pets can help with health problems, separation anxiety or getting well after surgery.
Another benefit: Pet owners enjoy the music, too!
6) Give a pet toy
Not very original but still appreciated by many dogs or cats, rabbits or birds, ...
Just make sure you choose quality toys that are durable and safe.
If you're a crafty person, you might even want to try to make a cat or dog toy yourself - they are cheaper and more environmentally friendly, too!
Thriftydog has some great ideas how to make your own dog toys.
Or what about crafting a simple catnip mouse toy for your recipient's cat?
7) Give a coupon for a pet store
It might not be a very personal gift but it is a very useful one.
If you don't know what the pet owners really needs or likes, a coupon is the perfect choice.
8) Give a subscription to a pet magazine
Doesn't matter if your recipient loves labrador retrievers, reptiles or Arabian horses:
There are a lot of great magazines to choose from - you are guaranteed to find something your recipient will find informative.
9) Give a framed quote or poem
This is a very frugal gift but still nice and personal:
Choose an inspirational quote or poem relating to the recipient's favorite animal or pet and have it framed to use as wall decoration or on the desk.
10) Give a pet-related photo gift (t-shirt, mousepad, mug, baseball cap, ...)
Help them show their love! - Help a pet owner or animal fan show their love for a particular species or breed and give a pet-related photo gift.
You can either customize merchandise with a picture of your recipient's pet or choose from pre-made gift ideas: Does your recipient love "Goldies" and wants to let everyone know they're the best dogs in the world? - A "Golden Retriever" t-shirt might be the perfect choice for you.
You want something more useful? - This decorative pet bowl might come in handy for a Bernese mountain dog lover.
Most of us use the computer - why not brighten someone's day with a beautiful image of his favorite horse breed on a mousepad?
You can choose from a great variety of pet merchandise here.
11) Give someone the chance to adopt an animal and do some good
There are a lot of great (animal-related) causes you could support in the name of your recipient.
You need a gift for someone who loves wolves? - Why not let them sponsor or "adopt" a wolf?
This gift idea has many advantages: You do something good, you make your recipient feel good *and* you help an animal in need.
12) Give a book or DVD that relates to the animal your recipient loves most
It could be a novel, a non-fiction book, a cartoon or comic, a movie starring animals, a book with inspirational quotes or poems or just simply an illustrated (coffee-table) book. (The last option is probably the safest choice if your recipient is a non-reader or if you don't know the recipient and his taste in books very well.)
Funny and cute and available in book form as well:
"Simon's Cat" (see video below) is perfect for any cat lover - and you don't need to be a bookworm to enjoy this! :)
13) Give a pet portrait
If you have a (good and clear) picture of your recipient's pet, you can commission a professional pet portrait to paint or draw you a picture.
This truly makes a very special gift and a wonderful memory, too.
(You might also consider giving this as a coupon so your gift's recipient is able to choose his favorite photo of his pet.)
14) Give a keyring
They are practical and everyone can use one - key rings are also great when you are in need of just a small gift.
Choose a key ring with an animal picture or figure, a paw print, a bone shape, the name of your recipient's favorite pet engraved, ... You have lots of options here!
Selfmade, personal and unique: Did you know that you can even create a key chain from horse hair?
Here's how ...
15) Give a calendar
A gift that is almost guaranteed to succeed: A calendar! Everyone can use one - and if you go for a simple classic design (see my recommendation below) it is a gift option that is perfect for almost every recipient and every occasion.
If you're looking for a beautiful photography calendar for a dog, cat or horse lover, consider visiting "Pets - your best friends" at Cafepress:
German shepherd
Pugs
Labrador retrievers
Golden retrievers
Rhodesian Ridgebacks
English bulldogs
Haflinger horses
Gypsy horses
Arabian horses
...
There are 70 beautiful calendars you can choose from.
Additional christmas gift idea for a pet owner
Give them a santa hat or scarf for their dog, cat – or even their horse!
It looks cute and is a great accessory adding a little fun and humor to the family's christmas pictures! :)
Extra tip: Create a gift basket!
Gift baskets are a great choice because they are
easy to put together
perfect for every budget
a personal and individual gift
Arranging a few goodies in a gift basket and adding some appropriate decoration can even make a very frugal assortment of items look like so much more.
For a pet gift basket, you can combine the gift ideas mentioned in this article, e.g. treats, toys or a pet bowl.
Need some inspiration? - Martha Stewart shows you how to make a cute bunny basket. Even kids can do it! :)
Gifts you should avoid
cheap toys: they can be dangerous for pets, they break easily, they often end up as clutter– and they are a waste of money for you as well!
better don't give any pet-related deco items if you don't know your recipient's taste that well
(conventional) cat or dog food: Many animals have special needs when it comes to their diet - and many pet owners don't believe in feeding conventional pet food to their animals at all
Pets! - They are lovely, precious and make great companions. But please don't give them as a christmas or birthday "surprise" gift!
---
Disclosure: This page generates income for authors based on affiliate relationships with our partners, including Amazon, Google and others.