5 best free Mahjong games
by Cromborman
Mahjong games come from China. This post reviews some of the best Mahjong games available online.
Christmas Mahjong 2011
Christmas is over but you can still check out a Christmas style Mahjong game. As in any other Mahjong games your task is to clear the screen as fast as possible by matching the pairs of stones with similar symbols.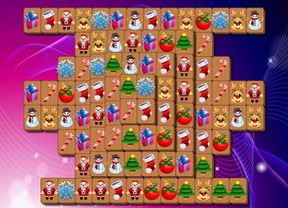 As you can see in the game screenshot picture the symbols include snowmen, snow flakes, Santa, Christmas Tree, reindeer, etc. To play the game, just follow this link: Christmas Mahjong 2011.
Celtic Mahjong
If you like Celtic symbols, check out this version of Mahjong. As you can see in the picture below there are Celtic symbols on the tiles, which makes this game a little bit more difficult than the other Mahjong games featured in this article. However I am quite sure that you will eventually learn how to recognize the symbols and will be able to complete each level before your time runs up.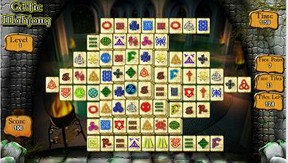 This game is very popular in England, Italy and Europe because the Celts were an Indo-European tribe in Iron Age and Roman Era Europe. To play the game follow this link: Celtic Mahjong
Great Mahjong
As many of you know, Mahjong games come from China, where many tournaments and contests are held every year. Chinese alphabet is not easy to learn as you may see in this classic Mahjong game. The rules are the same as in any Mahjong games - find two tiles with the same symbols and clear them off the screen by clicking on them.There are two different game modes - classic and time attack. In time attack mode you will have to clear the screen before your time runs out. To play this game, follow thist link: Great Mahjong.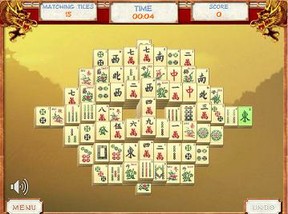 Mahjong Alchemy
This game has probably the best design of all Mahjong games available on the net. However, it is also one of the most difficult games to play as the tiles are hidden and it is not easy to find the matching pairs. Look at the screenshot below to see what this game is about or play the game by following this link: Mahjong Alchemy.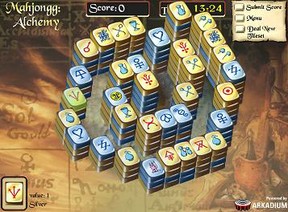 Alchemy Mahjong also games with a time attack mode. The player has just 15 minutes to clear the screen. It may seem a long time but in fact it is quite short and completing a game will not be so easy.
Mahjong Fun
This is the funniest and easiest Mahjong clones in this post. Clear the screen by finding the matching tiles with various items, such as animals, cuttlery, trees and flowers, etc. All items are clearly visible and I am sure everybody can complete this game. Check it out by following this link: Mahjong Fun.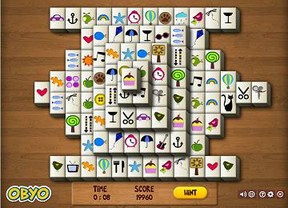 About Mahjong
As you can see there are many popular free Mahjong games available online. If you want to get more information about Mahjong, just follow this link. On this page you can also find more information about Mahjong competitions and tournaments.
---
Disclosure: This page generates income for authors based on affiliate relationships with our partners, including Amazon, Google and others.