6 Funny Swimming Pool Signs
Hang one of these Funny Swimming Pool Signs up by the pool and let everyone know the pool rules before they get in.
Have a little laugh while you lay down the Pool Rules
If you have a Swimming Pool and Kids you definitely have had the talk about peeing in the pool. I know it is gross to think about, but it happens when they are young. They get too involved with playing and swimming that they think no one will notice if they go. I do not even want to think about adults doing this - ewwww.
That is when we have to tell them that we have special chemicals in the pool that will make it change colors if they peed and everyone will know. OK we know it is a lie, but sometimes you have to use scare tactics when necessary - lol.
Have you seen the movie Grown Ups with Adam Sandler? They had a scene where the four stars Kevin James, Rob Schneider, Chris Rock and Adam Sandler were in the pool and they peed. Then all of a sudden you see a Blue Cloud (Mythic Urine Detector) grow around the four "grown-ups" as they were floating around. While it was hysterical to watch, it was also really gross.
Can you imagine if there really was Urine Detector you could put in pools?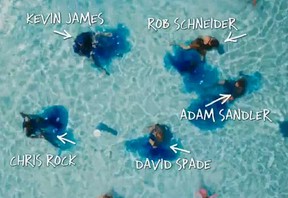 In a recent poll done by Live Science it was admitted that 1 out of 5 people pee in the pool. Can you believe that?
So here I am getting all serious when this page is really about Funny Pool Signs. I guess I had to lead up to the fact that while these Novelty Pool Signs may be funny they are truly a little reminder to those going into your pool to not pee in it. I know it is crazy to think we have to do this.
But 1 out of 5 people? Really?
Do you have a No "P" in our Pool Warning sign?
Make your Own Swimming Pool Rules Sign
If you are crafty you can make your own Swimming Pool Rules Sign to match your outdoor decor if you are not crazy for the ones on the market.
I have made my own using a piece of hanging Slate that you can find in your local craft store. I like using the slate because it holds up nicely in the weather vs. a piece of wood. Then all you do is pick your saying and paint it on using acrylic paint. Make sure to spray your slate with a Clear Finishing Coat to protect it from the weather.
Some of the popular sayings to put on your sign as shown above are:
Welcome to our "OOL" notice there is no "P" in it
Warning This Pool is equipped with Urine Detector
We don't swim in your toilet ~ So please don't Pee in our Pool
Take a look at some of my other Summer Pages
---
Disclosure: This page generates income for authors based on affiliate relationships with our partners, including Amazon, Google and others.