Becoming An Ultrasound Technician
by RachZ
If you are interested in a medical career with a lot of potential, why not become an ultrasound technician?
Interested In Becoming an Ultrasound Technician?
Becoming an ultrasound technician  means that you are part of the diagnostic medicine team of a hospital, clinic, or veterinary hospital where you work. You are trained to help physicians diagnose injury and disease in order to help their patients.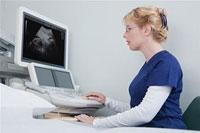 Ultrasound imaging is a non-invasive method of getting a picture of what is happening inside the body. It is more effective for picturing soft tissues than xrays, and does no harm when done properly. This cannot be said of xrays and other imaging techniques. All of which use forms of electromagnetic energy to produce their detailed images. Ultrasound uses sound waves as is evident in the name, is extremely safe which is why it is used so extensively with pregnant women.
You need to have a degree and be prepared to work hard to become an ultrasound technician
Learning to use this method of diagnostic imagery makes you a valued member of the medical community. In addition to the general certification of Registered Diagnostic Medical Sonographer (RDMS), there are certifications for which you can qualify in the areas of cardiac imaging, as well as vascular imaging.  Some ultrasound technicians wish to specialize in fetal development but others are more interested in working in other specialities.
 In some cases an ultrasound technician learns to be proficient in all 3 disciplines by studying for the certifications. Someone with this level of knowledge will find their skills in high demand and their paycheck should rise as well.
Video explaining more about becoming an ultrasound technician
Do I Need A Degree To Be An Ultrasound Technician
In order to become a certified ultrasound technician the answer is yes, a degree is necessary, although it can be either an associate degree, or a bachelors degree. In addition to a degree it is also a requirement have 1 year of clinical experience. After fulfilling these requirements, you must pass an exam given by the American Registry for Diagnostic Medical Sonography (ARDMS), after which you will be able to register as a Registered Diagnostic Medical Sonographer (RDMS).
 After you are a certified ultrasound technician, you can find work for a salary of between $40k and a bit over $60k. The range varies by region and number of certifications. In addition to the above mentioned certification there are three more for which you can qualify. These are Registered Diagnostic Cardiac Sonographer (RDCS), Registered Vascular Technologist (RVT), and the Registered Physician in Vascular Interpretation (RPVI) certifications. The last one however,  is limited to licensed physicians.
Preparing yourself for certification as a qualified ultrasound technician is both satisfying on both a personal level, and a professional level.
Want More Information On Medical Careers?
Check out the sites below
TheCertificationGuide.com
Everything you need to know about various medical certifications - how long it takes to qualify, what exams you need to take and of course the all important job prospects.
Updated: 11/20/2011, RachZ
---
Disclosure: This page generates income for authors based on affiliate relationships with our partners, including Amazon, Google and others.