Glass Christmas Ornaments
by RachZ
Looking for glass Christmas ornaments to make your holiday season extra special. These unusual and pretty styles will help you tree and home dazzle.
Glass Christmas Ornaments To Suit Every Taste
Decorating your home for the holiday season is the one time when you can let your creative juices flow.  What works in one home doesn't always suit the next. Some people love to have modern decorations all over the house, others like to put up glass Christmas Ornaments to help give a more traditional feel to the celebrations.
We have a tradition in our family that one person buys each of the children a special christmas ornament.  As we have an Irish background we buy them in sterling silver hand made by an Irish company so they will last forever and will be there for each child to decorate their tree when they have a home of their own. We mix in vintage glass christmas ornaments to add some tradition to the tree as well as some sparkle.  We also add in some clear glass christmas ornaments as these really sparkle when the lights hit them. You could try starting the same tradition in your home.
Christmas and the holiday season are a very special time of year.  We get to spend time with out loved ones celebrating our good luck and fortune.  Sure, for some the financial climate will have an impact but no matter what your personal situation, you are guaranteed there are some worse off. There will be people in the Armed Forces who will not be able to get home for Christmas.  There will be other families who face the loss of a loved one or have lost their house and perhaps family this year.  So look at what you have, be thankful for the joy your family brings and try to make this a great year for all of your loved ones.
The Gingerbread House Is My Favorite Of All My Glass Christmas Ornaments
Click the blue link underneath the house to see more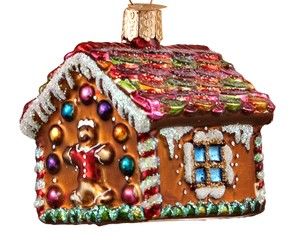 Glass Christmas Ornaments
Personalized Glass Christmas Ornaments Make Fantastic Presents
If you are looking for the perfect present why not try giving some personalized glass Christmas Ornaments.  You can find lovely items from Santa figures to Gingerbread men, houses, snow and other Christmas scenes.
If you have friends or family members getting engaged or married this Christmas you could give them a Champagne on Ice decoration. If there is a new baby in the house, a pink baby first Christmas glass ornament makes a very cute and original present.  And you can find blue ones for the little boys too.
If there are children in the house, you could buy princess decorations for a little girl and football ones for a little boy. For the older men, golf inspired ornaments would be something different than socks!
Glass Christmas Ornaments on Amazon
Updated: 11/22/2011, RachZ
---
Disclosure: This page generates income for authors based on affiliate relationships with our partners, including Amazon, Google and others.