Best Juicers Review
by optimist
In this article I talk about the best juicers, features to look for, popular brands, and of course, my personal top picks when it comes to juicers.
Juicing has become quite popular nowadays, with more and more people understanding its benefits. Juicing squeezes the juice out of fruits and vegetables, making a nutrient-rich drink that's easy to consume. Depending on the level of juicing you do, getting the same amount of nutrients otherwise would take a great deal of effort.
Because home juicers create fresh juice, without otherwise modifying (frying, boiling, etc), the nutrient content is higher: processing your foods reduces the nutrient value, and the longer your fruits and veggies stay cut and out in the open, the more they become oxidized and reduced in nutritional content. Home juicing is therefore one of the healthiest ways to get proper nutrients. People who are avid juicers tend to be healthier and have more energy.
Types Of Juice Extractors, And Features To Look For
There are a number of different kinds of juice extractors out there.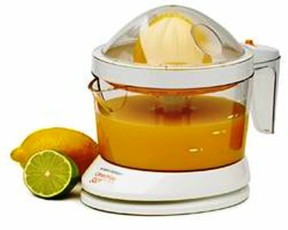 First of all, there's the citrus juicer. Citrus machines are generally the cheapest type - however, they can only be used to juice citrus fruits due to the nature of the ream used. Just because they're cheap doesn't necessarily mean they're bad - my mom owns a citrus juicer that she loves, because it lets her have great-tasting orange juice each morning.

One of the most popular types of juicers is the masticating juicer. This kind of machine has the ability to juice just about any kind of fruit or vegetable. They're also very efficient machines, and have the ability to extract a lot of juice from the same amount of raw fruits or vegetables. That means that over the long run, these juicers are more economical! The masticating juicers can extract so much more juice because they use crushing and grinding mechanisms. Many fans of masticating juicers say that the nutrient value of juice made with these machines is higher, due to the juicing mechanism which leaves the enzymes intact. Slow-speed masticating machines also have the advantage of operating at a low temperature, which means that the rate of oxidization is lower - which again means a higher nutrient value in the juice produced.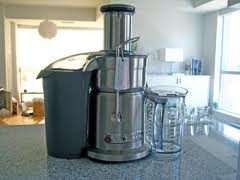 A third kind is the centrifugal juicer. These juicers are popular mainly because they tend to be quite affordable. They work by using knife blades to cut the produce into tiny pieces, and the force of the blades extracts the juicer. Another big selling point of these juicers is the fact that they work very quickly - some of them will produce juice in as little as five seconds.

The triturating, or twin-gear juicers are another popular type. These are especially efficient in extracting juice from various kinds of produce, and especially in extracting wheatgrass juice. These twin gear juicers have two gears that rotate inwards at around 0.1 mm distance from each other, crushing and grinding the produce slowly. Again, fans of this type of machine say that it leaves the enzymes intact. Most twin-gear machines are also slow-speed operators, which means that the juice is not heated up and does not oxidize as easily - which of course means a much higher nutrient value.

The Best Machine For Your Needs - What To Look For

When you're trying to decide on a new juicer model, there are a couple of things that you should consider. First of all, you should of course consider your budget. Next, you should consider what kinds of juice you want to make - if you only want to make citrus juices such as orange juice, then a citrus juicer is fine. But if you want to make other juices such as apple and carrot juice, then you will need either a masticating, twin gear or centrifugal juicer.

Essential Features To Look For

There are some features that I consider essential; others are preferable to have but not absolutely necessary:

- Large Chute
A large chute allows you to add more fruits and vegetables at once. Most importantly, you don't have to spend much time preparing the produce, chopping them into smaller bits, etc - you can just chop them roughly and throw them all in. A larger chute is quite an essential feature in my opinion since it greatly reduces the preparation time involved.

- Removable Parts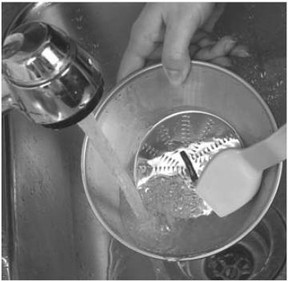 Having removable parts helps in cleaning your juicer quickly. If you can take off the parts, it's much easier to clean quickly and properly. And of course, being able to remove the parts means that you can ensure there's no hidden pulp stuck somewhere, growing mold and being unhygienic.

- Pulp Regulator
A pulp regulator is a nice feature to have because it lets you decide on how pulpy your juice should be. Some days I'm in the mood for a nice, pulpy juice, while other days I like to have a smooth and low-pulp juice. A regulator helps me control what type I'm making. And of course, you can always make one glass of juice with pulp and another without pulp, so you can cater to different people's preferences as well.

- Dishwasher safe
If you have a dishwasher in your house, it's a good idea to get a juicer with dishwasher safe parts. Even if you don't use your dishwasher regularly, you can use the dishwasher occasionally to sanitize the parts. For instance, I personally wash the parts by hand as soon as I've finished drinking my juice (which I try to do immediately after making the juice!) but once a month or so I put the parts in the dishwasher and run the sanitize cycle to make sure that my juicer is as squeaking clean as it can be :)

Popular Brands To Consider

Knowing the important features to look out for in a juicer is very important, but it's also important to know about the best brands out there.
In general, Omega is the most popular brand when it comes to juicers, and their machines are among the best in the market. Breville also makes very high quality juicers, as does the Super Angel brand. Norfolk juicers are among the best high-end juicers. Most Breville juicers are centrifugal juicers, while most Omega juicers are masticating juicers.
Many of these popular juicers can be used for making fruit juices, vegetables juicers, home wine-making, and even making nutty butters, baby food and fruit sauces.

The Best Juicers Available On the Market: My Personal Top Rated Picks In Each Category

If you are serious about juicing then you will want to get the best quality juicer that matches your needs well. There are so many juicers out there that it can get confusing and not to mention difficult to trawl through all the different features and ratings, so I've decided to mention my top three picks when it comes to juicers. These are the best juicers on the market right now and though they may differ in design and components, they do a great task of extracting juice from fruits, vegetables, wheatgrass and just about anything!

These are elite premium juicers and though they may be a bit expensive, I recommend you spend a bit extra to get a higher quality juicers. A low quality juicer will not do a good job of extracting most of the liquid out - you will be juicing inefficiently and leaving behind a lot of what could have gone into your juice. If you buy fruits and vegetables to juice, and they aren't juiced properly then you're leaving behind a lot of nutrition and you'll be wasting money buying more fresh produce to make the same amount of juice. This is why getting a cheap but low-quality juicer is a false economy, and I recommend you get an efficient, durable and easy to use and clean juicer.

These are my top three juicer choices:
My Top Pick, And The Best Masticating Juicer
The Omega VRT350 HD is my top pick for a number of reasons, and it's also my pick as the best masticating juicer out there. It produces high quality juice, but it also has a number of other features that push it to the top of the list.
Things I Love About the Omega VRT350HD
First of all, I love the design. It's an upright juicer, which means that it takes up less space in my little kitchen. It's compact base means you can easily leave it out, and you don't need to bother with packing away the entire thing every time after you make some juice.



It's a low speed juicer, which means that fruits and vegetables don't suffer as much oxidation as they do in most other models ie you're left with much fresher juice!
I take full advantage of the fine and coarse juicing screens when making juice. These screens regulate how much pulp there is in your juice - I like a pulpy juice while my husband doesn't, so the screens allow me to make two different kinds of juices at once. This is also a great feature for families with small children, since in my experience small children don't like having pulp in their juice.
Finally, the Omega VRT 350 can also juice wheatgrass at a very high yield, making it a very economical juicer.

The VRT350 is a low temperature single auger juicer, which means that the quality of the juice produced is much higher than that produced by a centrifugal juicer. If you're going on a juice fast, or plan to drink juice regularly to add more nutrients to your diet, then I highly recommend that you get a either a twin-gear or a single auger masticating juicer. And when it comes to good masticating juicers, this machine is the best in the market.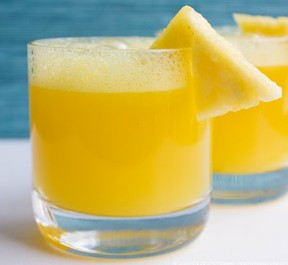 Juicing is alifestyle, and if you're a serious juicer like me you'll want to cut down on both prep time and clean up time. One of the fabulous things about this juicer is its auto-cleaning mechanism. While you are juicing, the pulp screens are automatically cleaned by the machine, to ensure that nothing clogs up. Cleaning up after you've finished juicing is also very simple and assembly is very easy.

Another good thing about the Omega VRT350 is that it's faster than most masticating juicers. It's still a bit slow, as all masticating juicers are, but compared to my former Omega 8003, this juicer is much faster. It's also less noisy than most other juicers out there such as the Breville, this isn't a big factor but it's a small thing that can make a difference if you live in an apartment.

And of course, one of the best things about the Omega VRT 350 is its large vertical chute. You can throw in large pieces of fruits and vegetables at once, without doing much prep. For instance, to make carrot juice, you can simply cut off the tops and throw them in whole! Regular juicers understand what a big deal this low prep time means, and it's one of the reasons why the VRT 350 is so popular.

I've found that the Omega VRT 350 produces much less foam than most other juicers. Some people like foam, but I'm not too fond of it. Most of the time I skim it off, so the VRT's low foam production is yet another thing I like about it.

Since I'm a big believer in "value for money", I like the fact that the pulp is left dry after the juicer's finished its task. That to me indicates that it's gotten most of the juice. Also, it comes with a 10 year warranty, but I haven't really had any issues with the VRT so I don't think I'll ever use the warranty; still, it's good to know that it's there if I need it.

If I had to mention downsides, it would be the fact that the Omega VRT usually costs around $50 more than the Breville, but I believe it's good value for money both in terms of the high quality juice it produces and its ease of use. There are more expensive masticating juicers out there as well as high quality twin gear juicers, but the Omega is my top pick.
Best Centrifugal Juicer
When it comes to centrifugal juicers, this is the King of the pack. However, having said that I would like to mention that I am not too big a fan of centrifugal juicers in general - I prefer masticating juicers since they oxidize the juices less and produce a higher quality juice. However masticating juicers do tend to take a while to make the juice, so if you like your juice to be prepared quickly, and are prepared to drink up your juice quickly so that it does not oxidize further, then a centrifugal juicer can be a good choice. One days when I'm in a rush in the mornings, I prefer the speed of a centrifugal juicer, so the choice will really depend on your lifestyle and preferences.
Breville 800JEXL Features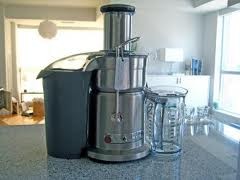 The first thing you'll notice about the Breville 800 JEXL is the fact that it's one really good looking juicer! However, the looks are not just superficial. The Breville 800JEXL is made of stainless steel, which means that it's much easier to clean. The blades are titanium plated which means they're more efficient. And of course, the fact that the parts and exterior are made of stainless steel, as opposed to plastic, means that the parts will last longer and the juicer should be more durable.  

The Breville has a very powerful motor, which means that it juices fast. It has two speed controls, so you can use the lower setting for softer fruits and the higher setting for harder veggies.  

The opening chute is large, which means you don't waste time cutting your produce into smaller pieces. Since the opening is 3 inches wide, you can fit in an entire medium sized apple without doing any cutting at all. This is the best thing about the Breville 800EJXL - how easy it is to use. Many people buy it in addition to their masticating juicers, to make life easier when they're not juicing greens, and I'm one of them. It really is very fast, both in terms of the actual juicing, and the fact that preparation time is negligible.

Clean up is extremely easy. Parts are dishwasher safe and stainless steel, so you can clean your juicer quickly and easily. Assembly is also very simple and easy to do.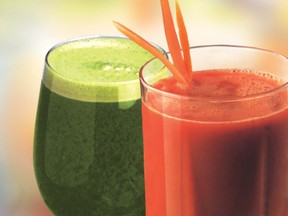 One of the reasons this juicer is so popular is because it does a good job of eliminating pulp. If you dislike pulpy juices, then you will love this juicer, since it produces low-pulp juices.

Negatives of the Breville 800JEXL

First of all, I need to point out that since this is a centrifugal juicer, it will not juice greens. This is the nature of centrifugal juicers: if you plan on juicing greens, then you'll need a masticating juicer.

One of the biggest complaints users have about this juicer is that it's noisy. Yes, it has a very powerful motor and is a bit noisy compared to other motors. However, I have a coffee blender and use that regularly, and compared to that, this noise is nothing. However, different people accept different noise levels, and if you prefer a pretty silent blender, then you should opt for a twin-gear or masticating juicer.

One negative about this juicer compared to the Omega, is the fact that it produces a slightly higher level of foam. Again, you can just spoon out the foam if you want, so it does come down to your preferences.

Overall, this is an extremely efficient and powerful juicer. However, you need to keep in mind that you will never be able to juice greens with this, so if you have any intention of juicing greens, you should opt for a masticating juicer like the Omega VRT350 HD. Otherwise, if you're after speed and power at a good price, then the Breville is a great choice.
Best Twin Gear Juicer
This is the absolute Rolls Royce of juicers, I love mine to bits and I've yet to see a negative review of this juicer.
Features Of the Super Angel 5500 Living Juice Extractor
Priced at around $1,000, this is one of the more expensive juicers out there. It has been worth every cent for me, but for many people who are new to juicing this is too much to spend. Of course there are other more expensive options out there too, like the Norwalk juicers at around $3000, but even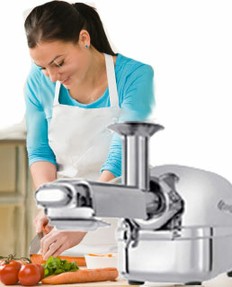 I, the self-confessed obsessive juicer, think that's a bit too much money to spend on a juicer. However, at $1000, I think this juicer does still represent good value for money, for a number of reasons.

First of all, the juice made by this twin-gear juicer is simply fabulous. The mechanism means that the juice is not oxidized and it tastes so much better. Many avid juicers will argue that the twin gear will also prevent enzyme breakdown which is why they use it.

The twin gear juicing system means it is one of the most efficient juicers. The pulp produced my this juicer is incredibly dry, compared to other juicers. It will juice anything - and that means no matter how hard or soft or leafy your produce is. I've actually used apple seeds without changing the taste of the juice, however I recommend avoiding lemon/lime seeds.

The Super Angel is a beauty. Made entirely of stainless steel, it will look shockingly impressive on your countertop. More importantly, the stainless steel components means that they juice more efficiently, are easier to clean and are more durable.

Included in the price tag is a 10 year warranty, however, like most high quality juicers, I expect my Super Angel to last much longer than just ten years.

Clean up is also another big advantage with this juicer. Cleaning takes much less time, due to the fewer parts - you simply need to wash the removable non-motor bits under the sink and give a few quick scrapes with the brush, if needed (most times you don't need the brush). Cleaning the screen
can be a bit difficult the first time, but the trick is to use the brush and you'll soon get the hang of it. I've found this juicer to have the quickest clean up time due to the lower number of parts. The total time takes around 2 minutes for me now, although the first time might take you around 5-6 minutes. I make a point to clean immediately after use.

The Angel is also a very, very quiet juicer. And by this I mean, most of the noise comes from the internal cooling fan. While juicing you can still listen to music or have a conversation. The Angel is a bit louder than a noisy fridge, to make another comparison.

Negatives of the Super Angel 5500

First of all, the biggest negative is the price. While not the most expensive juicer on the market, it is still quite pricey and may be out of reach for many people. However, if you can afford it, I highly, highly recommend it - it's well worth the money.

Another negative is the time that it takes to make the juice. If you're in a rush when you're juicing, you're better off using the super-quick Breville, but if you can afford the wait, then this is a much better choice. I've learnt to prep and add produce simultaneously so that the total juicing time is much less (as opposed to doing all the prep at once, and then adding).

As with most juicers, coffee makers, etc, a slight calcium residue will appear after a few months of regular use. However, a slight vinegar soak will take car of that, as recommended by the manual.

Finally, one of the things about this juicer that's a bit annoying is the fact that it comes with a plastic juice jug instead of a higher quality glass one. I've replaced the jug with a nice pyrex one. I've read another reviewer say that he broke his glass jug (on another model) so he prefers the plastic one. However, I recommend you get a nice pyrex jug and treat it carefully so you don't break it ;)
Juicers According to Wikipedia...
A
juicer
is a tool for extracting juice from fruits, vegetables, or wheatgrass. This is known as juicing.
---
Disclosure: This page generates income for authors based on affiliate relationships with our partners, including Amazon, Google and others.