Best of the Babolat Tennis Shoes: Propulse 2 and 3
by sGrennich
Do you play tennis competitively? Then you can't miss out on the Babolat tennis shoes, worn by professional players like Andy Roddick.
Why Choose Babolat for Tennis Shoes?
Andy Roddick, That's Why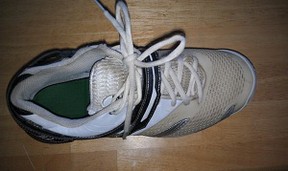 Just kidding, of course.  While Andy Roddick's choice of the Babolat Propulse 3 tennis shoes is relevant to the point, it certainly isn't the only reason you should check out this elite tennis footwear.
I've tried a lot of a pairs of tennis shoes over the years and I can tell you that the Propulse 3 are some of the most comfortable I've ever worn.  Nike and Adidas may have a lock on high profile sponsored players like Federer and Nadal, but the Barricades and Court Ballistecs can't touch Babolat when it comes to a comfortable tennis shoe.
Babolat Propulse 2 and 3
Comfortable shoes, great performance
As far as comfort on the court, I don't think you can find a better pair of shoes than the onesoffered in this line by Babolat.  Personally I thought the Propulse 3 was a big step up from the two, but it also comes at a considerable increase in cost.  The Propulse 2 is less than half the cost and still comes with a warranty, two things that certainly keep it in the running as another viable option
Propulse Problems and Gripes
Durability is lacking
Despite all the good things I have to say about these shoes, they aren't the most durable pair I've ever owned.  The outsole especially suffers from some serious wear and tear.  This problem is even worse if you frequent the hard courts--like the vast majority of tennis players do.  I've gone through the outsole of a pair of these in under a month.  Granted that's under some heavy stress and competitive play, but don't expect these shoes to hold up like the Adidas Barricades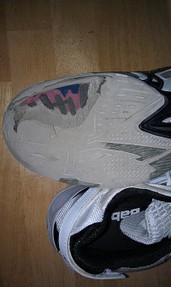 They do come with a warranty though, which offsets the problem considerably.  I've bought repeat pairs even knowing about this problem just because of how much I liked the shoes.  If you can't afford the Propulse 3, the previous model is a great buy on a quality pair of shoes.
 Babolat is a growing name in tennis shoes.  I think they are due for a breakout year in 2012 if they do release the Propulse 4 as many tennis fans expect.  I'll certainly be keeping an eye out for any news about its release.
Babolat Propulse 4
If there is a new release...
I'd like to see Babolat pump up the durability, while still maintaining the levels of comfort that have made these shoes so great in the first place.  I really hope that they don't take the same line as Nike and Adidas though, which involves adding a ton of weight to get that durability.
It's really difficult to find a good pair of tennis shoes these days that isn't really heavy.  Durability is great, but at some point performance needs to take a front row seat.
---
Disclosure: This page generates income for authors based on affiliate relationships with our partners, including Amazon, Google and others.