The Adidas Barricade 6.0 Tennis Shoes
by sGrennich
As far as tennis shoes go, Adidas offers the best for both durability and support.
Wearing the Adidas Barricade 6.0 for Tennis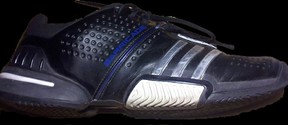 Any tennis player knows that their shoes are an extremely important part of the equation.  Normal shoes just don't last on the tennis court due to the gritty surface.  Some clay court players might be able to get away with less durable shoes, but the rest of us have to deal with the fact that shoe life expectancy doesn't extend beyond a few months.
The Adidas Barricade 6.0 is the best when it comes to long lasting performance.  The tread on the bottom doesn't wear for a long time and it certainly doesn't stop performing at any point.  You'll be stopping on a dime out on the tennis courts even on the most brutal transitions. 
As far as looks go, the Adidas design is good, if a little bit on the bulky side.  It could use a bit of a touch up to be more aerodynamic, but the sharp looking claws on the side certainly are quite a pleasing sight.
Adidas Barricade 6.0
Adidas Barricade 6.0
Adidas Barricade 6.0 Durability Guarantee Warranty
If you're worried about these shoes giving out on you, relax.  Adidas offers a six month period in which you can send the shoes back for a full replacement pair.  If you can break through the outsole in normal play, just ship them back following the instructions on the box.  You'll have your new pair in as little as a week and be ready to for more.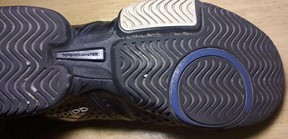 I've had the Adidas Barricade 6.0 for at least three months and haven't seen a whole lot of wear.  Mind you I'm only playing three times a week these days, but that is still quite a feat for a pair of tennis shoes to be holding up so well.  If durability is the biggest deciding factor for you, the Adidas Barricade 6.0 is my solid recommendation.
Reviews of the Adidas Barricade 6.0
Before buying such an expensive shoe you should do your research.  I read a great concise review of the Adidas Barricade 6.0 and you should always be prepared before making a purchase.  It's especially important to consider if the fit will be right for you.  Not all shoes run true to size and my research showed that to be especially true for this model.
Short of trying on the shoes in a store, you might not be able to really find out the true fit of a shoe.  Unfortunately most of these tennis shoes won't be available locally unless you can find a tennis pro shop that has them stocked.  The best case scenario would be possibly trying the shoes out at a pro shop and then buying them online for the cheapest price.  I've used this method many times in the past successfully.
---
Disclosure: This page generates income for authors based on affiliate relationships with our partners, including Amazon, Google and others.