Burlesque Costumes
by costumeideas
Burlesque costumes are always among the most popular Halloween costume ideas each season.
Sexy Burlesque Costumes for Halloween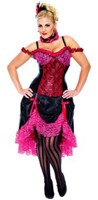 Major motion pictures, such as Moulin Rouge, and the up coming Burlesque movie staring Cher and Christina Aquilera, have pushed burlesque style shows to new heights with respect to popularity.
Burlesque costumes are a throwback to when women had curves and definitely were not afraid of showing them. These women were the epitome of class and elegance all wrapped up in a fiery performer.

Here are a few costume ideas that will have you feeling beautiful, empowered, and perhaps even a bit provocative this Halloween!
Adult Burlesque Costume Ideas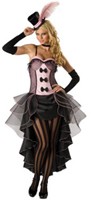 This provocative performer adds class with her sass whenever she hits the stage.

This sexy burlesque outfit comes complete with a breath taking black dress that features black cascades and simply drips with layers of black organza. The sleek body hugging bodice is made from a velvet type material that is a precious pink color and includes layers of soft satin which is also trimmed in a matching pink!

This delicate outfit also includes a perfect polka dot overlay and three black bow ties which helps to pull this entire look together nicely!

Other eye catching features of this outfit are the stunning stockings that are accented with vertical stripes, sexy tap boy shorts, and a mini top hat that is includes a cute pink feather!

You will certainly attract a ton of attention in this sexy Halloween costume!
Showgirl Costumes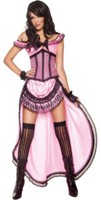 Are you ready to take the town in style? This sexy little number will certainly cause a major commotion wherever you go!

This hot burlesque outfit comes complete with a pink and black suit jacket with tails! Ultra sexy hot pants, a precious pink corset style top, and elegant white boot tops round out this costume nicely!

This costume is certainly not for the faint of heart. If you do not want men looking you up and down all night then you definitely do not want this outfit.
If, however, you want to be the center of attention this year this look is surely a step in the right direction.

While this costume certainly does not need any accessories to look amazing many women will elect to add a pair of soft short pink gloves and a pair of sexy fishnet stockings. Either way, you will command more than your fair share of attention at your next party!
Sexy Burlesque Dress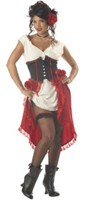 This jaw dropping moulin rouge dress is fit for a queen, a showgirl, or even a vampire princess.

It comes complete with a bold, red dress that features a tuxedo style tail on the back of the bodice. The halter style dress has a high collar and is accented by its gathered bodice and back zipper closure.
<--Click Here to See More Burlesque Costumes-->
To further add to this amazing burlesque costume add a pair of sexy fishnet stockings, thigh high leather high heel boots, and a cute black mini top hat.

Burlesque is slated to be the next box office smash that features the entertaining world of the burlesque. Cher and Christina Aquilera have signed on to play the lead so their certainly will not be a shortage of star power to help fuel the excitement. As this movie inches every closer, burlesque costumes are sure to be some of the most popular choices this Halloween.
Sexy Burlesque Halloween Costumes
Other Fun Halloween Costume Ideas
Queen of Hearts Costume
Off with this head! Be the ruthless Queen of Hearts this Halloween and show them all who's the boss!
Sexy Cop Costume
Book him Dano! Just make sure you remember to bring the handcuffs!
Dark Angel Wings
Want a fun, provocative, yet simple costume idea? Try adding a pair of dark angel wings to any black jumpsuit or dress!
Kitty Cat Costume
Meow! A cute kitty cat costume is the perfect choice for girls of all ages!
Fun Halloween Costumes
There are literally thousands of fun Halloween costumes available this season! Grab your favorite right here.....
---
Disclosure: This page generates income for authors based on affiliate relationships with our partners, including Amazon, Google and others.