Camellia Seed Oil; Your Hair And Skin's New Best Friend
Camellia seed oil is rich in vitamins and fatty acids which make it great for hair, skin and nails.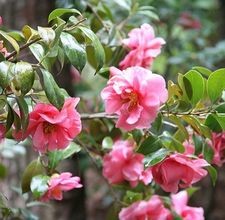 Camellia Seed Oil
The Many Benefits
Have the winter winds caused your skin to be dry and cracked? Does your hair lack luster; looks lifeless and dull? Are you looking for a way to tone to your skin naturally? Look no further Camellia seed oil is your skin and hair's new best friend. This is one of the few oils as a natural we sometimes over look. A few more commonly used oils on natural hair are olive, coconut and jojoba; it definitely does not get the praise that it deserves. Camellia seed is rich in vitamins A,B,C, and E which makes it great for hair and skin and even cooking.  It is very similar to olive oil and has been used in cooking all over the world; especially in China. The squalene found in the oil can help prevent premature aging and skin sagging.
Very Protective
Camellia seed oil is great for the skin because it is light and has a very fast absorption rate. It's concentrated with oleic acids and fatty acids and its levels surpass those of olive oil which is also great for skin and hair. This combination of acids makes Camellia seed oil a wonderful natural treat for the skin and scalp. This oil can be used for smoothing wrinkles, helping to fade stretch marks and healing scars. Many people use it around their eyes and mouth to help prevent or reduce the fine lines that aging can cause.Many years ago Geishas used this oil as a part of their beauty regimens to keep their hair long and shiny and their skin soft and supple. You can strengthen weak and brittle nails by rubbing this oil onto your nail bed and cuticles a few days a week.
Beyond its rejuvenating properties; Camellia seed oil acts as a shield on the skin protecting it from ultra violet rays and other harmful environmental elements. This is also a good oil to use for men who shave. Because it conditions the skin so well; it can help to soothe and calm irritation after shaving.
The Highlights
Nourishes and conditions the scalp and hair follicle
Restores moisture to hair, helps prevent breakage of the hair shaft
Can be rubbed into the cuticle to treat weak brittle nail
Rich in vitamins A,B,C,E
Non-clogging to pores
Easily penetrates the deepest layers of the skin
May help in restoring PH balance  of the skin and scalp
Heals and repairs the skin
Everyday Uses
Since I've stopped chemically relaxing my hair; being natural has been a journey. It took some time to really find what my hair "liked". My hair is extremely coily and tangles very easily; not to mention the fact that it is very porous. It's important for me to make sure that I "seal" in moisture daily and to do this I usually use oils or a butter like shea or coco. Camellia oil is a great sealant because it is light and easily absorbed by the skin and hair follicles. So if you are experiencing dry, brittle or split ends (you may want to snip a bit off if they are severely split) using this oil on your ends every other day can be very helpful in the prevention and treatment of split ends.
To create your own deep conditioner add 2-3 tablespoons per one cup of conditioner; wear a plastic cap for about an hour and rinse hair with warm water and then cold to seal the cuticles of your hair. A few drops in rose water or aloe vera juice mixed in a spritzer makes a great moisturizer for your face or scalp.
---
Disclosure: This page generates income for authors based on affiliate relationships with our partners, including Amazon, Google and others.