Christmastime Traditions
The joy of Christmas comes from the traditions we make of it. Make your Christmas more personal by starting these awesome traditions!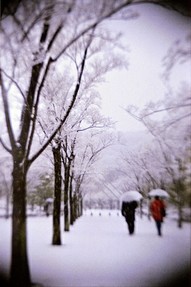 One of the most celebrated holidays is Christmas.  It is one of the only holidays that is celebrated in many parts of the world and is one of the oldest holidays.  Contrary to popular belief, Christmas is not an "American" holiday.  Christmas has its roots in Christianity, because it is the celebration of Jesus' birth.  However for many in America, Christmas has become a celebration based not on religion but on traditions.  Many families no longer celebrate Christmas to remember the birth of Jesus.  Instead they celebrate the holiday just because it has become a tradition, and anything otherwise would just be silly.  Even non-western families are choosing to celebrate Christmas out of the sake of starting and keeping traditions.  This prompted me to ask the best question:  what are some traditions that families carry out on Christmas?
Frolic and Play in the Snow:
If you live up North or are lucky enough to have a white Christmas, take your family outside.  Make snow angels, go sledding, or start a snowball fight.  Even in cities where it rarely snows, there are public outdoor ice skating rinks during the holidays. 
Oh Christmas Tree, Oh Christmas Tree:
Make a tradition out of picking the perfect Christmas tree.  If you don't want to buy a real tree, invest in a reusable tree.  The Christmas tree is an important marker of Christmas, start another tradition of decorating and trimming your tree with some awesome ornaments. 
Spread Some Christmas Cards Holiday Joy:
Everyone loves getting Christmas cards in the mail.  You can brighten someone's holiday by starting the tradition of sending out Christmas cards!
Arts and Crafts:
Spend an afternoon with the kids, friends, or whomever making some old fashioned arts and crafts.  Make some snowflakes, some tree decor, or anything really.  You will be surprised how relaxing it is to do some simple crafts!
Say Cheese for Christmas Photos:
The best way to embarrass your family is to make them wear matching clothes and take cheesy pictures to send as Christmas photo cards.  Your family might not enjoy the tradition now, but they will get a couple good laughs a few years down the road.
Holiday Sweets and Treats:
Spend a day or two baking with the family.  Make a tradition of not just baking, but baking sweets to give to your loved ones and neighbors.  It's a simple and yummy gesture that will go a long way.
So You Think You Can Sing?
If you have a knack for singing and love Christmas songs, then have your family, or yourself, participate in a local caroling group.  It's a fantastic way to get to know your neighbors and to spread some holiday spirit. 
Joys of Christmas Morning:
This is the most looked forward tradition in most households with children.  You can personalize the tradition of opening gifts Christmas morning by starting out with breakfast and waiting to open gifts. 
Let There Be Light:
Ever seen battle of houses for the best Christmas decoration on the block?  It can become pretty intense.  You don't have to be as intense as people who coordinate their lights with music, but you can make a tradition of decking out your yard. 
Good Home Cooked Meal:
The tradition I look forward to the most.  Usually we have a massive dinner party Christmas Eve, complete with the whole nine yards: Christmas party invitations and themed party.  It has not only become a tradition for my family, but for our friends as well. 
What is your favorite Christmas tradition?
---
Disclosure: This page generates income for authors based on affiliate relationships with our partners, including Amazon, Google and others.