Corelle Dinnerware is Practical and Pretty
by kimbesa
Dishes in Corelle are durable, stylish, and work well for casual parties and everyday meals.
Corelle Has a 40-Year History
Fresh Designs Add to a Classic Dinnerware Product Line

Corelle dinnerware sets have been popular for more than 40 years. This material is a combination of glass elements to make it durable and beautiful.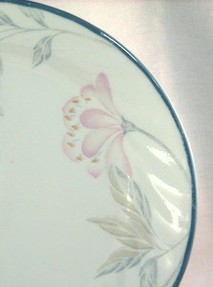 If you're a Baby Boomer, you might remember when these dishes first came out around 1970. If you're younger, there has always been Corelle, and you might easily have grown up with it. Corelle is break and chip resistant, and individual pieces are light weight. It's very practical for dishes, especially for families with children.

Corning Glass Works in Corning, New York, developed Corelle as an outgrowth of the space program. They were working on materials that could withstand the heat of re-entry, as well as nosecone materials for missiles. Corelle is a vintage, space-age material.
New Dinnerware Sets
Corelle Winter Frost White Dinnerware Set (18-Piece, Service for 6)

Functional and versatile, this Corelle Livingware Dinnerware Set brings timeless and classic styling to your dining experience. Livingware Winter Frost set includes 18 pieces to...

World Kitchen (PA)

Only $52.99
Corelle Livingware 32-Piece Dinnerware Set, Winter Frost White, Service For 8

Update your everyday dinnerware with style, substance and convenience with the Corelle Livingware Durable Glass Dinnerware Set, Winter Frost White. This complete set lends quiet...

$70.16 $70.00
CORELLE Square Kyoto Leaves 16-pc Set

Corelle Square dinnerware features sleek, squared shapes with rounded corners and flared rims which fuse seamlessly with the traditional rounded centers. The result is a totally...

CORELLE

$107.29 $78.99
Corelle 16 Piece Garden Lace Livingware Dinnerware Set, White

Flourishes and swirls of a light teal wrap around the edge of a coupe plate. Traditional elements are energized by the fresh color, making this pattern bright and versatile.

World Kitchen, LLC

Only $29.99
Enduring Popularity
The popularity of Corelle took off like a rocket as well. According to the company, within the first year and a half after the product was introduced to the marketplace, more than 40 million pieces had been sold.

Some of the older patterns, like Shadow Iris, Country Cottage, Apricot Grove and Rosemarie, have remained so popular that Corelle brought them back into production.

Many dinnerware patterns have been produced in Corelle over the years, and they share the features that have had busy home cooks selecting Corelle for daily use.


Simple Place Settings
Versatile for Many Menus
A place setting in newer Corelle patterns generally includes plates in two sizes, a multi-use bowl for cereal or salad, and a mug. Additional pieces, such as serving bowls and platters, are available via open stock in retail stores and other Corelle outlets.

While a stack of these plates can weigh a bit, a single Corelle plate is light and strong. Great for daily use, as well as casual summer entertaining, children's parties, cook outs, tailgate parties, and many family gatherings.
Using Corelle Dinnerware for Daily Meals
Vertical storage racks help me keep my dishes handy inside the cupboard. This takes some space, but makes it far easier to select the right size plate for the food I'm serving. I don't like to stack plates, because it seems like the one I want is always too far down.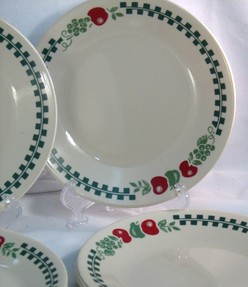 I favor the salad-size plates, about 8 inches in diameter. These are large enough for pizza, sandwiches and other foods, and small enough that they help keep portions under control. I guess you could call it a mental trick, but the appearance of food on a "full" smaller plate works for me.

For coffee or tea, I use the newer mugs produced for Corelle. They hold more of my drink, as compared to the smaller cups that match the plates. I use the matching cups and saucers when I'm setting the table for guests.
More New Corelle Dinnerware Sets
What to Look for in Vintage Corelle
If you want to collect more of the pattern you had years ago, or the one grandma had, then vintage Corelle can be your goal.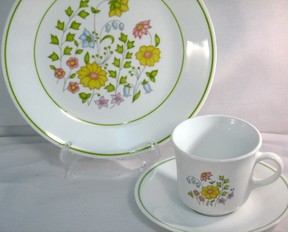 Patterns like Old Town Blue (inspired by patterns in the Blue Onion pattern family), Meadow (my favorite), Butterfly Gold and Spring Blossom are among the original patterns that Corning brought out when Corelle was launched in 1970.

Older Corelle patterns may include plates in two or three sizes, shallow soup bowls, creamers and sugars, as well as matching serving pieces. Once you settle on a pattern, you can research the piece types at sites like Replacements dot com or CorelleCollector dot com to find out which pieces you can hope to find to complete your set.

In the secondary marketplace, there are some condition elements to look for, to get the best quality pieces available in your chosen pattern:


Avoid dishwasher haze or fade. These are pieces where dishwasher soap has abraded the surface and the colors become hazy. Even liquid products will do this. It happens on a microscopic level, over time. The pieces are useable, but the colors are not as bright and sharp as they were originally, and the shiny white surfaces can become dull as well.
Watch out for chewed edges. Corelle is break resistant and it's unusual for it to chip. It can get rough edges, though, as though someone took a sharp knife and carved off a small piece along the edge. Again, this minor damage won't prevent use, but it's something to watch for.
Check your cups and saucers. In vintage patterns, the cups are patterned, like the plates, and if you want your set to look like the original, seek out the cups with the pattern's motif. Newer versions generally have solid color mugs that coordinate with the colors on the plates, and no saucers.

Beautiful vintage Corelle dinnerware can take you back to happy times in the past, and help you build a new set of dishes and memories.
---
Disclosure: This page generates income for authors based on affiliate relationships with our partners, including Amazon, Google and others.