Pink Dinnerware Makes for Table Setting Charm
by kimbesa
China, glassware, table linens and other accessories can be used to add fashionable pink to your table settings. Entertain with pink for girl birthdays, ladies tea parties.
Cool pink or warm pink?
Honeysuckle pink is a cool blue, the 2011 Color of the Year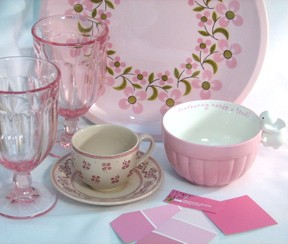 Blue pinks go well with my dinnerware set, because I favor blue and white when it comes to dinnerware, with a smattering of other colors.
When the Pantone color specialists declared Honeysuckle Pink as Color of the Year for 2011, I knew it would be interesting to see how this color could be incorporated into a table setting,
I pulled together some samples that I have found, and compared them to the Pantone color swatch I printed on plain paper.
I haven't seen many sets of pink dinnerware in my travels, though Fiesta by Homer Laughlin includes solid color pink dishes, and is made to mix and match colors. Then there is the Pastelle line by Mikasa, though that is vintage and I've rarely seen it when I'm out scouting for dishes.
When pink is your color, it won't matter whether it's on anyone else's "official" fashion list. One of the great things about mix and match table settings...you get to make your very own unique style.
Honeysuckle Pink | Honored in 2011 With Color of the Year
Honeysuckle pink is a vibrant pink, leaning to the blue end of the spectrum. Not blue enough to be confused with purple, but noticeably cool when compared to warm coral pinks.
The easiest, fastest way to get some pink into your table setting is to find accessories, such as glassware, candle holders, napkins or table cloths in the shade of pink you're looking for.
I suggest starting with what you have, taking a quick inventory, and deciding on what pieces you want to add. Then make a list. Even in thrift stores, estate sales and other secondary marketplaces, you might be surprised how the items on your list seem to come up.
You can take along some photos of your dinnerware, to compare or match colors. Or, assemble a set of paint chips from the hardware store to help you make decisions when shopping for pink dishes or accessories.
Pink holds its own as a pretty color to use for spring and summer parties, Mother's Day dinner, birthday parties, and ladies tea parties. Anytime you want a light, airy and casual vibe to complement your special event.
New Pink Dinnerware and Kitchenware
Complements a light and airy table setting, cottage or shabby chic style
Choose Piece Types for Your Menu
The menu for your event can also figure into the decision about what new (or new to you) tableware items to purchase.
If you're having a ladies tea party, for example, a floral pattern with the right pink tones might be perfect to complement your existing china set. Dainty pink roses, rose buds and other flowers are featured on many china patterns.
For a girl's birthday party, pink candles, candle holders and petite dessert plates might be just the ticket to make it a fun and stylish party. You could even have the cake iced or decorated in the shade of pink you're looking for.
If you're serving champagne, glassware flutes come in pale pink. Goblets for water and iced tea, as well as tumblers for juice, are also made in pink glass.
A tablecloth in pink will create a pretty, feminine mood to your table setting in a very short time. Once it's on the table, your canvas is ready.
Setting a creative table can be like painting with dishes. The plates, cups, glasses and other accessories are the tools to help you carry it off in style.
Inspire Your Party Planning
When your favorite colors are on the wall, you can enjoy them all the time
Seek Vintage Dishes on eBay
Mikasa's Pastelle line includes pink dishes and serving pieces
Vintage Pink Glass Candlesticks
A Bit of Bling for Your Pink Table Setting
---
Disclosure: This page generates income for authors based on affiliate relationships with our partners, including Amazon, Google and others.