Cute Owl Craft
by TerriRexson
Make a cute owl from cardstock for a birthday card or gift bag or as a party activity.
Cute Owl Made from Cardstock
I had fun making this cute owl from cardstock. In this article, I'll show you how to make your own cute owl - or a whole tree full of them! This is much easier if you have a craft cutter - I have the Silhouette Cameo. But the alternative is an X-acto knife and a whole lot of patience!
Once you've made the Owl there are lots of things you can use him for. He looks great on a birthday or thank-you card or on a gift box or gift bag. If you make him from thick cardstock he makes a good bookmark. 
And he works well if you're having a cute owl themed party which is very popular at the moment.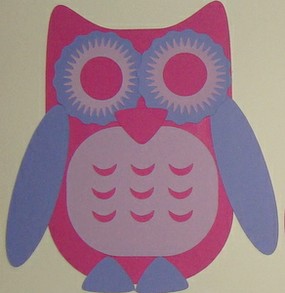 Cute Owl Craft
For this craft your going to need cardstock in three colors that work together. You could choose three tones of the same color or three matching colors. You could try patterned cardstock too. 
He looks great in any three contrasting or matching colors (I used the cardstock from a mixed pack in colors that my boys aren't interested in!)
You'll also want glue. You may already have your favorite kind of glue. I use a good quality glue stick - check the reviews before you buy, I've had some awful ones!
Ideally you'll also want a craft cutter for this craft as the cutting is very fiddly. If you use an X-acto knife you'll probably want to simplify the design. 
Thinking of Buying a Craft Cutter?
Now you'll need the SVG file which is available from the link below. I've designed it so that you can make six cute owls by cutting the template from three different colors of card and then assembling the pieces. 
There are ways to use SVG files with many craft cutters. The Sure Cuts a Lot software can use SVG files and so can the Silhouette Studio Designer Edition. I use Robocut as I'm a Linux user. 
Cute Owl SVG Template
Free for Non Commercial Use
Important License Information
This work is licensed under a
Creative Commons Attribution-NonCommercial-ShareAlike 3.0 Unported License
.
Assembling your Cute Owls
Once you've got your materials assembled and the SVG files downloaded you need to cut the design three times on three different types of paper. 
This will give you the pieces to make 6 different cute owls. If you look at the color combinations used in my owls you will see that each one is different. 
Make sure you think about getting the right combinations of colors in advance and sort the pieces before you start sticking. 
Cute Owl Craft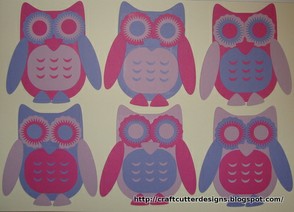 Cute Owl Craft
What Can I do with My Cute Owls?
Cute Owl Cards and Gifts
The cute owl works well on a birthday card or other occasion card. You could add a branch for him to sit on, or create a family of owls in different sizes. 
He would look great on a gift box too - you could add lacquer to protect the owl. Or add a small hole in one ear to turn him into a gift tag. 
If you make these owls in thick cardstock then kids will enjoy playing with them - girls especially. Kids will also enjoy using them to make a collage. 
Cute Owl Card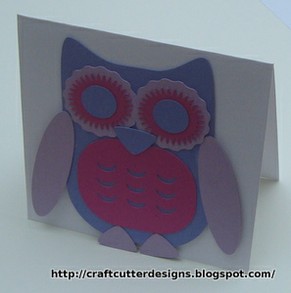 Cute Owl Card
Cute Owl Party Favor Bag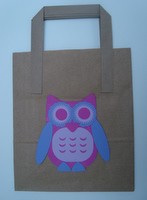 Cute Owl Party Favor Bag
Cute Owl Party Ideas
This owl works well for a cute owl party which is very popular with girls. You can use the owls to decorate the party room and party favor bags. 
You can let the girls assemble their own owls by printing out the template in lots of colors. 
Scale the design down to make small cupcake toppers and party food picks. You could even use these owls as toppers for the birthday cake - just use frosting in a pretty matching color. 
Add a cute owl to a band of cardstock to make a party hat. And add to a balloon weight for a cute owl helium balloon. 
---
Disclosure: This page generates income for authors based on affiliate relationships with our partners, including Amazon, Google and others.