DC Comics Super Heroes Lego Sets
by Legofun
Is it a bird, is it a plane, no it's a Lego Superman coming to your Lego collection soon, along with other DC Super Heroes such as Batman, Wonder Woman, the Green Lantern and more.
Lego Super Heroes
At last Lego and Super Heroes have combined forces on a mission to serve and protect playrooms around the globe and keeping evil doers at bay – what Lego Super Hero will you choose first?
There are lots of Lego Super Heroes to choose from and Lego have announced that they will be releasing 16 sets which include –
Batman
Green Lantern
Iron Man
Hulk
Captain America
Superman
Wolverine
The first five Lego Super Hero Sets are due to hit the shop shelves in January 2012, but why not pre-order online to be sure you get them as soon as is humanly possible?   At the moment pre-orders are not available, but as soon as they are I will have the links on this page so bookmark it and check back often.
Here are the first sets – 6858, 6860, 6862, 6863, 6864 so if you're a Batman or Superman fan you'll be very happy with that, if you prefer the Green Lantern or Captain America etc you'll have to wait until later in the year (dates yet to be advised).
Here are more details about the first sets to be released.
Catwoman Catcycle City Chase
Lego Super Heroes # 6858
According to the official website this Lego Super Hero set will include 89 pieces and is recommended for ages 5-12 years.
The set will include Batman with a jet pack on his back in place of his usual cape.   The set will also include Catwoman with a purple motorcycle aka her catcycle.   What makes the catcycle stand apart from other Lego motorcycles is a black Lego piece that attaches to the back to give the illusion of a cat's tail.   Then of course there's the clip on the side of the catcycle where Catwoman can attach her whip while she's speeding along with Batman in pursuit.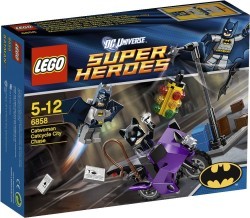 Catwoman Lego Super Heroes Set
Buy Lego Catwoman #6858 Here!
A Lego Super Heroes Set
The Batcave
Super Heroes Lego Set #6860
This set contains 690 pieces and includes five minifigures, according to the release information it is recommended for ages 7-14.
The Lego characters available in this set are Bane, Batman, Poison Ivy, Robin and Bruce Wayne.   This Batcave set also contains the batcycle and Bane's drill, but what else is in the Batcave?
Well there is Poison Ivy's cell, the Bat-Gear weapon arsenal, the all important red bat-phone and of course the bat computer.
This set is a must have for any Batman Lego fan, will Bane be able to free Poison Ivy today or will Batman and Robin end up capturing him as well – the question can only be answered when playtime is over!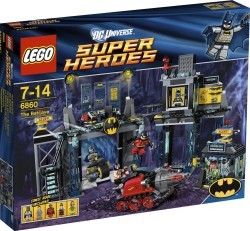 The Batcave Lego Set
Buy The Lego Batcave Set Here!
Lego DC Universe Super Heroes Set #6860
Superman V Power Armour Lex Luthor
Lego Set #6862
If you prefer Superman to Batman then you'll need to get this 207 piece Super Hero Lego set.   Recommended for ages 6-12 it includes three minifigures – Superman, Wonder Woman and Lex Luthor.
The entire set consists of a robot that Lex Luthor made – there's a cockpit in the robot's chest which is where Lex Luthor controls the robot's moves.  
In the publicity photos on the box it looks like the Robot is holding Wonder Woman captive in one hand while banishing a ray gun in the other.  
The gun seems to be attached to a transparent hose leading from a glass case which I'm assuming (as it has green contents) is supposed to be full of kryptonite.
Basically it seems that Superman has to try and disarm the robot controlled by Lex to free Wonder Woman, but he has to do it while avoiding being blasted with Kryptonite – the action never stops when Superman and Lex Luthor are in town!
Buy the Lego Super Heroes Set #6862 Here!
Superman Vs Power Armor Lex
Batwing Battle Over Gotham City
DC Super Heroes Lego #6863
This Lego Super Heroes set contains 278 pieces and is recommended for ages 7-14 years.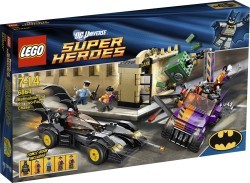 Batwing Battle Over Gotham City Lego Set
The Lego minifigures included in this Super Heroes set are Batman, the Joker and a Joker Henchman.
Other things included in this set are the Batwing and the Joker's Helicopter which makes this set sound like the #7782 Batman Lego set from the 2006 Batman theme.
Buy Batwing Battle Over Gotham City Set Here!
Another Lego Super Heroes Set
Batmobile and Two-Face Chase
Lego Super Heroes Set #2012
This DC Comics Super Heroes themed Lego set is recommended for ages 7-14 and contains 531 pieces including 4 minifigures.
The four minifigures included in this set are Batman, Two-Face, Two-Face's henchman and a police officer.   Other things in the set include a bank, the bank safe, the Batmobile and Two-Face's getaway car which leads me to only one conclusion – Two-Face has robbed a bank and Batman has answered Gotham City's cry for help and is attempting to stop him and return the proceeds from the robbery back to the bank!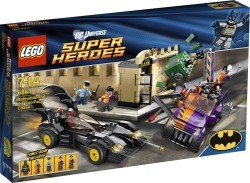 Batmobile & Two-Face Chase
Buy Lego Super Heroes Set #6864 Here!
Batmobile & The Two-Face Chase
More Super Hero Lego Sets Available!
Hold the batphone Batman as there are three more Super Hero Lego sets available to purchase right now!   The Lego Ultrabuild Batman is the first one available with 40 pieces this is an easy, yet fun build.   You can also get Batman's nemesis as well with the second set now available - the Ultrabuild Joker, yes the one and only bad guy who seems to be a favorite villan for many people.
The third set that has recently been released is another ultrabuild set and is the Green Lantern.
The great thing about these sets is that you can actually combine some of them to make a bigger size Batman or Green Lantern which is pretty awesome.   Read more details when you click on the products below.
More Super Heroes Lego Sets
There are more Super Hero Lego sets due to be released later in 2012, some in May and some don't have release dates at the time of writing.   The other ones are –
#4529 Iron Man
#4530 Hulk
#4597 Captain America
#6865 Captain America Avenging Cycle
#6866 Wolverine Chopper Showdown
#6867 Loki's Cosmic Cube Escape
#6868 Hulk's Helicarrier Breakout
#6869 Quinjet Aerial Battle
Super Hero Lego Sets Up For Auction
Bid Today on Your Lego Super Hero
---
Disclosure: This page generates income for authors based on affiliate relationships with our partners, including Amazon, Google and others.