Lego City 2012 Sets
by Legofun
Lego are releasing 18 new Lego City sets for 2012 and they are going to be so much fun! There are Lego City police sets, a new Lego City ambulance, fire sets and so much more.
Lego City 2012
Welcome to Lego City 2012 sets.   Lego City are going to have a total of 18 new sets in 2012, the first 8 of these sets are actually available for pre-order which means if you order them now you'll be one of the first to get to build and play with them.   Correction you can get them now!   
These would make great gifts for anyone who loves the Lego City range of Lego sets which I must admit I have a slight bias towards as they remind me more of the Lego I grew up with than the other themes do, so let's look at the first Lego City Sets due to be released.
Lego City Town Ambulance #4431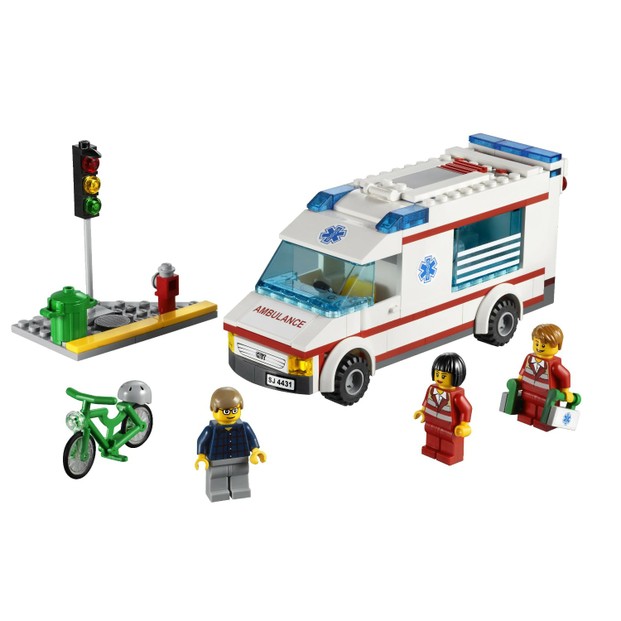 Lego City Ambulance #4431
Amazon - see below for link
There are 3 minifigures included in this 199 piece Lego city set – 2 paramedics and the patient which appears to be a biker who's taken a tumble off of his bike.  You (or your child) can decide how this accident occurred and whether it involved another vehicle or just plain clumsiness.
Meanwhile the ambulance has arrived and it's over 6" (17 cm) long and looks just like an ambulance should.   The paramedics are opening the rear door to get the stretcher out in order to transport the driver safely to the Lego City Hospital.
This Lego City set also includes a set of traffic lights, bicycle, helmet, trash bin and various pieces of equipment for the paramedics to use.   This is a must have addition to your Lego City collection.
Lego City Town Garbage Truck #4432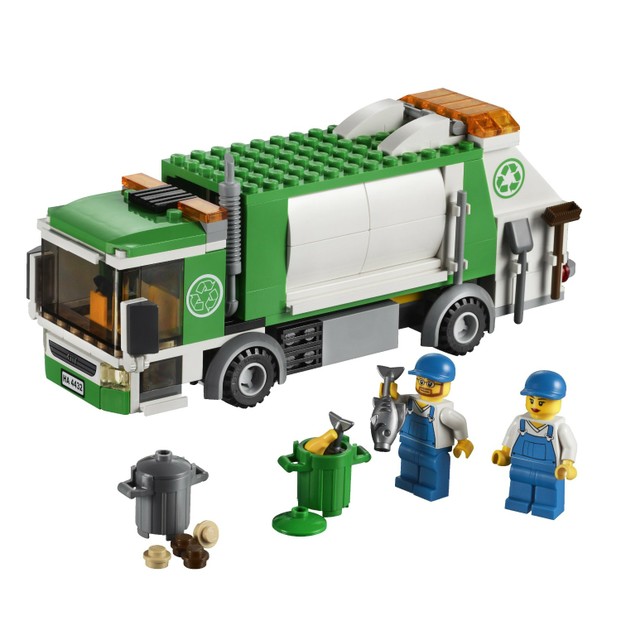 Lego City Garbage Truck
Amazon - see below for link
This 208 piece Lego City set is part of the Lego City 2012 range.   The set makes a green garbage truck that measures 8" (21cm) long when complete, the truck has a lifting rear loader which really works and is kind of cool.
The set also includes two minifigures (garbage collectors) as well as two trash cans complete with a banana peel and a couple of fish – 'phew!   What a stink!'
Lego City Town Car and Caravan #4435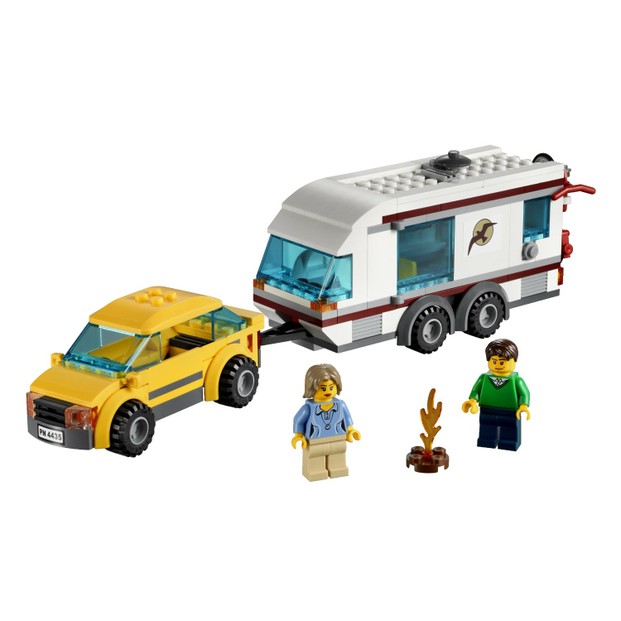 Lego City Car & Caravan
Amazon - see below for link
This Lego City set contains 218 pieces which include 2 minifigures – a man and a woman.   My middle niece loves the Lego City range and this will be a very appreciated gift for her as she went on a holiday with her grandparents in one of these a couple of years ago – the Lego City Camper Van wasn't quite right for her to recreate some of their fun activities apparently!
When the car and caravan are attached they measure over 11" (28cm) long, but one of the cool things about this is that the car and caravan really are detachable so you can pull up unhitch the caravan where the city camper is for example and then take your car off to the shops for some groceries – fun, fun, fun.
The set also includes a bicycle, camp fire, cups and flashlight – it's basically a great Lego set for playability after it's built which is what I personally find great about the Lego City range of Lego sets.
Lego City Police Sets
There are five other Lego City sets scheduled for release in 2012 that are available for pre-order right now.   They are all part of the Lego City police set range, joining the existing Lego City Police sets are now the following sets –
Police Heavy Lift Helicopter #4439
Police Patrol Car #4436
Police Pursuit #4437
Forest Police Station #4440
Police Dog Van # 4441
Lego City Police Heavy Lift Helicopter #4439
This Lego City police set has 393 pieces which includes 3 minifigures - 2 pilots and 1 forest policeman.   The heavy lift helicopter measures 17"(45cm) long, 7" (19cm) high and 5" (15cm) wide when constructed.
The helicopter can sit all three of the minifigures in the cockpit, but I find it interesting to note that the set only includes 2 lifejackets!
The helicopter includes an opening rear door, moving rotors and articulated wheels as well as a large interior where the police ATV (also part of this set) can be transported.
Lego City Patrol Car #4436
This 97 piece Lego City police set includes 2 minifigures - a policeman and a robber.   It also features a patrol car which measures over 4" (11cm) long when built.
This set offers a lot of great playtime fun, but not a lot of building time will be needed.
Lego City Police Pursuit #4437
This Lego City set consists of 129 pieces that make up a police ATV as well as a robber's offroader and two minifigures - the policeman and the robber.
The ATV measures 2" (6cm) long when complete and the robber's off roader is twice the size measuring 4" (12cm) long when it's built.
Lego City Police Forest Station #4440
This 633 piece Lego City police set is the cream of the crop as far as the latest Lego City police sets are concerned and it includes 6 minifigures - 2 policemen, 2 robbers, 1 pilot and a bear.   Yes you read that right this set includes a bear which I'm counting as a minifigure because, let's face it you don't argue with a bear!
The forest police station features a number of different things such as a watchtower (whether that's for robbers or bears I'll leave up to your imagination!), a cell, satelite dish and safe.
The actual police station measures 12" (33cm) long, 9" (23cm) high and 5" (13cm) wide once it's built.
As well as the police station the set also includes a 4x4, helicopter and robber's ATV along with rocks, trees, beehive, handcuffs, walkie talkies, crowbars and gold bars.   Basically it's a fun set with lots of ideas for play time.
Lego City Police Dog Van #4441
This 312 piece Lego City set features two minifigures - a policeman and a robber - along with a police dog van, robber's sports car, a cave and not one, but two police dogs.
The police dog van measures 6" (16 cm) long and has space for the 2 police dogs inside along with a cell in the back of it.   The dog van opens up on one side to reveal two spaces - one for each dog, although as it lifts up I'm not sure how the little policeman is supposed to do it himself!
The robber's sports car measures 4" (12cm) long and looks pretty cool in two colors - red and black.
More Lego City 2012 Police Sets Now Available
There are more Lego City Police sets available, still the theme for this year's police sets is set in the forest which means that an Off Road Command Center is a must have for this police force.   The other set I'm including here is the Robber's Hideout which includes policemen and a police car as well as the robbers.
Click on the links below to find out more about the two Lego City police sets.
More 2012 Lego City Sets
As I said Lego have announced a total of 18 new Lego City sets and I've only covered the 8 that are available here, but do bookmark this page as I will be adding details on the other ten here as well.
---
Disclosure: This page generates income for authors based on affiliate relationships with our partners, including Amazon, Google and others.