Duplo Dinosaur Sets
by Legofun
Duplo Dinosaurs are a great way to introduce any dinosaur mad children to Lego and there are some great duplo dinosaur sets available online.
Duplo Dinosaurs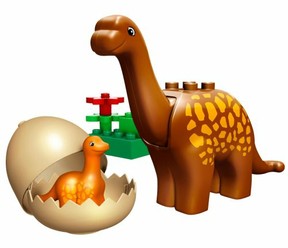 If you have very young children who are interested in dinosaurs then a great way to introduce them to Legos is by getting them the Lego Dino Birthday set.   This set only has nine pieces so it's a great introduction for them……..and it's also a dinosaur set!   
Let's look at the different Lego Duplo Dinosaur sets that are available in case you find your child just can't get enough Lego or dinosaurs as you introduce him/her and their imagination to the magical prehistoric Duplo world.
LEGO Dino Birthday

It's a happy day! The baby dinosaur has just come out of its egg and the mother dino is ready to take care of it. This colorful set includes egg and two dinosaurs. 9 pieces.

Only $39.95
LEGO Dino Trap SET 5597

Uh-oh -- a T-Rex is on its way! But the brave caveman is waiting to trap it by tipping rocks on its head. Can you help the caveman catch the dinosaur? 28 pieces.

Only $24.99
LEGO Dino Valley

Welcome to Dino Valley, where dinosaurs and cavemen live together in peace. But watch out for the T-Rex - it's coming to steal all the food! LEGO set includes cavemen and cave ...

Only $690.0
Lego Dino Birthday Set
Lego #5596
As I said before this is a great starter kit to help to introduce your child to Lego, it's also great to try and instil some 'how to keep your Lego tidy' skills into them while they're still young enough.   As there are only a few pieces they can practise their counting skills as they put each piece away after they've finished playing – I'm not saying this will stop you constantly treading on Lego in the future, but it's something you can try!
Back to the set in question – this Lego Dinosaur set contains an egg, mother and baby dinosaur.  
The egg opens and closes and the baby dinosaur can be attached to the mother's back for some imaginative play.  
The mother dinosaur also has a moveable neck allowing her to bend down and check on her egg or her baby dino!
Lego Dino Trap Set
Lego # 5597
This Lego dinosaur set is made up with only 28 pieces which includes a T-Rex, caveman, tree, vine and other jungle elements.
The cool thing about the T-Rex is that it's mouth opens and closes …… the caveman had better watch out that he doesn't get eaten!
The tree also has a tipping function so that it can drop rocks onto the dinosaur in order to trap him, but what would the caveman do with a trapped dinosaur?   Depending on your child he could decide to kill him, or he could domesticate him – yes the caveman can actually ride on the T-Rex's back.   I'm not sure I'd be game enough, but in Dino land anything is possible.
Lego Dino Valley Set
Lego #5598
Let your child and their imagination travel back to the time of the dinosaurs with this cool Lego dinosaur set.   Now I know that dinosaurs and humans didn't actually co-exist, but in children's imaginations they did and it's fun to be able to build some of the landscape in Lego form and then play out some amazing pre-historic adventures.
The Lego Dino Valley set includes two caveman, a cave boy along with their cave that even has caveman drawings which I think is a great touch and a way to encourage your child to draw as well.
The set also includes a fishing pole, canoe and a fish so you know the caveman can go on a fishing adventure and also manage to catch something for their dinner!
There are also bricks to build a jungle – well a tree, vine and drawbridge at any rate!
What about the dinosaurs?   Don't worry I haven't forgotten them – the dinosaurs include a parent and baby triceratops and pteranodon along with a T-Rex that has snapping jaws.
In total this Lego dino set contains 52 pieces and hours upon hours of play.   The play isn't just restricted to the youngest in the family as I loved a review I read on Amazon about this set - 
"It's a wonderful moment to step into a room and see not one, or two, but all your children age 6-25 in the floor lovingly & laughlingy playing together with Duplo."
I think that review just summed up the set perfectly - Lego + dinosaurs = lots of quality, family playtime.
You might also like
Best Duplo Gifts for Kids
Duplo is Lego's line of early building sets for young kids. Duplo sets introd...
LEGO Architecture
Lego Architecture series is perfect for the brick architect and fan. These L...
---
Disclosure: This page generates income for authors based on affiliate relationships with our partners, including Amazon, Google and others.