Electronic Banking Monopoly
by ohme
The Electronic Banking Monopoly Board Game is fun to play and educational, too!
My Grandson and I enjoy the Electronic Banking Version of Monopoly
Playing Board Games is a requirement of Grandmothers, isn't it?
I will be the first to admit that I do not like change and I always enjoyed the original version of Monopoly and had no desire to play this modern Electronic Banking Monopoly Gamebut I am a Grandmother and playing Board Games is part of our responsibility.  I can't begin to tell you the number of times that I have played Sorry and Candy Land. 
So, when my Grandson insisted that I play Electronic Banking Monopoly, I knew that I had to do it and that I might as well try to enjoy it.  He kept saying, "Ohme, you will love this game!" and you know what?  I really did love Electronic Banking Monopoly.  I didn't even miss holding the colored Monopoly Money or having it organized in front of me.  I fell in love with my Credit Card Machine where my purchases and income was automatically calculated and I could check my balance at anytime by inserting my very own Credit Card.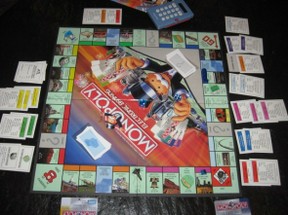 The names of the places have changed, too!  No longer will you land on Boardwalk or Park Place.  These two coveted spots are now Times Square and Fenway Park but guess what?  They are still Blue and in the same spaces.  
Instead of the Railroads, you have Airports like the John Kennedy International, Ohare, Los Angeles International and Hartsfield-Jackson Atlanta International Airport which can be purchased for a measly $2M. 
Remember the old Utilities?  Now, you have Internet Service and Cell Phone Service.  Oh, and you collect $2 million as you pass GO.  Now, do I have your attention?  I sure hope so and hope you will try this wonderful game.  It is now more educational than ever teaching Money Management, Famous Landmarks, Business and more.
Electronic Banking Monopoly Game Commercial on YouTube
Doesn't this look like fun for the whole family?
How do you play the Electronic Banking Edition of Monopoly?
This edition is recommended for 8 years and up and is for 2 to 6 players
The Banker
The Electronic Banking Edition of Monopoly is played much the same way as the original version.  You still have a Banker who is in charge of the Banker Unit, Title Deed Cards, Houses and Hotels and Auctions.
Playing
The dice is rolled and the highest rool starts the play which is continued clockwise.
Each person takes a turn, rolls the dice and moves that number of spaces around the board clockwise with their chosen token.  When you land on a property, you can buy it or pay to the rent if it is already purchased. 
Banker Unit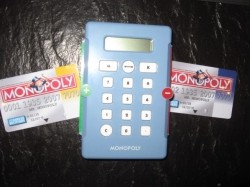 The Banker Unit uses only 5 numbers on the screen so you need to enter 100,000 as 100K, for example, and 1,000,000 as 1M.  This is how the figures are shown on the deed cards and the board.
You receive money when you pass go, are paid rent, from Chance and Community Chest Cards, etc.  When you receive money, the banker will insert your card into the left hand slot and your balance will be displayed, the addition will be made and your card removed with a new balance.
You pay money out for rent, property taxes, Chance and Community Chest Cards, Getting out of jail, etc.  The banker inserts your card into the unit's right hand slot and enters the amount to be debited from your card leaving you with a new balance and your card is removed.
If you are receiving or paying money from another player, you put both cards in both the appropriate spots so you have a card sticking out of each side of the unit. 
It is really very simple.
Have You Played this Electronic Banking Version of Monopoly?
What do you think about it?
Want to Learn More About The Electronic Banking Monopoly Board Game?
Want to learn more?
Purchase your Electronic Banking Edition of Monopoly Here
Just click product to purchase or to browse around Amazon.com
Updated: 09/28/2014, ohme
---
Disclosure: This page generates income for authors based on affiliate relationships with our partners, including Amazon, Google and others.