Female Cop Costume
by costumeideas
Are you a good cop or bad cop? Either way you will look absolutely stunning in a female cop costume this Halloween!
Police Girl Costume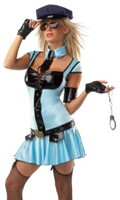 Are you a good cop or bad cop? Either way you will look absolutely stunning in these sexy cop clothes! From girls to teens to women, you will certainly be able to find exactly what you are looking for right here!

Police Girl Costume
(Available in Adult Sizes: Small/Medium and Medium/Large)

Each Halloween, cop clothing is always among the most popular costume selections. It is fun to pretend to be a real life hero and look super cute while doing so!

This precious police girl costume comes complete with a baby blue stretch dress that is made from a really soft, stretchy Lycra fabric which ensures that it is super comfortable all night long. A provocative PVC lace up bust really draws attention and is sure to start numerous conversations. Simple silver button details and matching PVC pocket flaps are just a few of the small details that really help this look rise to the top.

Also included in this cop outfit is a pair of PVC fingerless gloves, a bluish police hat, a fun black belt that features a police buckle applique, handcuffs, armbands that are accented with police style markings, a sexy baby blue collar that features an attached black tie, and fabulous fishnet stockings.
Sexy Cop Costume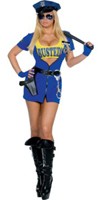 Your man will love getting busted this year!

This super sexy cop costume comes with a fun blue mini dress that is made from a stretch knit material and features a terrific two-way zipper of the front. The yellow ' Busted' knit bra style top, however, is perhaps the biggest attention getter. If you want a show stopper at an incredible price, this female cop costume will certainly do the trick.

Also included in this sweet and sassy police officer costume is a cute police hat, a removable name badge (which says Officer Ivana B. Bad), a pair of useful handcuffs, a classic policeman's badge, blue fingerless gloves and a fun baton in case your guests get out of control!

Pair this costume with the Officer Oliver Clothesoff men's cop outfit for a unique couple's costume!
Lady Cop Costume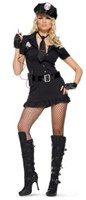 Are you a sexy siren who is not afraid to lay down the law?

This super cute costume includes a beautiful black button down mini dress that is accented with marvelous miniature ruffle style trim details and an attached officer's badge.

Also included in this incredible look is a matching black tie, a bold black belt with a silver colored buckle, a sassy fingerless gloves. This female cop costume also includes a few crucial costume accessories such as a prop walkie talkie and the prerequisite captain's hat.

This provocative female cop costume really helps to accentuate your assets while downplaying any downsides that you may have! Pair these clothes with a pair of fishnet stockings and a pair of thigh high black boots and you will certainly have a captive audience at your next party!
Sexy Cop Shoes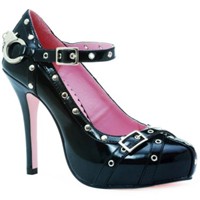 If you are going to dress up in a female cop costume this Halloween you will certainly want to keep a few things in mind.
While it is typically true that the dress and the officer's hat come together in most costume purchases, many times we forget about one crucial accessory that can make or break your outfit – lady cop shoes!
<--Click Here to See All the Sexy Shoes Currently Available-->
The following shoes are just a few of our personal favorites that are both extremely comfortable and relatively affordable. These shoes really compliment an officer's costume nicely and add that special touch that takes a good costume to a great costume in a hurry.
Lady Cop Shoes
Available in adult sizes Small (5-6), Medium (7-8), and Large (9-10)
These high heel shoes are so sexy they should be illegal!
As the perfect compliment to any traditional female cop costume these shoes are also extremely versatile. Customers report that that are quite comfortable when considering that more often that not high heels tend to hurt your feet towards the end of the night; particularly if you are not accustomed to wearing shoes other than normal flats.
These dark blue, open toe heels are made of a patent leather type material that will surely get noticed this Halloween. Cute ankle straps and a generic 'Police' logo that features a multicolored star round out this amazing costume accessory perfectly.
What makes these shoes even more appealing is the ridiculously low price that they are currently being sold for through Halloween.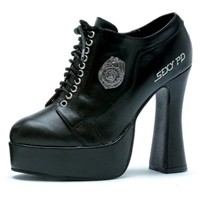 Sexy Lady Cop Shoes
These sexy lady cop shoes feature an approximate 5.5″ heel that is accented with a Police Badge emblem and lovely lace-up top.
If you are ready to be the hottest cop on the block, these Police oxford style shoes are for you. It should be illegal to look this good!
Currently Available in Women's sizes: 6, 7, 8, 9 and 10.
Heel: 5 1/2″.
Made of High Quality, Long Lasting Polyurethane Material.
---
Disclosure: This page generates income for authors based on affiliate relationships with our partners, including Amazon, Google and others.