Flapper Dress Costume
by costumeideas
A flirty flapper dress costume is a great way to celebrate the Halloween season.
Flapper Dress Costume Ideas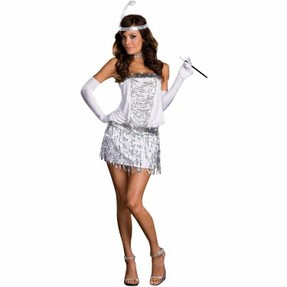 Flapper girls of the 1920s can be similarly compared to the Gothic ladies of the new millennium.
See More Flapper Dress Costume Ideas
These trend setting women wore short, fringed skirts, cut their hair in short bobs, and pretty much flaunted the fact that they refused to conform to what society generally accepted as normal.
Flappers loved wearing heavy makeup, drinking alcoholic beverages, smoking cigarettes, and pretty much causing chaos wherever they went.
Wearing a flapper dress costume is not for the faint of heart, but if you are a bit daring and confident, you may just be up for the challenge. Here are a few of our personal favorites.
Plus Size Flapper Dress Costume
Be provocative in this enticing outfit that will bring out the animal instincts of any man at the party.
Travel back to the twenties with this beautifully crafted flapper costume which includes a sleek black dress that features classic fringe detailing and a black sequin headband with black feathers.
Get your man a pin-striped suit and go as a fashionable 1920s couple.
This costume is available in a one size fits most plus sized adults. You may want to check out a few flapper style wigs to complement this attractive costume (read more....)
Flapper Elite Collection Adult Costume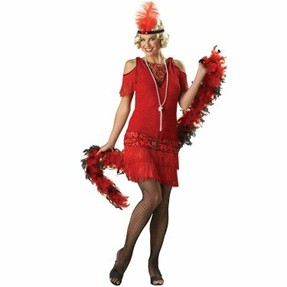 For a high spirited woman of the twenties who loves jazz, this red flapper dress is the perfect expression to how a lady might have felt.
Express your inner rebel by wearing this outfit to your next costume party. The outfit features a red dress with sparkling gold finish, a fringe detail, a gold buckle, multicolor lace, and a stunning pearl necklace, as well as a matching headpiece that is literally dripping with sequins.
The flapper girl costume is available in women's adult sizes small, medium, large, and x-large.
Black Flapper Costume Adult
This black flapper costume is so beautifully crafted that all you have to do is purr and all the males in the ball will come running by your side.
You can be the black cat of the party, the rebellious and provocative woman of the twenties.
How much fun is it to dress completely different than you do in your normal day-to-day lives.
This black flapper costume comes complete with a black mid-thigh dress with fringes and a gold trimmed neckline. A headpiece with attached feathers that complements the dress perfectly is also included in this ensemble.
The night is for you to enjoy, so go out and make your costume party a memorable one. (read customer reviews......)
---
Disclosure: This page generates income for authors based on affiliate relationships with our partners, including Amazon, Google and others.