Free Vintage Blogger Templates
Find the best vintage templates for Blogger and download them online for free! Make your Blogger blog unique and artistic with the best vintage Blogger templates.
Beautiful free Vintage Blogger templates
find the best vintage templates for Blogger blogs
Do you have a blog on Blogger? Maybe even more blogs? Are you not satisfied with default Blogger themes and designs? Love vintage style and art? You are on the right page my friend! Here you can find the best free vintage templates for Blogger blogs that you can download online for free and use them on your Blogger blogs to make them unique and beautiful.
Browse the page and find your favorite vintage template for Blogger blogs. Check out my top picks and find other sites that offer free beautiful vintage templates for Blogger blogs. Download them for free and then check out the guide that will help you to install your new template on your blog. Really easy and the guide is written on this page.
I hope you will find a template that will suits your blog and paint your Blogger blog with some beautiful vintage colours.
Top Free Vintage Blogger Templates
my favorite vintage themes for Blogger blogs

Vintage Blogger Template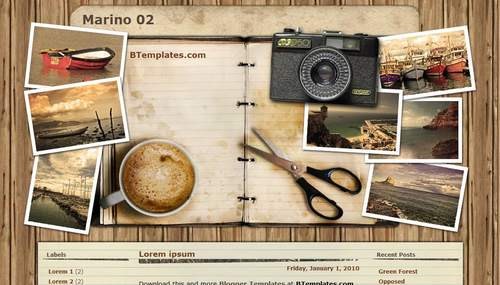 Marino Vintage Blogger Template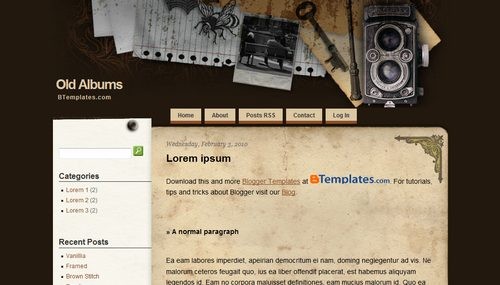 Old Albums vintage Blogger templates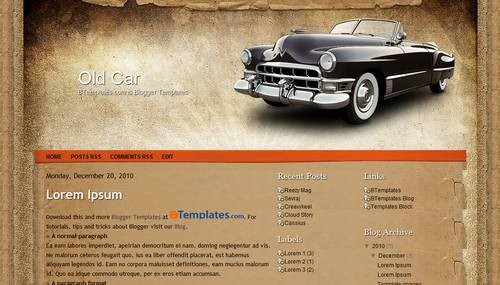 Old Car vintage Blogger templates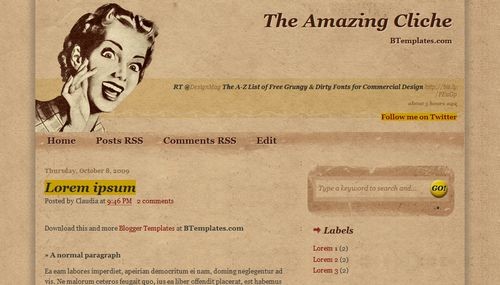 The Amazing Cliché vintage Blogger template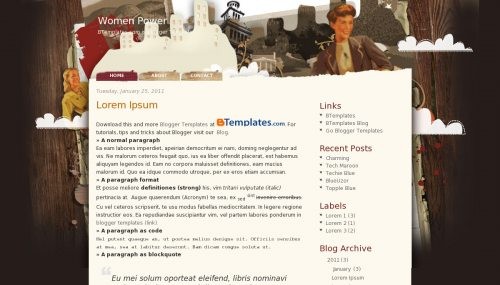 Women Power vintage Blogger template
More Free Vintage Blogger Templates
sites with best free vintage themes for Blogger blogs
How to Install Blogger Templates
how to add a new template to your Blogger blog
You have a new fancy vintage template for your Blogger blog and now comes the question "How to Install this templates". It's really simple and you don't need to code anything. Just follow these simple steps below to add your new template to your blog.
Click in Download button and save file in PC [hard drive].
File that you have downloaded is .ZIP file so need to be extracted. Extract / Unzip it.
Log in Blogger dashboard
Click Design link in dashboard panel.
Now click in Edit HTML link in tab bar.
Click Browse button and look for folder that is created after extracted file that you have downloaded.
Folder has a XML file and TXT file or Internet shortcut, you select only XML file.
Click Upload button.
Confirm and Save.
Vintage Posters
some vintage photos on Flicks
Blogger Tips, Tricks and Resources
useful guides and turials for Blogger blog owners
I write a blog called Highway to Blogger where I post interesting and useful articles for those who use Blogger blogging platform. On this blog you can find cool and really handful tricks, tips, guide and resources that will help you to understand this blogging platform and make an amazing blog on Blogger. Find nice SEO tips for your Blogger blogs, get the best widgets and plugins and browse the archive of the most awesome free templates for Blogger
I really try to write useful posts that will help you to modify your Blogger blogs easy and I tend to post the best Blogger templates that I find online. I am also making some templates myself that will be available on this blog in the future
This blog is becoming quite popular, readers are subscribing every day and the traffic is rising. I am constantly improving the design and the structure of this blog and writing useful articles for the future. If you have a blog on Blogger and you want to find some really useful and cool stuff to do with your blog than I invite you to check out Highway to Blogger.
Do you like Vintage Blogger templates?
Blogging Articles on Wizzley
---
Disclosure: This page generates income for authors based on affiliate relationships with our partners, including Amazon, Google and others.