Great Christmas Holiday Mashups
by legbamel
Try something a little different this holiday season: Christmas mashups that combine Christmas carols with pop, rock, and Motown hits.
What's a Mashup and Why for the Holidays?
Christmas Carols and Holiday Favorites Get Updated
You can enjoy classic holiday songs—traditional Christmas carols and modern recordings—transformed into fun and unusual mashups that will add a little spice to your holiday.  Whether you're throwing a Christmas party and want some interesting music for your guests or you just want something a little different around your home or workplace, these songs will help you celebrate the season in style.  Explore, listen, and let me know what you think!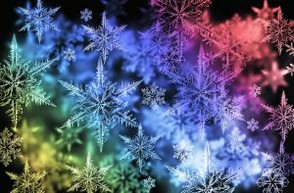 Add a little color to your holidays!
So What IS a Mashup?
How Do They Make These Wonderful Mixes?
DJs make a mashup by taking the vocal track from one or more songs and laying them over the instrumental from another.  It can be as simple as one song versus another or as complex as dozens of songs blended into something completely new. The combination can take a classic Christmas song and make it into something wholly unexpected, just what you need to rev up your holiday season.
Often these mashups take a well-loved holiday recording and blend it with a modern pop song. The results bring you something wildly different from the usual festive fare while still letting you celebrate Christmas with the music you already love.
I've included a series of links below where you can download five full albums of the songs for free, offered by their creators. You can also watch videos for several holiday mashups to get an idea of what they're all about. If you've got a favorite Christmas mashup I'd love to hear about it. There's a place at the end of this page for you to share you r opinions and suggestions.
Start with the Motown Christmas Mashup
The Temptations, The Supremes, Smokey Robinson, Michael Jackson, and More!
A Taste of Mashed Holiday Cheer
Where Else Would Gene Autry, Run DMC, and Dean Martin Perform with Blondie and Coldplay?
Johnny Cash Christmas Mashup
The Man in Black Meets The Chemical Brothers and Others
The Beatles and The Jackson 5 for the Holidays
Imagine Santa Claus Is Coming to Town, in a Mashup
Bring Christmas Mashups Home for the Holidays
DJs Offer Dozens of Songs for Free
Below you can find the whole series of Santastic albums, free to download and enjoy, as offered by the creators themselves.  The songs include classic Christmas songs by the likes of Bing Crosby and the Jackson 5 mashed with music from just about every genre, including pop, rock, and punk.
I've also included links to some of the most prolific DJs out there that have done a song or two for the holidays.  All of these take you directly to a page where you can download the mashup yourself.  These songs are offered on their own sites by their creators, for free.
Five Whole Albums of Christmas Mashups
The Entire Santastic Series in Free Downloads
Looking for More Holiday Mashups?
Apollo Zero offers a two-for-one page with one song from the Santastic III album and another titled Sweet Little Jesus Boy in C Minor which pits Andy Williams against Dave Morales and Bob Sinclair.
Every three years A Plus D puts out "A Very Bootie Christmas", thus far putting together two albums of great holiday mashups. You can download both for free at the official Bootie Mashup site. Hopefully they'll pull together a new one for 2012!
And mashup aren't just for Christmas.  DJ BC has pulled together a whole album titled "Menorah Mashups" that you can download free from his site as well.
I'll add more as I find them but I welcome any additions in the comments below. Thanks!
What Do You Think of Holiday Mashups?
Love 'em, hate 'em, or just getting started?
You might also like
How to Make a Parody
Making parodies to songs can be a fun, but challenging, process. In this arti...
Free Song
A look at improvised vocal music
---
Disclosure: This page generates income for authors based on affiliate relationships with our partners, including Amazon, Google and others.