Halloween Treat Bags
by costumeideas
Halloween treat bags are typically one item parents forget to buy for their children every year! Plan early and buy them a super cool trick or treat basket!
Halloween Trick or Treat Bags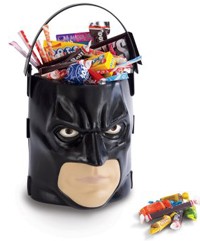 As parents, we spend a ridiculous amount of time picking out the perfect Halloween costume for our children. We spend hours online trying to find the lowest prices. We may even take a trip to the local superstore to see what type of outfits they have available. Even after all of the time spent carefully planning, we still forget one thing; Halloween treat bags.
Kids love Halloween for two reasons; costumes and candy. How pathetic is it that we buy our kids a really cool costume yet make them collect their goodies in a brown bag? This year, why not buy them fun Halloween trick or treat bags to match their awesome costumes?
Browse All of the Halloween Candy Buckets and Bags Available this Season
Captain American Candy Cube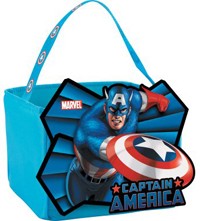 Just like it is your job to protect your kids, it is Captain America's job to protect your kid's candy; at least for one night that is!
This sturdy candy cube is made from a lightweight polyurethane foam and is approximately 6.3 inches by 7.75 inches.
This super pail would be the perfect complement to any Captain America costume.
Halloween Trick or Treat Bags
Elmo Sesame Street Candy Pail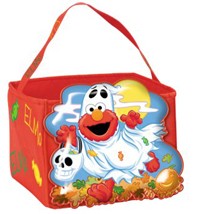 What a fun way for your son or daughter to collect her candy this year.
This officially licensed Sesame Street Candy Cube is made from 100% polyurethane foam (which means it is sturdy and can take a beating) and will work perfectly in place of the typical plastic pumpkin many kids tote around while trick or treating.
This Elmo Halloween treat bag depicts Elmo dressed up as a ghost while walking through a field of autumn leaves. Your kids love candy and so does Elmo!
<<<-----Click Here to See More Sesame Street Halloween Trick or Treat Bags----->>>
Fairy Candy Basket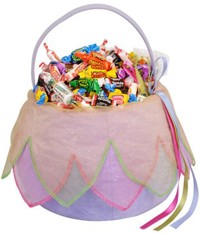 It is said that fairies like sweet things! Is there anything sweeter than candy; besides your daughter that is!
This fairy basket is the perfect match for just about any costume, including princess costumes. This cute treat bag features a precious purple basket with layers of perfectly placed pink and yellow lace that looks like fairy wings.
Pink, purple, and yellow ribbons are also delicately placed around the handle to help round out this look nicely!
Plush Pumpkin Treat Basket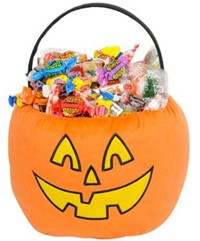 This super fun Halloween treat basket is perfect for any costume idea. In fact, we like it simply because our kid's costume change each year and this is the one thing that we won't have to buy again!
Like the other trick or treat bags featured here, this basket is made from a soft, plush polyurethane material. It is tough enough to last not only this year, but next year as well.
Even the straps were designed to withstand the massive weight of your child's collection! (see what customers are saying)
---
Disclosure: This page generates income for authors based on affiliate relationships with our partners, including Amazon, Google and others.