How to be a DIY queen this year
by BrendaHart
DIY is no longer a man's game. Increasing numbers of women are buying tools, learning how to use them, and successfully embarking on various projects.
Numbers and facts
No longer the preserve of those with a Y chromosome, DIY is quickly becoming as popular with women as it is with men. According to a study reported by the Telegraph, seventy per cent of women are happy to do DIY around the house. Retailers have also noticed an upsurge in female DIY enthusiasts.
Research by Tesco reported that 60 per cent of women are now shopping for DIY items – a figure three times that of a decade ago. B&Q's marketing director, Katherine Paterson, said: 'DIY is no longer just a man's game. More women are recognising that with the right skills anyone can try their hand at tiling, putting up a shelf or taking on a bigger refurbishment project.'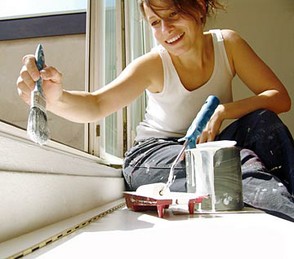 Home improvement
Tool-Up
Manufacturers have realised that creating tools specifically for women can create large amounts of revenue. In the US, women now account for 40 percent of all tool sales. One company, Tomboy Toys, makes tools with rubber grips and smaller handles. Others, more uselessly, simply change the aesthetics.

According to the DIY Network, the first tool bought by most women is a cordless screwdriver or drill. Other useful pieces of kit include lightweight detail and orbital sanders – ideal for furniture refinishing. A small circular saw or jigsaw are good tools for those needing to shape wood. If used outside the home, or kept in a low-security outside shed, tools should be stored in a van vault or van vault tube.


Get inspired
Inspiration can come from many places so always keep an eye out for all new ideas and possibilities. Here are a few suggestions to get you started and to prepare yourself for your dreamed project.
Online

There are countless websites, blogs and e-zines devoted to female DIY and packed with potential projects. Sites such as YouTube, which allow user-submitted content, are great for providing detailed guidance.
Print

As well as online publications, there are increasing numbers of print offerings aimed specifically at women. For example, in the Netherlands, one of the country's largest DIY retail chains launched a quarterly home improvement magazine targeted at its female clientele.
TV

Programmes such as Toolbelt Diva on Discovery Home Channel, aim to inspire women into tackling home improvement projects on their own. In 2010, Foxtel introduced its LifeStyle Home programme, which aimed to provide a female-oriented perspective on practical home improvement. For general inspiration try any of the countless home improvement, renovation and DIY-based TV offerings.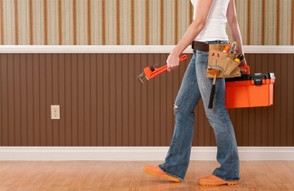 Home Depot blog
What is your big project for 2012?
---
Disclosure: This page generates income for authors based on affiliate relationships with our partners, including Amazon, Google and others.