How to Make a Birthday Cake from a Template
by TerriRexson
Here's how you can easily make a birthday from a template when you have an image or outline you would like to use. I recently used this approach to make an Africa cake.
Making a Cake from a Template
My son asked for an Africa cake for his 5th birthday. He loves African and African animals. It sounded tricky at first. Could I actually make a cake that people would recognize as Africa? (My son does know exactly what Africa looks like on a map so there was no fooling him!)
Actually it wasn't too difficult at all. It just took a bit of planning. In this article you'll find out how to make a cake from a template. The outline shape for your cake can come from a photo or a clipart image. 
Don't worry, we did decorate the cake after we'd made it, the picture is just to show what the cake outline looked like.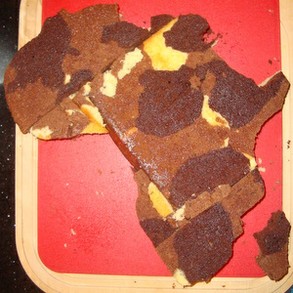 Africa Cake from Template
What Shape Will Your Cake Be?
First you need to decide what shape you want to make your cake. The approach in this article can cope with fairly intricate designs so you can do for something with a reasonable amount of detail. 
Avoid designs that have very long thin pieces. Your cake can have holes in it, but don't make them too small, or too many. 
Some ideas for birthday cake shapes:
A favorite animal: butterfly, horse, lion, dinosaur, shark
Something that fits with a theme: pirate sword, fairy, rocket, superhero
A favorite sports item: football shirt, baseball bat, ballerina
A favorite toy or musical instrument: guitar, teddy bear, tractor
Our Cake Template Image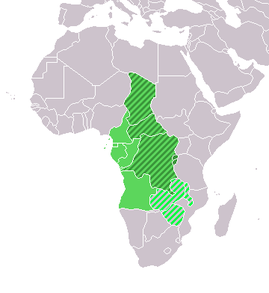 Map of Africa
Find a Template Image
One option for an image is to take a photo of something and use that as your outline. This would work for a favorite toy or possession. Take the photo from above with the camera flat. 
Another option is to find an image online. You can try google image search for say 'guitar outline clipart'. There are many images available free for personal use. 
Don't worry if the image has a bit too much detail, like our map of Africa, you can lose some of the detail when you cut out the template. 
Choose Your Cake Pan or Pans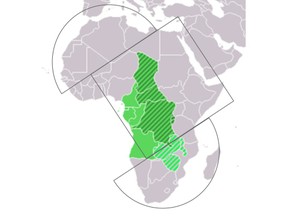 Once you know what shape your cake will be you need to decide what pan or pans you will use to bake your cakes. 
In many cases a large rectangular cake pan will be a good option, but will lead to some spare cake. You could use the spare cake to make cupcakes - cutting out small squares works well. Cake pops are another fun and popular way to use spare cake.
For my Africa cake I decided on a square cake pan and a large round cake pan.  This looked like it would avoid too much extra cake. 
Note that there are some areas that fall outside the template, but there's enough extra cake to fill those gaps in. This works fine if you're going to be decorating the cake. 
Bake the Cake
Now bake the cake or cakes you'll need. You want your cakes to be pretty solid so they won't crumble when you cut them. I use a cake mixture with plenty of egg and make sure to cook the cakes well. 
This time I even risked making a marble cake from three different colored mixes - to look like an African Wild Hunting Dog, my son's favorite animal. It worked just fine. You could try a zebra cake in the shape of a zebra!
An important tip is to cool the cakes before working with them. Once the cakes have cooled to room temperature you can either:
Put the cakes in the refridgerator for a couple of hours
Put the cakes in the freezer until closer to the birthday party and then remove them from the freezer an hour before your want to decorate them. 
In either case the goal is to cut the cakes while they are cold and easier to work with.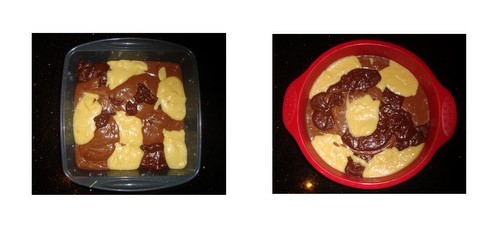 Round and Square Cakes
Important Tip
Bake the cake or cakes in advance of the birthday party and put them in the freezer. It's one less thing to worry about at the last minute and it's easier to cut cold cakes 
Make the Cake Template
Now you need to print a cake template from your image. You can optionally draw your cake pan or pans over the image at this point in a drawing program, I just used google's presentation tool. This step is optional though. An alternative is to just cut out the shapes of your cake pans from paper and put them over the template once it's printed out. 
If your cake will be small enough to fit on a single sheet of paper then that's easy. You might need to have a couple of tries to get the size just right - try adjusting the scale percentage (%) in your print settings. 
If your template is bigger than one sheet then you'll need to print it over multiple pages. You may have an option to do this straight from your computer (see if there is a setting for 2 x 2 printing or similar.) Otherwise you can easily use a free online service like Block Posters which will create you a printable PDF file that spans multiple pages. My cake worked best in landscape mode and two pages across. You can either resize your original image or scale the printout to get just the right size to match your cake pans. This can take a couple of tries. 
Once you have printed the template, cut it out and stick it together into one big template using sticky tape. If you didn't draw the outlines of the cake pans onto your template before printing, you might want to do it now. 

Africa Cake Template
Cutting out the Cake
Now arrange the cakes to match the template. Put the template on top and fix it in place using food picks so it doesn't move. 
Use a sharp knife to cut around the template. If you need to fill in gaps like I did, put extra cake in the gaps when it becomes available and then just cut it to the template. You can use some jelly between the joins if you like. 
Working with a cold cake that has been in the fridge or freezer definitely helps here. 
Don't worry if the cake isn't absolutely perfect. A layer of frosting, marzipan or chocolate will hide any minor imperfections. 
You might also like
Pirate Ship Cake
Instructions for making a pirate ship cake with template, pictures and recipe...
Minecraft Cakes and Cupcakes
Turn the most popular video game into a birthday party celebration! This pa...
---
Disclosure: This page generates income for authors based on affiliate relationships with our partners, including Amazon, Google and others.