How to Make a Starbucks Caramel Macchiato at Home
by kiwisoutback
Don't feel like paying? Make a Starbucks Caramel Macchiato, hot or iced, right in the comfort of your own home with an espresso machine. Yum.
Why You Should Make Caramel Macchiatos in the Privacy of Your Own Home!
Espresso + Milk + Homemade Caramel = True Love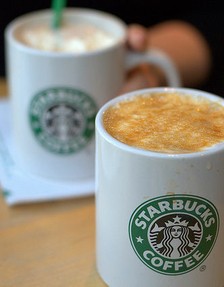 If you're looking for a decadent, calorie rich, over-the-top satisfying treat, the Starbucks Caramel Macchiato is the perfect drink, hot or cold, to slowly induldge. As a hot beverage, it has an amazing sweet taste that is perfectly complimented by the steamed milk. As an iced drink, the espresso takes on a totally different flavor, becoming the ideal summer afternoon pick-me-up. 
What's the downside of this drink? For a large, oh sorry, venti, the drink is going to cost you around $5 or more as when this article was published. That's steep for a drink, and if you're getting one daily... expect to be paying around $150 a month at Starbucks, just on this one drink! Let's see if we can curb some of that cost by making it at home with the help of this recipe. Not only will it save you some bucks, but it will teach you how to make any espresso based drink, hot or cold, into the perfect beverage to slowly sip and enjoy, right in the comfort of your own home.
Photo of hot caramel macchiato by michaeltk on flickr, licensed under CC 2.0.
Ingredients
What you'll need to have on hand for a Caramel Macchiato
Whether you're making this drink hot or iced, the ingredients are the same (except for the ice, of course). First, you'll need a good espresso machine that's not just in working order, but making tasty espressos. Personally, I use a Nespresso machine because it's easy, works consistently, I don't have to pack down the espresso manually, and the "capsules" taste pretty good to me. I'll even go as far as sipping an espresso by itself, which is a real treat for me. 
So here's what you'll need:
3-4 fresh brewed shots of espresso
1 teaspoon of vanilla extract (real extract, not the imitation kind)
2 Tablespoons of Caramel Sauce (or more to taste)
1 cup of whole milk (this by far will steam the best)
Caramel Sauce
An essential ingredient for this espresso drink
Starbucks Fanatic Poll: How Often Do You Drink Caramel Macchiatos?
Admit to your level of caffeine addiction...
Directions
How to make hot or iced Caramel Macchiato right now!
By this point, you must be pretty psyched up about drinking your Starbucks Caramel Macchiato. Before your taste buds can writhe and groan in ecstacy, you'll need to make the drink first. Here's how:
Add the caramel sauce to the bottom of a serving mug. Add the espresso. Take a large metal spoon and mix the two together until the sauce is melted in. 
Add the vanilla extract. 
Add the steamed milk to the drink. If iced, do not steam the milk. Add the milk, then top with ice. Use plenty of ice to make it cold. Use a shaker if you have one on hand, it makes the drink ice cold instantly. 
Enjoy. 
Well, if you really want to go the extra mile, top this drink with whipped cream and some extra caramel sauce. It's decadent either way.
A Few of the Most Popular Starbucks Products for Sale Right Now:
What people are snatching up (to drink at home!)
More Delicious Starbucks Drinks
Leave your wallet -- these are free!
Starbucks Coffee Drink Recipes
Homemade Starbucks drinks that won't rifle through the cash in your wallet. Doubleshots, mochas, and more!
Homemade Starbucks Coffee Recipes
More homemade varieties of lattes and flavored drinks to choose from.
---
Disclosure: This page generates income for authors based on affiliate relationships with our partners, including Amazon, Google and others.