How to run your printer's cleaning program
by pcdman
If your printer isn't printing correctly then you may need to run your printer's cleaning program. This short guide will show you how.
A common printing problem
Maybe this will help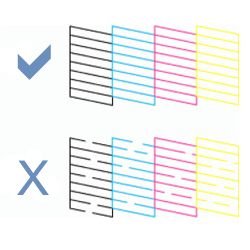 Like all things electronic, you may find you experience some problems printing from time to time. There are small errors and blips which occur that can effect your printing quality. Generally these problems can be fixed using your printer's built-in set of software programs.
The problem that we are going to focus on in this article is streaks or missing lines when you print. Thankfully your printer has software that can help fix it. While nearly all printers possess a set of tools and programs, usually installed onto your computer via your printer's installation CD, to fix your problems similar to the method described in this article, we will concentrate on the Epson method.
The problem
'When I print out my documents or photos there are missing lines or streaks'
The usual cause of this particular problem is that the printer ink cartridge heads need cleaning. If the printer has not been used for a long period of time the ink can dry on the printhead. Thus, when you try to print the cartridge is blocked and will not be able to print as normal.
Within the maintenance tools that are installed when the printer was installed onto the computer is a tool called 'Nozzle Check'. This will print a pattern onto paper for each cartridge. Using this printed check you will be able to see which cartridges are causing the problem. For the optimal print quality the pattern must be full and not have any missing segments.
If there are indeed any missing segments then you will need to run another tool called the 'Head Cleaning' tool. This will allow the printer to run a set of movements that will attempt to clean the dried or blocked printhead and allow the ink to flow freely again.
Once the cleaning program has completed, you are advised to re-run the nozzle check program a second time to check that the printed pattern is complete and not producing faint or missing segments. If it still isn't correct you will need to clean the heads. Depending on the severity of the problem, you may need to repeat the process of nozzle checks and head cleaning a number of times until the ink flows freely.
How do I access the maintenance tools for my Epson printer?
As with most programs installed on your computer there are many shortcuts and routes to finding your programs. Here are 2 ways to your printer's maintenance menu via Windows.
Click the Start button
Click control panel
Double click on printers and faxes
Right click on your printer
Click on Printing Preferences
Click the Maintenance tab
A quicker method is as follows
Find your printer icon in the icon tray at the bottom right of the screen
Right click the icon
Select the program tool you require
The method described above should help you sort out any problem printing regarding streaks or missing lines in your print outs. However we cannot guarantee this fixes the problem entirely.
If you are looking for replacement inkjet cartridges then please visit www.printcartridgedirect.com.
Do you find this article helpful?
We would like to know if you found the information given was helpful or not.
---
Disclosure: This page generates income for authors based on affiliate relationships with our partners, including Amazon, Google and others.