Useful printer hints and tips
by pcdman
Printing at home can be a costly past time but by spending a little time reading our handy little printer hints, maybe you could save yourself a little money
Always print a draft before you print the real thing
Use draft to fix mistakes
Here's a handy tip which you shouldn't really need telling about but it's surprising home many people ignore it. Before you commit to printing your documents and photos do you check the margins, spelling, font type? An easy way to see if everything is positioned and looking ok on the page is to print a draft copy.
You will be surprised at the benefits of doing this first before you click that print button. Firstly, you'll see how the finished print will look. You can read through and spot any mistakes and most importantly, you'll save wasting ink and paper by having to correct your mistake and having to print it out again.
Nearly all average home printers have a draft mode in the settings and printing draft only uses a fraction of the ink that a full print would use. Of course, you will use paper but the good thing is you can use both side of the paper to get things right first.
How to get your pages to print in order without having to reorder them
You've probably been in this situation where you need to print a huge document with many pages 
Wouldn't it be nice if the printer would print them in an order that you didn't need to adjust and waste valuable time and effort. Well, you can.and when you pick them up from the printer they are in a reverse order. e.g. 100-1 instead of 1-100.
Inkjet printer are a funny breed. They generally print pages face up and because of this your printed pages pile on top of each other. Laser printers on the other hand usually print face down so as the pages pile up, they are in the correct order.
If you take a sneak peek at your inkjet printer's settings you may see an option to print in reverse order. Selecting this option will make the printer print in reverse order and you can just sweep up your finished print straight from the tray. No need for shuffling paper around and sorting.
Ah, but what if you don't have that option available. No need to worry because your software program may be able to achieve the same result. Nearly all office software have an option to print a selection of pages. Simply use this to print the last page first and so on.
Job done.
How not to waste ink printing out web pages
The internet is a lovely place with so much information available. More often than not, you'll see an article or maybe a tutorial that you need to print out so that you can read it away from the computer screen. However, once you start printing you notice that your ink level have shrunk dramatically because you find you're printing out tall those pretty, colourful images that were on the website and maybe backgrounds too.
Printing out these unnecessary images and pictures wastes your ink but what can you do about it? The first thing to find is a 'printer friendly' version of the page. Basically a printer friendly page is the same page but without all the images and borders and general bells and whistles that most website possess.
If there is no printer friendly page available you can change an option (depending on the web browser you're using) that will not print out pictures and images from the website.
Looking for ink supplies?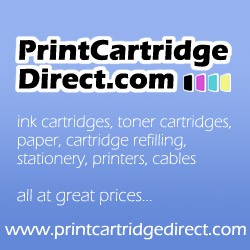 We hope you've learnt something and enjoyed reading our printer hints and tips.
If you're looking to buy ink cartridges, toner cartridges, paper or office products may we suggest you visit www.printcartridgedirect.com.
We are sure that you'll find our prices are the lowest around and delivery is just 99p.
Print mono documents using only black ink
Although this sounds obvious, you may be surprised to learn that an inkjet printer may print black on paper using the colour cartridges rather than just using the black cartridge. Some printers allow you to print a mono document (black only, no colour) by selecting an option in the printer settings.
Unfortunately, not all printers allow this so for those who don't have this alternative we advise you have some spare sets of ink.
Prevent clogged or dried out cartridges
Dried out or clogged cartridges are possibly the most common problem faced by inkjet printer owners. It can be a nightmare to get the cartridges printing normally again. Clogging occurs in the cartridges printhead. The printhead is a series of holes that allows the ink to flow out of the cartridge and on to the page. If the ink dries then the ink can't flow.
The most commonly found cause of cartridges clogging is lack of regular use. Many printer owners leave their printers untouched for months on end and when they need to print out that all important document they find their printer won't print.
If you know that you won't be using the printer for a long period of time, it may be worth removing the cartridges and placing them safely inside an air tight bag or container and store them in a cool place until they are needed again. This should can your inks flowing nicely.
Some other valuable printer resources
---
Disclosure: This page generates income for authors based on affiliate relationships with our partners, including Amazon, Google and others.