How to Start Your New Year off Right
by jfay1995
Tips to begin the year the way you want to. How to have a good year filled with happiness.
So you want to have a Good New Year, Right?
Start things off right.
How do you start the New Year off the way you want to?  Did you spend the last hours of last year trying to fulfill all your goals of the year 2011?  I always try to see what I can accomplish in those last few hours of the year.  Yet, this New Years Eve, I fell asleep and slept the night away.  I was woken up for a few minutes at Midnight to ring in the New Year and then la la land.
So how did you start off the new year?  Was it on a good note?  We all tend to set our new years resolutions.  Some of us set minor new years resolutions.  Maybe some of us will decide to snack less.  No more buying those bags of kettle cooked chips.  But how can resist the delicious crunch of those?  Salt and vinegar, cheddar cheese, jalepeno, and other types.  Even the tortilla chips and the jars of the cheese dip aren't that great for us, but they taste so good.
Maybe some of us vow not to go back for second or third helpings at meal times.  Let's face it, food gets rather addicting.  When it is our favorite foods, we often like to come back of a second helping.  Some of us love cooking rice and adding some butter and a good helping of parmesean cheese or even better, melted sharp cheese.  Or also a jar of turkey gravy mixed in is an awesome quick fix, that is so simple to make.
Or just another helping of egg noodles and two cans of cream of chicken and some milk added.  Another quick fix.  Or elbow noodles and add a can or two of the ragu cheese sauces.  Yet another quick fix, and so so simple. 
Okay, so now you can see some of my daily eating habits.  Yet, myself included we all need to watch using the canned foods as they are often loaded with salt and fatty stuff.
Maybe you want to start off your new year by starting a good exercise routine.  We all know that many of us have eaten an extra abundance of foods, sweets, snacks and other stuff.  Yes, the nuts have been out too.  Salty!  But we wanted to eat it all, even though maybe we did try our best not to over do.
And what are some other ways to start your new year off right?
Don't sweat the small stuff!  Try not to worry about all the little things that quite often get in our way.  And we know that they do manage to sneak into our lives and weasel their way into our worry wart minds.  How many times have we let it get the best of us?  Many.
How do you make it so you don't worry about the little stuff?  You can just learn to shrug it off and say to yourself, "It doesn't matter.  Why should I waste my valuable time worrying about that?"
Let sleeping dogs lie.  Don't unearth something if you don't have to.  Weigh the good or the bad that can come from something.
We also know that we can't escape all the little stuff.  Sometimes something little ends up becoming a big problem.  It is then that you need to nip things in the bud before they do manage to get large and drastic.  You don't want the problem compounded.
Try to start the new year off being happy with the things that you have and don't wish for things that aren't within your grasp.  You should be happy where you are and not always wishing you had something else. 
Also be happy in your relationships and your friendships.  Make them work, and try hard to just have a good time.  After all, in the beginning of every new year, we all want to have more continued happiness.
Happiness is the key to having a great year.  If you aren't going to be happy with yourself, you are guarunteed to have a rotten year.  Especially if you have a bad outlook on life and everything that revolves around it.
Try to think of all your goals and see if you can accomplish them and live up to your expectations.  We all have so many goals and projects that we want to see to completion.  Try to see if you can do it.  It can be done if you set your mind to it and try hard to reach your goals.
Do realize that you can never do it all in one day.  Seeing them to the finish never happens overnight.  Sometimes it takes weeks and months to finish some projects.  And some things take years to complete.  It depends what you are setting out to do.
Writing novels, usually take a long time.  Sometimes an author takes a good ten years to finish a novel.  Novels get shoved in a drawer untouched for lengths on end.  I know that one of my novels I didn't get back to for at least a good year.  I didn't want to look at it for a while.  And I have edited it alot and I know it still needs work.  So I still need to come back to it.
Don't you hate it when you start off the new year with money trouble.  That is a pain in the neck and can be frustrating at times.
In the new year we should all learn to spend our hard earned money wisely.  We work hard to get it, and we hate it when we need to get refunded for something that perhaps doesn't work.  Or also lets say you have to refund someone their money and you end up losing out on one of your items you sold.  It's no fun to have to give a refund, but it is better to refund than to not do it and get a bad reputation.
We are already seven days into the new year and our first week has passed under our noses.  Before we know it this month will be done and we will have eleven months left of the new year.  So don't waste your days.
See if you can set an agenda for yourself and stick to it.  Get things done, put them behind you.  Keep pushing yourself to write more.  Create more art.  Read lots of books.
And I think a really important rule to go by is to just go with the flow and be happy in everything that you do.  If you can start your day with a happy disposition and know that you can do all that you set out to do, you will be doing great.  Keep up the good work, and as always, keep on plugging away at what you love to do.
Jennifer Jo Fay
Copyrighted January 7, 2012
Check out my blogs and paperdoll website:  http://jennyjofaypaperdolls.blogspot.com/  http://mommiedearest101.blogspot.com/    jenniferjofaypaperdolls.net   http://jenniferjofaypaperdolls.net/blog/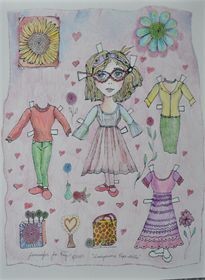 This is a page to my Lacy Anna Paper doll set.  She has three pages to her.  She is a fun set.
This month on my blogs I am participating in NaBloPoMo.  So I am pushing myself to write daily at my blogs  .
---
Disclosure: This page generates income for authors based on affiliate relationships with our partners, including Amazon, Google and others.