Lost In Her Thoughts a poem by Jennifer Jo Fay
by jfay1995
Lost In Her Thoughts a poem by Jennifer Jo Fay. A poem about a girl being dumped by her boyfriend, husband or lover and she wants to die and seek revenge.
Lost In Her Thoughts
The Doll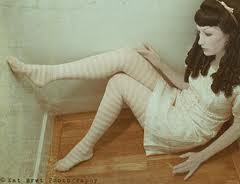 Lost in her Thoughts
Melenna
a poem of sadness
Lost In Her Thoughts
Melenna was drifting,
in and out of dreams.
Her mind was filled with sorrow
for a love that could never be.
Still as a fallen doll,
she sat upon the coldness
of her floor.
Still clad in her delicate white
party dress and her pale white
lacy nylons,
she pondered her silence
that shattered.
Like that of thin glass
that broke in shards of cracks.
She stared at her blank wall
and her thoughts travelled
over what was said and done.
Her artificial tears were gathering
up inside her sullen brown eyes.
She had lost her man forever
and now she cried out her pain.
She wanted to feel him
once again
and longed for kisses on her neck.
She wanted to see
the flowers once more
that he had once had given her.
Yet, tossed away
inside a black bag,
like that of uncaring hands.
The petals fell apart
along with her broken heart.
The valves stopped working,
she felt she could tear no more.
Yet, within her fragile moments
she could simply see no happiness
upon a future dim.
She cried, and cried, and
her cheeks felt wetness
and her hands
wiped tears away.
She wanted to go bang
on his door
and plead to know why he left.
He didn't give an answer,
as he simply left her clear.
Yet, she knew that he had secrets,
she had yet to crack.
A lover was there
beside him,
he told Melenna to go.
Leave now,
and never knock upon my door again.
You just was not my perfect fit,
so leave and find
another fish.
Melenna felt lifeless
and left a trail of tears behind.
She drove herself to her ocean
and drowned herself within.
Before she died
she chanted a solemn curse.
"I shall come back to haunt you, dear
and I'll rap upon your door
once more.
And when you open
and answer,
I will kill you with my sight.
For a ghost
I sure shall be
and I will scare the death of thee.
Jennifer Jo Fay
Copyrighted November 28, 2011
 Melenna was one of those girls that was hurting deeply for the loss of her lover.  Saddened and rejected she felt immersed in her tragic pain.  She drowned in her sorrows and felt as if her world was tumbling and she wanted to end it.
She thought of cutting herself and letting the blood empty out of her lifeless body, but she didn't know if she could do that.  Melenna didn't want to go on without her lover, but she didn't know what she should do.
Then she thought of the ocean and felt like drowning herself.  Yes, she could do that.  Feeling the water plug up her body and she would simply drown herself.  She got into her car and drove herself there.  All the while she was thinking of a curse she would put on him.  She wanted to haunt him for the rest of his days.  She vowed that he would see her bluish body in her lacy dress every day of his life.
She was that slumped doll, and she was fragile and in pain.  Lifelessness felt really good at the moment.
She rushed into the ocean, letting the waves thrash against her body.  She immersed herself into it's icy coldness and let it devour her whole.  Bubbles released from her blood red mouth and she suddenly began to float.  Floating into death and plummeting into an eternal state of unwoken death.
She would revenge her lover and come knocking on his door.
Some Poetry Books
Sadness
---
Disclosure: This page generates income for authors based on affiliate relationships with our partners, including Amazon, Google and others.