iCarly Bedroom Makeover, Bedding, Accessories and more
If your child is asking for an iCarly Bedroom Makeover you will be happy to know there are a lot of options out there and you find some of them right here.
iCarly Bedroom Makeover
Kids love Nickelodeon's Hit TV Show iCarly so much that they may be asking to have an iCarly Bedroom Makeover. If that is the case you are in luck because there is plenty of iCarly Bedding available on the market. In addition to the bedding there is also a large variety of iCarly Accessories you can use to to help create your iCarly Bedroom.
So come along as I show you some of the iCarly Bedding and Accessories available to give you some Room Decorating Inspiration "iCarly Style".
iCarly Bedding Sets
For your iCarly Bedding you will find a nice variety of choices. Most of them will feature Miranda Cosgrove (iCarly) on them with different patterns and colors. The sets are usually available in Twin and Full Sizes.
Keep in mind when you buy themed bedding sets the length of time your child will be using them. Kids tastes change quickly and one day they may be all about this theme and then a month later they move on to something else.
To keep the costs down you can mix and match the bedding. Maybe chose just an iCarly Comforter and add in your own solid colored sheets or a solid colored comforter and with an iCarly Sheet Set.
Being there are many choices when it comes to the iCarly Bedding you will probably find a great deal that will not break your budget - so shop around.
Are you here looking for ideas on an iCarly Bedroom Makeover?
iCarly Wall Decals
Wall Decals are a great way to bring a theme into your child's room without having to paint it to match. Gone are the days where painting walls was the only option to change things up in a room. I love Wall Decals and use them in my own home all the time.
Wall Decals come in all shapes, sizes and patterns and they easily apply to your painted walls and remove when you want a change without any damage to the paint. I love that !!
For your iCarly Room Makeover there are some fun iCarly Wall Decals available with one of my favorites being the background of iCarly's Room. Now that one is large in size measuring 6' tall by 10.5' wide, but if you have a wall big enough your child will go crazy for that.
There are smaller iCarly Wall Decals too and even a life size iCarly one that would be like she was right in the room herself.
iCarly Personalized Wall Decal
This is one of my favorite iCarly Wall Decals and one that bought for my own daughter. As a matter of fact the picture to the right is hers that I had made for her. iCarly is one of my daughter's favorite shows and I must say it is one of mine as well.
When I came across this wall decal that looks just like the one iCarly has in her room I knew I had to get one for my daughter. This is very well made too because I have moved it around my daughter's room a few times after a recent makeover with no issues.
Take a look at a post I wrote about it here: iCarly Personalized Bedroom Wall Decal
Gummy Bear Lamps
Any iCarly fan would love to have one of these adorable Gummy Bear Lamps in their room just like iCarly has. They stand about 7" Tall and come in 5 color choices.
Now these make for some SWEET lighting !!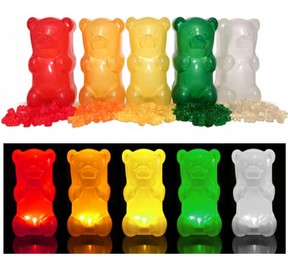 Ice Cream Sandwich Pillow
You may have seen that iCarly has an Ice Cream Sandwich Bench in her room, but to have one of those you will have to shell out lots of cash. So how about an Ice Cream Sandwich Pillow instead? This pillow measures 24 inches long x 6 inches deep x 10.5 inches wide and is sure to bring SWEET dreams.
Order your Ice Cream Sandwich Pillow Here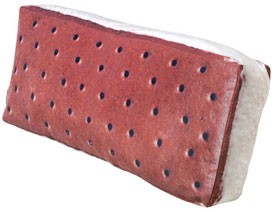 a couple other fun finds
I found a couple other things that I think would work great for an iCarly Room Makeover.
How about the iCarly Projection Alarm Clock. This clock is purple and shaped like a weiner dog which matches the decal on iCarly's wall in her current room on the show. IT also projects the time on the ceiling of your child's room. I love that feature. We have these in our house too.
I also liked the Traffic Light Lamp. iCarly has one of these in her room too. Definitely a conversation starter and great for lights out, music on and some Random Dancing !!
Are those fun or what?
iCarly's Bedroom Makeover
Some of you may already be aware that on the iCarly Show "iGot a Hot Room" airing July 301th, 2010 that iCarly's previous room goes on fire. This is due to her brother Spencer's handmade Gummi Bear Lamp he made for her Birthday which turns out to be the cause.
But it all ends happy when Spencer and her other Friends on the show give iCarly a New Bedroom with a makeover that is any girl's dream.
If you are looking to do an iCarly Bedroom Makeover to look like her new room on the show I have put together a Blog Post showing how you can do it and where to find the some of the same items found in her room here:
iCarly celebrates her Birthday with an iCarly Bedroom Makeover

---
Disclosure: This page generates income for authors based on affiliate relationships with our partners, including Amazon, Google and others.