iHog Portable Speakers and Docking Station will make you Squeal
If you are looking for fun portable speakers and a docking station for your iPhone or iPod then an iHog is what you need.
The iHog is Sueeet !!
this porker is amazing
This past Christmas I was looking for an Audio System for my daughter that would allow her to play music from her iPhone and also double as a docking station. There it so much on the market it can get very overwhelming. So I made a list of some of the important things I wanted for her.
Note my daughter is 11 years old and we were also upgrading her iPhone 3 to the iPhone 4 for Christmas.
Here was my wish list:
Compact  - I did not want anything that took up too much room on a shelf or dresser in her room.
I did not want the smaller size to impact sound and quality
Appearance - I wanted to find something fun with color to match her room.
Ease of use - could not be overly complicated to work since she is young
Needs to charge the iPhone when the phone was docked.
That she did not have to remove her iPhone Case when docking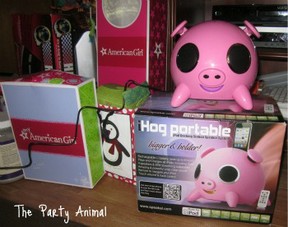 That was not too much to ask for right? Well after a lot of searching I found the iHog from Speakal. I was so excited because it had everything I was looking for and more. I read tons of reviews and they were all great so I made the purchase.
I could not wait for my daughter to open it up on Christmas so I could see it in person. There it is in the photo to the left on Christmas morning.
I am not sure who squealed more - me or her - lol
Is the iHog adorable or what?
Speakal iHog
available in Pink or White
iHog Details
what the iHog can do...
Now that you have read my story and have seen how adorable this iHog is let me give you some more technical info on this cutie.
iPhone/iPod Docking Station - will fit all iPhones
2.1 Stereo Speaker System
Plays and Charges all iPhones/iPods with dock Connector
It is Portable with a Built in Lithium battery for 6- 8+ hours of continuous play or you can plug it in to the wall
Touch-sensitive controls - One of my favorite features - just tap the iHog's ears to control the volume
Remote to control the speakers and your iPhone/iPod
Adjustable Bass and Treble
5 Speakers positioned for maximum sound separation and distribution with tweeters and midrange.
20W Subwoofer
Total output of 28+ Watts
Airflow optimized design for consistent sound performance
Bass Reflex Technology
Shape designed to deliver 360 Degrees of Sound
3.5mm AUX input jack to connect to TV, Gaming Console or other music sources such as iPod Shuffle
My favorite features of the iHog besides its adorable looks is the touch sensitive volume controls - all you do is tap the ears, my daughter loves that.  I also love that it is portable which was a bonus when I came across it. Now my daughter can take the iHog to any room in the house and even outside to listen to her favorite music. Oh and did I mention the mouth lights up Blue and will blink Blue while charging? Yup another very cool feature. (I think the White iHog lights up Green)
I highly recommend the iHog for any age, but it is especially great for the younger ones. The sound quality is amazing - much better than I expected it to be. We LOVE it !!!
Have you ever heard of the iHog before?
iHog is just one of the many cool Speaker System Docking Stations available from Speakal
Speakal combines high quality design elements with state of the art technology and with their unique sense of style they create high performance audio solutions for the everyday consumer. I thank them for that because everything they have to offer is amazing !! I come from a family of Technology Geeks so it is great to see such quality merchandise out there.
If the iHog is not for you - no need to worry because Speakal has a HUGE line to choose from with something for everyone. Just choose the look and specs that work for you !!
Here is a list of some of the products Speakal has to offer:
iHog - available in Pink & White
iPig - available in Pink, White Yellow and Black
Cool iPig - available in White
iPanda 
iBoo- available in Red, White and Blue
iPom - available in Red, Green and White
miSoccer - available in Black/White, Red/White and Blue/White
iCrystal
iKurv
iExecutive
---
Disclosure: This page generates income for authors based on affiliate relationships with our partners, including Amazon, Google and others.